.
Here are a few different print, radio and video interviews . . .
.
Here's a really fun lively wide-ranging optimistic laugh-filled radio interview on The Jake Feinberg show in 2015 about the Grateful Dead, Red Rocks, Jack and jazz and the impact of On The Road, the Beats, The Hitchhiker's Guide to Jack Kerouac, Neal Cassady, Phil Lesh, Bill Graham, Ken Kesey, Neil Young, born leaders, consciousness expansion, love, community, smoking marijuana in the '40s & '50s . . . it's a helluva riff . . .  🙂 
http://www.jakefeinbergshow.com/2015/11/the-brian-hassett-interview/
Here's a 2018 interview for the Cleveland Scene magazine about the writing process, Kerouac's writing process, the live show process, the Sept. 2018 On The Road With Cassadys book, working with Bill Graham and all sorts of other stuff . . .
https://www.clevescene.com/scene-and-heard/archives/2018/06/14/author-brian-hassett-to-bring-his-one-man-variety-show-to-visible-voice-books-and-macs-backs
Here's a print interview with Michael Limnios at the great Blues – Greece magazine & website about the most important life lessons & advice, life-changing moments, the meaning of 'Beat,' its impact on culture, its connection to rock n roll, and lots more . . .
http://blues.gr/profiles/blogs/canadian-writer-poet-traveler-brian-hassett-talks-about-the-rock
Here's the Kevin Pennington interview for The Sunflower Collective about the mindset behind On The Road and the Beat Generation, and how it manifests today, and the Merry Pranksters and the Acid Tests, and the Beat Museum's big Beat Shindig and a whole lot more  . . .
http://sunflowercollective.blogspot.com/2016/08/tsc-interviews-brian-hassett.html
Here's where I interview Beat legend Gerd Stern at The Beat Museum's Shindig in San Francisco in 2015 about the Joan Anderson letter that He Did Not Lose, and Allen Ginsberg & Jack Kerouac & Neal Cassady, and the whole San Francisco scene back in the '50s and '60s, and his pioneering multimedia art . . . . . .
Here's the lively & funny Cassady panel discussion at The Beat Museum's big Beat Shindig in 2015 with Al Hinkle, Jami Cassady, & myself, moderated by Levi Asher (now Marc Stein) . . .
Here's a funny wild crazy Adventure Tale video interview response for filmmaker Noemie Sornet's On The Road film project . . .
here's part 2 —
More'll be added as I do them or find them in the archives or get around to converting the old TV interviews on VHS tapes and radio riffs on cassette.  😉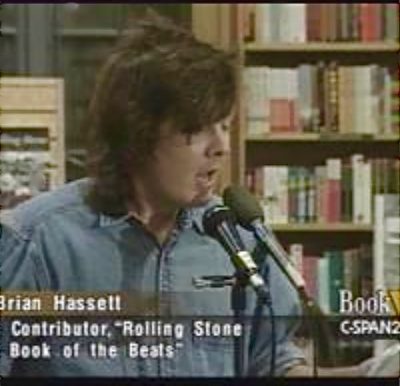 = * = * = * = * = * = * = * = * =
.
Here's a whole ton of live video performances in various filmed media.
Here's a whole bunch of reviews and comments on The Hitchhiker's Guide to Jack Kerouac.
Here's another round of them including a bunch of original Merry Pranksters.
Here's some author / performer background.
.