.
With all the energy peaking over The Grateful Dead's 50th anniversary shows, here's a little excerpt from my upcoming book — "The Hitchhiker's Guide to Jack Kerouac" — that shows part of why we keep coming back.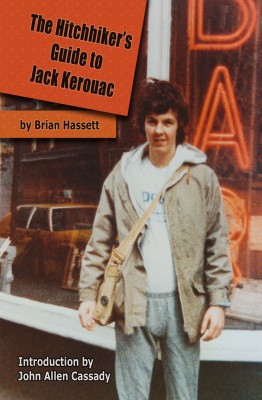 These shows at Red Rocks in '82 were part of the largest gathering of Beats ever assembled, before or since — and The Grateful Dead played the half-time show.
Here's what it was like as we arrived . . .
.
And man — what a scene!  A Grateful Dead party on the top of a gorgeous red rock mountain with a natural amphitheater carved right into it!  And the colors immediately start to kick in — 10,000 tie-dyes, maybe more, tripping through nature's brilliant rock masterpiece to nature's brilliant rock band under a brilliant multi-hued sky at a giant family reunion.  Everyone's infectiously smiling, and hugs are free n flowing.
There's girls in short shorts and bikini tops, and guys in short shorts and no tops.  There's colorful clown costumes complete with jester bell caps, and straight looking doctors and lawyers and such with close-cropped hair, ironed alligator shirts and expensive watches … coming to their 100th show.  There's people walking around with giant backpacks like they just came down from the Himalayas, and unencumbered wide-eyed Coloradans at their first show, meandering in mouth-opened silence.
Moveable feasts surround every car, van, customized truck and psychedelic school bus — every one with a different state's license plate — and you can just walk right up and start talking to anyone who looks interesting.  "Strangers stropping strangers just to shake their hand …"
Veterans could talk to veterans, but someone at their first show was absolutely golden and had an All Access Pass to everything.  Deadheads really make a fuss over show virgins — anyone who has the interest and the courage to make the trip is immediately embraced.  It can appear to the uninitiated like a most intimidating world that's functioning on a very evolved party level — and if you haven't been through the arc of a night even once, well, help's on the way.
Which reminds me of a beautiful moment from the Dead's Rainforest Benefit a few years later at Madison Square Garden — the ninth of a nine show run when they broke the Garden record for most sell-outs at the world's most famous arena by anything other than a sports team.  All sorts of special guests joined them that night — Mick Taylor, Baba Olatunji, Jack Casady, Bruce Hornsby (who later became a member of the band for about a year and a half!), Hall & Oates (?!), and … The Muppets via satellite!!  And at one point Suzanne Vega came out, this petite fragile sensitive singer who I was hanging with on the bar stools at Folk City in the early '80s when we were all regulars there and before she became famous.  So this now well-known tiny delicate flower walks out onto this giant dark and Deadly stage in this roaring arena full of the only unbroken chain of raging concert goers since the sixties, thinking, "We aren't in Folk City anymore!"  But the beautiful part was — with this petrified little bird at center stage and all the spotlights on her, Jerry walks from his normal spot in the shadows by his amps to the front and center line and stands right beside her and looks to her and plays to her and smiles to her … and carries the whole room with him.  He gave her his 100% attention, and by so doing, he brought this whole crazy rock 'n' roll audience with him — and graciously handed them to her.  It was the most touching generous beautiful thing.
And that's the spirit we DeadHeads show to everyone, especially the most fragile among us.
.
And on a whole other level — there's countless tour-heads strolling the scene holding up gorgeous hand dyed, hand lived t-shirts for sale, and quickly flipping them around so you can see the back as well.  Asking 15, but they'll take 10.  Some are printed with classic all-purpose Dead lines — "The bus came by and I got on" — and others are customized just for these shows with "Dead Rocks" or "Mountain Dew" along with the dates.
In between unicyclists and bike riders and girls twirling hula hoops are people hawking bumper-stickers like "Grate things happen to Good people" and "Who are The Grateful Dead and why do they keep following me?" or buttons with the original family motto "The Good ol' Grateful Dead" which was first winked between the knowing as early as 1966, or carrying bags of gooey-gum-balls (basically, round pot brownies), or there's a long-haired girl in a long-flowing summer dress with tinkling ankle bracelets passively carrying a small rack of homemade jewelry as she silently and blissfully wanders the rows of cars in the spiritual belief someone will just walk up and buy one.  And someone does.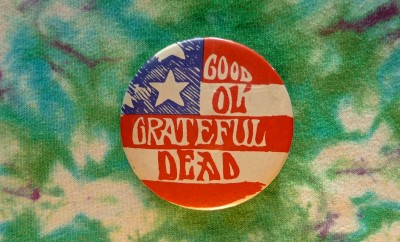 ===============================================
You can order a copy of the book from CreateSpace here 
. . . or Amazon here.
 ==============================================
For some performance videos of various excerpts with numerous different musical line-ups check this out.
For a bunch of readers' reactions, check this out …
Or this second round of rave reviews from all over the world.
Or here's a cool Red Rocks follow-up story about buried treasure.
For more excerpts from the book you can check out Meeting Your Heroes 101.
Or here's where you can check out Who All Was There.
Or here's another part about Jack's wife Edie and his best pal Henri.
For a vivid account of being at the historic "On The Road" scroll auction — check out The Scroll Auction.
For my keynote essay from "The Rolling Stone Book of The Beats" on the decade that birthed the Beats — go here.
Or also from "The Rolling Stone Book of The Beats" — here's my riff on The Power of The Collective.
For a story about the London "On The Road" premiere at Somerset House — check out this sex & drugs & jazz.
For a great story of the world premiere of the new shorter final version of "On The Road" — check out this Meeting Walter Salles Adventure.
For a complete overview of all the Kerouac / Beat film dramatizations including clips and reviews — check out the Beat Movie Guide.
 ==============================================
by Brian Hassett
karmacoupon@ gmail.com     BrianHassett.com