I saw the best minds of many generations,
dancing, hysterical, naked …
at the Farewell send-off of the Gratest live band in history.
While The Grateful Dead were breaking the all-time attendance records for Soldier Field stadium in Chicago — I was seeing them in a small venue from about 5th row center.  I was so close I couldn't get all the band members in a single frame of my camera, and had to turn my head from left to right to watch Trey signal Hornsby and Bruce receive it.
I'd "won" the mail-order lottery — a 1-in-10 chance — and had requested pit / orchestra tickets for opening and closing nights, and then an expensive side seat for the middle July 4th show.
I'd just finished two weeks in the Bay Area — everywhere from the Kerouac–Snyder Dharma Bums house in Marin to the "Dear Jerry" show in Santa Cruz, while also headlining 3 appearances at The Beat Shindig put on by The Beat Museum in North Beach, and catching the opening Santa Clara show — with some carefully-timed discipline, on the Thursday leading into the final weekend shows I stayed grounded and writing and in transition.  There were non-stop incoming calls & messages going off like a blinking Christmas tree promising grate presents in the presence of my GD and Merry Prankster families arriving from all over North America, but I paced myself knowing there were entire days of non-stop standing and dancing coming up for this 50-something geezer who had to actually practice walking again just to be in shape for this very real 3-day-long Acid Test in Chicago.
And the opening day it was even worse in The Distractions For Fun Dept.  Everybody was gathering everywhere around this massive ancient coliseum of warrior Soldiers, and everywhere was a song and a celebration.  But I had this idea — "What if I went in as soon as they opened the gates?  Maybe there's a chance I could actually get somewhere good on the floor … get to know the people around me … and see it from someplace I could see it."
I went ahead and got in the early-entry line while my phone was still going off with "Meet me here" messages — and scootilee-doo — I end up inside the stadium well before the 70,000 other people arrived.
.
The open chair-free floor was divided in half at the 50 yard line — the back half being TicketMonster General Admission floor tix, and the front being the mail-order winners.  The front section was also divided in half down the middle of the field, and I first went over audience right (formerly Jerry side) and immediately realized I wanted to be Phil side, so I went to the back of the soundboard where there was the only passageway between the right-left sides, and motored my way up to the still nearly empty front of floor.
Deal was — if you bought the expensive I'm Special tickets, you got to go on the floor before us plebes with regular tickets, and these Special folks had laid down blankets and such to commandeer the front-most space.  The first roughly 20 feet from the front rail was taken up by these seated picnic basket types eating grapes — but what I was able to do, being a solo flyer, was weave my way between the patchwork floor tapestry and find some place to stand just a few feet from the front rail that wasn't really on someone's blanket.  If I'd been traveling even as a duo, this wouldn't have been possible.  But since it was just skinny little smiling me, I was able to insinuate myself (to use Keith Moon's phrase for joining his band) into the picnic basket crowd and immediately start talking to whoever was there … making you, by accepted conversation, one of them.
And following shortly behind me were the rest of the regular Pit ticket krewe, often in groups, who would get to the outer edge of the blanketed floor and stop there.  Once they stopped and stood, the people coming after them would stand behind them.  So right away there was this dividing line of packed-in standing people, and sitting down blanket people.  And I was sure on the right side of that divide — in front of stage right, at the right time.  By the time the band came out at 7:30 and blanket nation stood up, I was effectively 5th row center for opening night (!) . . . with tons of room to dance!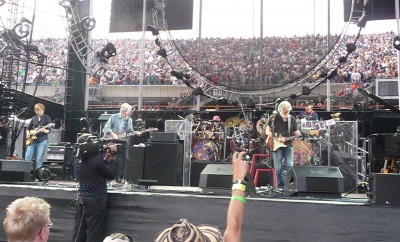 Once the show started, if someone tried to crash into where we comfortably and spaciously were, we knew they weren't one of us (after our two hours of being there) and the improvised leaders in our improvised community would tell the interlopers to go back where they came from.
And another cool thing was — this was not a high stadium stage as used to be the design choice.  In fact my eyes were about exactly even with the floor of the stage — which, in cool thing #2, was not set very far back from the front audience rail.  Suddenly I was standing maybe 20–25 feet from the front line of musicians I'd flown to Chicago to see.
Except for the width of the stage, this could have been the Village Vanguard or Bottom Line.  I like to see the visual interaction between musicians in a band — especially one that's good enough to improvise as they play entirely different shows and every song live (as this incarnation) for the first time.  I don't know if I was hearing the stage amps or what, but I could look at any player and zone in on an iso audio of their lines.  It was the most fun, perfect thing I could imagine.  It felt like I was sitting on the stage — watching that freak of nature Phil Lesh conducting the orchestra with his six-string bass — the first ever played in rock n roll that I know of.  I remember thinking, "I could read the time on his watch if he'd just turn his wrist a bit."
And there was the brother-like relationship between Phil and Trey.  They both came out of dressing rooms on audience left — the rest of the band audience right — with Bruce & Jeff in one room, and the Core Three in the other.
And on the first night there was obviously serious tension between Phil and Bobby — Phil just wailing away and having the time of his life, and Bobby scowling and with a sour face playing discordant chords as a way to voice his displeasure — a detached self-isolated sourpuss all night.  There was Trey and Phil signalling right past him, cueing the keyboard duo stage left, who would respond with popped eyebrow solos whenever stage right tossed them the look — including the memorable moment where Trey called an audible during Franklin's Tower and gave Hornsby the solo for the last song of the night — a player who'd been way-ignored musically to this point — and for the first time we heard a Franklin's that was piano-based and not guitar.  And everafter, Hornsby and Jeff became infinitely larger parts of the shows than they had been thus far.  In fact, this exchange during Franklin's felt like the moment they really became a band.
Or seeing the playful bond between Mickey & Hornsby.  Or between Hornsby and his protege Jeff Chimenti (on Brent's old B3) — who, not incidentally, is so much more coherent, grounded and versatile than the GD's final keyboardist ever was.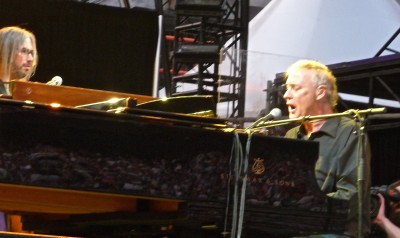 Note the reflection of the audience in the shiny Steinway.
But mostly it was the ability to hear any instrument at any time.  And except for the keyboardists' hands and Billy being somewhat hidden behind his kit, you could watch-to-hear whatever they were doing string-wise, vocally or percussively.
And the music was as complex and interesting as it gets — jazz soloing; polyrhythmic patterns you could follow any one of while two or three others played simultaneously; soulful vocals that literally brought tears to my eyes more than once; in-the-moment interactions as players were racing all over fretboards at breakneck speed but still locked into one another in a unified whole made of 7 very different parts.
.
.
One odd thing:
I've been in the audience for all the different band incarnations since Jerry died, and never do I remember really missing The Voice and The Tone and The Soul … until this version.  Maybe because those were all known to be new ensembles taking it furthur — and this was so much … The Grateful Dead.  Chicago was more of a reflective look back and celebration of where we've been than a progression into the future.  And although Trey carried the day and was as adept and well-studied and playful and energy-infusing and able-to-handle-it a guitarist as you could find, for the first time since hearing a re-birthed Dead post-'95, to these ears, there was very obviously someone missing.
.
But two things that were actually better than the Jerry days were Drums and Space.  Although Phil's an even better player (and now a bandleader) than he was back then, the instrumentalists who have really taken their gig furthur were the drummers.  Particularly the first night in Santa Clara (where it clocked in at 22 minutes!) and the middle night in Chicago, Drums became a wildly expanded percussive exploration — and for the first time the audience was able to watch it via a robotic HD camera flying above The Beast, as well as roving handhelds surrounding them.  And Mickey, being a smidge more of a ham than the rest of the flannel & Birkenstocks band, played to the cameras at times like Jagger — but all in the service of punctuating the music.
And throughout the show it was interesting to see how often Mickey used wide-fanned brooms (thick stemmed brushes).  And just like the way the band started, Billy was totally The Beat, the rock n roll kit drummer who drove the engine, as opposed to much of their career when it was largely both of them.  Now Mickey's not even on a kit, has no cymbals, stands the whole show, and works this array of toms with the versatility of a large orchestra's drum section but with the passion of a Latin combo at Carnival.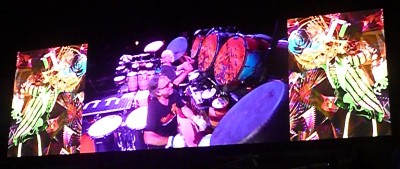 And then Space — which was always performed on a pitch-black stage — was now filled with a subtle but illuminating white light — and especially from my 5th row center spot I was able to see how they worked the non-musical sounds as an ensemble — the three guitarists gronking out whale cries and wolf howls while the drums and keys kept a close eye and added their subtle fills in response.
By the end of that first night, I felt like I'd lived that quote, "Life is not a journey to the grave with the intention of arriving safely in one well preserved piece, but to skid in broadside, thoroughly used up, worn out and shouting, 'WOW!  What a ride!!'"
.
The middle night — July 4th — I was 11 rows off the floor with a view of the whole spectacle including the massive fireworks they set off not just that night but to open the second set of the final night as well.
The sound and mix in the stadium was as crystalline as it gets — once again the Dead pioneering live sound reinforcement — but instead of the Wall of Sound it was a Circle of Sound — as they employed true 360° surround-sound that added to the surreality of an already very altered space.
And the video screens!  Oh my!  There were the huge digi hi-def images of the players (on both sides and above the stage) but also a dancing fractal morphing rainbow visual show that was the colors and undulating images of a Grade A acid trip.  In fact, the visionary Candace Brightman came out of retirement to do the lights, and she incorporated the original Joshua Light Show era gel projections as part of her palette.  No matter where you were in the 70,000-person stadium you were hearing the show like you were wearing earbuds and seeing it in technicolor like you're on 5 hits.  And frankly, these guys don't get enough credit for discouraging drug use by creating acid trips without the acid!  … although, when you do put them together  . . . 
.
For the third and closing night, I figured my front-of-floor routine was a long-shot since everybody else would have figured it out by now — but I went for it anyway — and sure as shootin' got right to the same 5th row-ish spot Dead center (!) and saw several of the same 1st show peeps  . . .  and once again  —>  
I was experiencing the Dead's farewell in a small venue!!
And by this 5th show (and even by the 4th) the band had really gelled into a unified collective.  Whatever internal conflicts that were so obvious at the first Chicago show were happily gone, and the keyboard's background-singer-status had been elevated to full participating players.  
Y'know — if these guys just stuck with it, they might get somewhere.
From this vantage point — the many-hours-long fond Farewell was beyond my fondest dreams.
And another funny thing — back in my run of a hundred-sumthin shows between 1980 and '95, every time I saw them they played at least one song I'd never heard them Dew before.  But with this very limited 5-show Gratest hits retrospective finale there's no way they're gonna play anything you haven't heard even once over the entire second half of their career … right?
Wrong!
The first night in Santa Clara, they played not one, not two … but five songs they hadn't performed live since the '60s (!);  the first Chicago had two;  the second Chicago had The Golden Road (to Unlimited Devotion) which was actually the very first Grateful Dead song I ever liked (!) from when I bought their greatest hits "Skeletons From The Closet" album as a curious 14-year-old in 1975 — a "hit single" song they (naturally) never played live again after 1967!  And the final night I was absolutely floored on the floor by a 14-minute Mountains of The Moon (!) — that Middle Ages Canterbury Tales-meets-Lewis Carroll ballad written for harpsichord that they played famously on Playboy After Dark in 1969 and never since!
And all that's not even getting into the scene!  which is what made this a Grateful Dead experience and not just a Phil & Friends / Ratdog / Whatever.  It always was about the natural mixing of the band and the audience that made Dead shows special, and there's no band (or anything else) in history that created a friendly party on the scale of the Dead.  From every brief elevator encounter in a hotel miles from the venue to the stranger dancing next to you for 5 hours, we were all instant old friends, where a rightly timed smile could convey volumes of truths you've both internalized.
And this party went on for miles . . . from the front of the pit through every corridor and seat of this giant stadium;  from the grass hills outside to the Shakedown parking lots down the way;  from the underpasses with massive drum circles to Grant Park-facing Michigan Avenue that was unabashedly taken over for block after block after block;  from Hunter Thompson hotel rooms to the giant Buckingham Fountain in the park in front of The Congress … it was "strangers stopping strangers just to shake their hand" all over town.
Around 2 AM outside the Hilton on Michigan Avenue.
.
And another beautiful thing was that the crowd was almost evenly split between those who'd experienced the Jerry Dead and those who'd missed it but who'd somehow internalized and manifested everything that journey was about.  And both were an equal joy to share it with — the veterans who knew the score and how to run it up, and "the kids" who were clearly having the time of their lives and gushing with a Christmas morning orgy of rapture.
.
If Phish was once a cousin band to the Dead, the two became siblings this weekend.  Deadheads gained respect for the very respectful Trey, and Phishheads I talked to had studied the entire Dead repertoire in the months since the announcement.  Every player on that stage will continue making live music, and this was just a roundabout in the road that will slingshot each of them into some reinvigorated orbit backed by generations of new listeners.
And how interesting they chose to not include a single "guest star" after being the biggest (by number of members) band inducted into the R&R Hall of Fame, and probably had more people sit in with them than any other band in history — and certainly any that sold out stadiums!  But the Farewell didn't need gimmicks or distractions.  It was just some cats playing music — complex "electric bluegrass," as Crosby calls it — with nary a hit song to their name — but who ended up breaking the all-time TicketMonster record for one event, as well as the most people to watch an online or music-based pay-per-view event in history, while setting a new attendance record at Soldier Field … then breaking it each consecutive night!
And all this while being the most overtly unprofessional act in show business!  They start their concerts with the Bang of tuning up for two minutes.  The few quasi-hits they have – they almost never play in concert.  They wear what appear to be rumpled Goodwill clothes on stage.  They never say so much as "Hello" to the audience all night — until Phil comes out after it's over and asks for your organs.  They flub lyrics and cues all over the place … and laugh about it.  They take one hour intermissions … and the audience doesn't blink an eye … about that or anything else — because the music and the high and the vibe and the energy is So Overwhelmingly Positive and Powerful.
And the other thing — this was all one-take stuff.  Other than their anthemic Truckin' that they played once in each city, and Cumberland Blues, which they did once solo Bob, and once group vocal, there were 80-something different songs played once and one time only.  Everything one take — just like rock n roll was invented.
This sure has been a long strange trip — and this was one helluvan encore!
.
 ==============================================
.
You might also enjoy the time I met Phil Lesh about two weeks before these shows.
Or here's when — The Grateful Dead Played My 30th Birthday.
Or here's a Grate review of Furthur playing Madison Square Garden a few years ago.
Or there's this excerpt from The Hitchhiker's Guide to Jack Kerouac about going to a show at Red Rocks in 1982.
And you can buy a copy of the book here (in the U.S.) or here (in Canada) or here (in the U.K.)
Or here's The Highest Peaks from RockPeaks — the live music video site I wrote for for years.
Or here's the feature story on Festival Express that appeared in Relix.
Or here's a Jack Kerouac Satori in Lowell Adventure.
.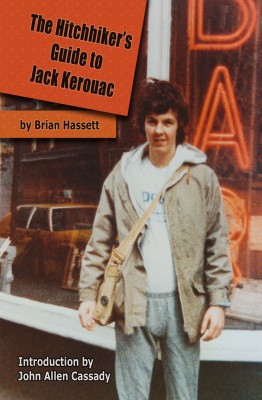 .
 ==============================================
by Brian Hassett
karmacoupon@ gmail.com     BrianHassett.com
Or here's my Facebook account if you want to also follow things there —