Getting My Phil at The Crossroads
.
.
It's the Father's Day weekend, 2015, and my bassist bud Al Robinson tipped me that PhilZone.com had its countdown clock to the next Phil show indicating Sunday night.  That was the only lead I had.
I was out in the Bay Area where, a few years ago, Phil bought a nice large restaurant and performance space in San Rafael, calling it Terrapin Crossroads.  Conferring with my local live music confrère Adrienna, we were able to put the two-and-two together of his son's band, Midnight North, and their Father's Day booking at his father's club, and guesstimated that was the spot.
At the time, I was staying down the coast in the Capitola / Santa Cruz area with the Cassadys, but wanted to do a few days in Marin, so it seemed like Father's Day was the perfect time to transition from Adventures South, to Adventures North.
I stopped in at John Cassady's in San Jose on the way up, left there about 5:30, and made it to Terrapin Crossroads in San Rafael in an hour and 15 minutes. (!) "You could have been waiting in the line for the [Golden Gate] bridge for an hour and fifteen minutes!" locals later told me, in near disbelief at my Cassady-like road time.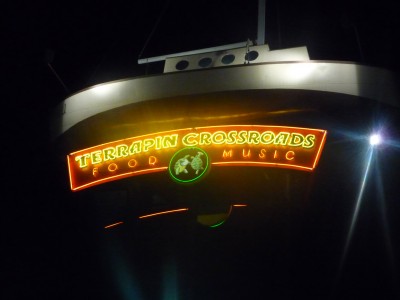 .
Terrapin Crossroads (TXR for short), is a very large multi-room family-style seafood-leaning restaurant right on the water of the San Rafael harbor, and just a couple blocks from the band's legendary office / rehearsal space on Front St.  It has a separate "Grate Room" for larger shows, but every night (and often daytimes too) bands play on a small, low stage in the main restaurant / bar room.
This being 7PM on a Father's Day Sunday there was a long line of people waiting to get in.  Having never been here before, I thought they were in line for the Phil concert, and I'm like, "Is this the ticketholders line?"  To which I got strange responses, cuz, see, there are no tickets … it's a restaurant, you tourist.
The dining tables were all full, but right in front of the tiny stage were a few high bar tables and chairs, and one of them was empty, except for a guy named Cliff.  And if you've read "The Hitchhiker's Guide to Jack Kerouac" you know that's a sacred name, a guiding light, in my AdventureLife.  Soon weir joined by a guy named Jeff, with this table looking right onto the stage.  I asked these regulars if they think Phil is going to play tonight, and they point out there's no big bass rig on the little stage, so they doubt it.  "But you never know.  We could be sitting here and Phil could come walking right through that door."
And not three minutes after he says this — it happens!
Here comes Phil, with his wife Jill — and they go sit in a large open unused area up a couple steps behind the stage.
I'm kinda freakin out.  There he is.  The Man himself.  Just a regular dude in a restaurant.  About 30 feet away from me.
I've already told Cliff & Jeff about my book and how I'd love to talk to Phil and maybe give him a copy.
And pretty much right away, Jill leaves the table they've encamped at, and as he's just sitting there, Cliff says to me, "This is probably a good time to go talk to him.  He's all alone.  It's only going to be busier later."
Five minutes earlier it looked like a long-shot he would be here, and now, with no prep or no liquid courage to speak of yet, I was suddenly "on."  It was showtime.
Luckily, blessedly, perfectly — a lightning bolt across the skull hit me — a-ha — what I could tell him — how I could start talking to him . . . I had an angle from an angel . . .
With Coach Cliff pushing me into the deep end, I grabbed a copy of the book and jumped off the diving board into sumthin I couldn't turn back from.
He was sitting with his back to the far wall, facing into this large unused extra room, and could see me coming from the moment I crossed the threshold.  I just went for it.  Cliff was right.  It was early, things were quiet, and this was the best shot in what might become a long, long, crazy, crazy night.
"Hey, Phil."
"Yes," he looks at me, not unfriendly.
"I have a story for ya . . . " I said with a Prankster twinkle, as I dropped down comfortably in a chair facing him.  "I just wrote this book about the '82 Kerouac conference in Boulder where you guys played Red Rocks as part of it, and I actually go into the connection between the band and the Beats more than any other book ever, including Dennis's or anybody's," and I've definitely got his eyebrow-arched attention.
"I'm friends with the Cassadys, and was hanging out with Neal & Carolyn's son John a couple days ago — 'Neal's kid' as you guys called him," I said, pointing to him and smiling, and he's nodding yes yes, totally with me.  "And … did you know that the very last question Jerry was ever asked on film … was about Neal?"  And he makes this "Wow! I didn't know that!" face.
"John didn't know either, so I read him — rather dramatically — the answer Jerry gave about his Dad, and it was so moving, John actually got choked up and started almost crying.  It was unreal."
Here's the part I read to John —
In fact, the very last question in the very last interview Garcia ever gave on camera (to the Silicon Valley Historical Association), was about Neal Cassady. "I got to be good friends with him.  He was one of those guys that truly was a very special person.  In my life, psychedelics and Neal Cassady are almost equal in terms of influence on me.
"Neal was his own art.  He wasn't a musician, he was a 'Neal Cassady.'  He was a set of one.  And he was it.  He was the whole thing — top, bottom, beginning, end, everything.  And people knew it.  And people would be drawn to it.  He was an unbelievable human being — the energy that he had, and the vocabulary he had of gestures and expressions — oh boy he was funny.  Phew!  I really loved him." … were the last words Jerry Garcia ever said on camera.
And John was sitting there shaking with emotion and trying not to totally lose it in front of his friend.
"And then, a while later," I keep tellin Phil, "Something reminded me of what you wrote in your 'Searching For The Sound' which I quoted in my book — you wrote so passionately about Neal — it was so beautiful — so I read John that part — and this time, John started crying almost from the moment I began reading, and so much so, that I started getting choked up … "
Phil devoted much ink in his memoir to this milestone moment in his life [Neal's death], including, "It hardly seemed credible that a life force like his, so generously endowed with the rhythm of motion through time, could be smothered and shut down at such an early age. . . . Neal's death had hit me harder than I knew; I'd been obsessing on the loss of one of the most inspiring people I'd ever known personally. . . . I vowed to myself that in the future I would live up to Neal's inspirational example."
.
"… and I could barely finish reading it … and the next thing I know we're in each other's arms hugging and shaking and crying together."
"Wow!  That's . . . beautiful!" he says, laser-beaming me in the eye.  "Thanks for sharing that with me."
"I just thought you should know. … You wrote so passionately about Neal … I thought Johnny should hear it," and we both looked into each other's eyes in a prolonged moment of respect and reflection.
And with that, I gave him a copy of the book, and said Thanks for making the connection to history like he did, and left him to his privacy, as I walked back out of that room, eyes bulging out of my head that this just happened!
.
Back at the high bar tables in front of the stage, where we had a direct view straight into this wall-less room where I'd just talked to him and the guys had been watching me, I was freaking out.  I bought a round for the table in gratitude for their coaching, and I felt like my life was now complete.  I'd finally written a book about how the Grateful Dead connect to the Beat writers … and had passed on copies to both the Cassady family and the main guy in the Dead.
Done.
And as we sat there, eventually I realized, "Geez, I prolly shoulda gotten a picture with him."  And ol' Cliff says, "Well, he's still just sitting there.  I could take it for you if you wanted."  And I looked over at Phil, but he seemed all immersed in something, and I didn't want to disturb him asking a dumb favor.  But after a few more moments of reflection and sips of frosty liquid courage, I figured I better do it now — again, while it's early, pre-show, quiet.  So I said Yeah to ol' Cliff, "Let's do it."
And as we walked up the couple steps into the extra room where Phil's the only person there, I see he's bent over reading something … and I'm like, "No! . . . there's no way . . . "  And sure as shit — Phil is sitting there reading my book!  I couldn't believe it!
It certainly made it easy for me to ask, "Hey Phil, can I get a picture with you?"
And he looks up with the biggest smile on his face!  "Yeah, sure!" he says with genuine enthusiasm!
And he jumps up for us to do it, then goes, "Wait," and reaches back to the table and grabs the book and holds it up front and center!
Couldn't believe it!
.
And then the night rolls out, and his son's band plays their first set — a mandolin–electric–guitar bluegrass–rock amalgam with Grate 4-part harmonies — and luckily for all, as a vocalist, the son did fall far from the tree — as Pops comes and sits right behind us for the set.
Generally speaking — I'm thinking — "This must be heaven; tonight I crossed the line …"
I'm just a beaming Brian, floating on the golden road at the end of the rainbow, with a stage-side seat to some fantabulous music, surrounded by new friends, and a photo with Phil on my camera!
And then during the set break, Jill and some other people come and join Phil at their kinda private table in their kinda private room, basically right in front of our field of vision, and I'm sorta keeping an eye on him every few minutes.  And then I notice, he's not talking to the other people at the table.  He's sitting there, looking into his lap.
"No! . . . no way . . . don't even think it … " . . . but I do.  And I get up and go to where I can get a clear view of his lap . . . and sure-a-gawd-damned nuff . . . on Father's Day, with his son's band in the house . . . on a non-work night out with his wife and their friends . . . he's sitting there at their table … reading my book!
.
And then more crazy shit goes down, there may have been some jazz cigarettes involved, and another set of smokin' bluegrass–rock-n-roll, and another round of — get this — Prankster beer!!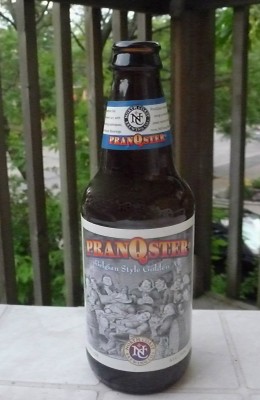 .
And we're talkin at the table about all sorts of stuff including my book, and this other author named Sandy Troy is there, and Merry Prankster Adrienna, and dancin' cowboy Harri, and it's a very High Time with some very hardcore cool Marin County cats, and at some point the jam rolls around to one of the photos on the back cover …
from Halloween night, 1980, right after the final Radio City Dead show — and how I only asked to have the picture taken because I'd just found Molson Canadian in a deli for the first time since moving to America a month earlier!
And … I'm actually wearing a Phil Lesh button in the photo!
.
And then I realize — Shit, I should tell Phil this.  He'll never be able to see that that's him on the button.  So, sure as heck, being well-primed with some well-placed Prankster beer, I decide to go over one more time — which, y'know, is verging on being a pest.  But when I walk up to his now full multiple tables of friends, he looks up, and as joyously as could be, goes, "Oh, hi Brian!"  And this is a guy who back in the day had a reputation for sometimes being a little less than friendly to people.  But he was just as nice and open and into-it as a person could be.
So I go on one knee beside him with the book on his lap and point to the picture and start to tell him the story about Halloween Radio City, and he goes, "What year was that?"  Kinda blew my mind that he played this historic run at Radio City Music Hall, made two double-albums and one movie from it … and doesn't have a clue what year it was!
Anyway, I tell him the funny story about why I had this picture taken and the only reason it exists — because this Canadian was just so jazzed he could get beer from the homeland in New York City — and Phil, being an old Heineken man himself, obviously appreciated a good beer story, and as soon as I told him, he popped his head back and let out a huge laugh, and totally got it.
Not only was I not being a pest, but he completely dug why I was telling him this vitally important background.
And then a few days later — while in the middle of another Beat conference — I joined him and 75,000 others at Levi's Stadium, as this beer-and-book-worm played his band's Farewell to California . . . including their song about Cowboy Neal at the wheel of the bus to Never-Ever Land.
Because that's when it all began.
.
===============================
.
For another great story involving a musician — check out the time I wrote a song with the founder of The Guess Who, Chad Allan.
Or for more GD fun — here's the Grateful Dead in Chicago story.
Or here's when The Grateful Dead Played My 30th Birthday.
Or here's an excerpt from "The Hitchhiker's Guide to Jack Kerouac" about the GD at Red Rocks.
Or here's a ton of other people's reactions besides Phil Lesh.
Or here's a whole nuther round of rave reactions from around the world.
And here's where you can get the book in the U.S.
. . . or in Canada
. . . or the U.K.
Or here's a bunch of performance videos of various excerpts with numerous different line-ups.
Or here's a great radio interview where I go into a whole bunch of Grateful Dead, the Beats and other stories and ideas.
Or here's a joyous riffin' print interview that explores the meaning of "Beat" and how it impacted culture at large and is part of our world today.
And for Facebookers — there's a photo album of the whole "trip" here.
.
===============================
by Brian Hassett
karmacoupon@ gmail.com     BrianHassett.com