Yes — you can Vote — and maybe you're already one of the record-shattering 11 million who've cast their ballot — but here's some other fun cool proactive things you can do —>
Talk to your friends and neighbors and make sure they've got a plan to vote.
https://howto.vote/
Check to make sure you're registered — and check on behalf of your loved ones.
https://www.usa.gov/confirm-voter-registration
If you're living outside of the country, you can still vote.  I've been involved with Democrats Abroad ever since I left Manhattan, and they're a cool krewe.  Here's how you can vote from abroad —
https://www.votefromabroad.org/
Talk to your third party leaning friends, or those who tend to cop out with "they're all the same," and politely explain how hate mongering and hate crimes have increased nationwide; about the lies told about a virus trump knew was deadly and how he turned mask wearing into something political instead of medical; how America has 5% of the world's population but fully 25% of the world's coronavirus deaths; how disenfranchising people's votes is an active practice for an entire political party.
Put up Biden/Harris signs in your front yard or apartment window.
When one person does it, it often prompts others to, too.
You can find your state Democratic party website and info here —>
https://democrats.org/who-we-are/state-parties/state-party-websites/
You can volunteer to phone bank for an hour from your home.  You'll get to talk to some cool people you wouldn't otherwise, and bank some votes that may otherwise have been squandered.
https://joebiden.com/call/
You can check in with people you know who don't have a car and offer to drive them to their polling station.
You can send your own customized creative postcards if you wanna go old-school funky & personal.  There's a cool group coordinating this called Postcards to Voters —
https://postcardstovoters.org/
Also old-school but still effective — write a well-penned letter to the editor of your local newspaper.  Since less people do that now, you have more of a chance of getting printed, and/or having a nice published web link you can share around.
If you've got an extra $15 or more that you didn't spend this month because you're locked down, you can put it towards restoring sanity, empathy & respect to our governance.
https://secure.actblue.com/donate/biden2020_fr_web
You can call your senator and register how you want him or her to vote on the Supreme Court replacement.  Phone the U.S. Capitol Switchboard at (202) 224-3121, and an operator will connect you directly with the Senate office you request.
https://www.senate.gov/senators/How_to_correspond_senators.htm
You can do all of the above for the Senate candidates who are poised to stop the second most evil man in America, Moscow Mitch McConnell.
And that includes a particularly strong slate of women who would bring a different perspective to the law-making body:
Amy McGrath is McConnell's opponent in Kentucky.
https://amymcgrath.com/
Sara Gideon is trying to unseat Susan Collins in Maine.
https://saragideon.com/
Theresa Greenfield is close to upsetting the trump yes-girl Joni Ernst in Iowa.
https://secure.greenfieldforiowa.com/page/s/sign-up-to-volunteer
And Barbara Bollier is on the cusp of winning a Senate seat in Kansas of all places!
https://bollierforkansas.com/
Plus there's the very impressive Jon Ossoff taking on the Repugnant David Purdue in Georgia.
https://electjon.com/

And Mike Espy is neck-&-neck with that crazy "I'd attend a lynching" Cindy Hyde-Smith in Mississippi.
https://espyforsenate.com/
And then there's the cool smart Democrat-aligned Independent Dr. Al Gross who may unseat the Repugnant in Alaska.
https://dralgrossak.com/
No matter if you're in a solid blue or solid red state — let alone a swing state! — every single vote that goes into the national kitty is one more voice — yours! — that history will record as voting against and putting an end to this racist-in-chief.
You want to feel good on November 3rd.
You want to fully enjoy the moment this nation will celebrate on that night, and on January 20th, and every day going forward.
And you don't want that gnawing guilt in the pit of your stomach that you know you didn't really do your part.
And boy — it's gonna feel so good when you do it. 😉
And it's free!  And it's fun!  And it changes the world!
And how often do you get to do that?
Feel free to copy and share, and add your own personal touch if you want.
And if anybody has any other good ideas beyond simply voting, by all means let me know.
.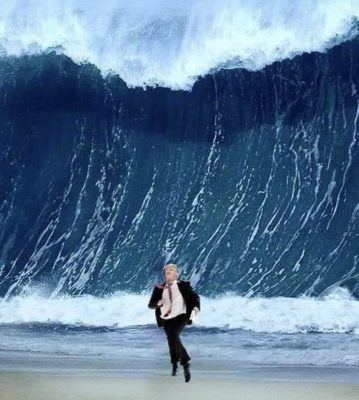 .
=========================================
Here's where you can get my Political Adventures book Blissfully Ravaged in Democracy.
Here's the first show for the book — a live stream on Facebook — where I perform parts of the book live —
Here's where you can get the first book in The Beat Trilogy — The Hitchhiker's Guide to Jack Kerouac.
Here's the second book in the Trilogy — How The Beats Begat The Pranksters.
Here's the third book in the Trilogy — On The Road with Cassadys and Furthur Visions.
=========================================
by Brian Hassett
karmacoupon@gmail.com   —  BrianHassett.com
Or here's my Facebook account if you wanna join in there —