"
The Taming of The Shoobeedoobie"
.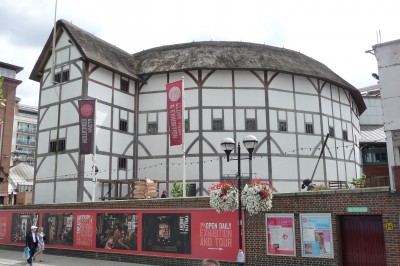 .
"Next stop, Shakespeare's Globe," says the driver downstairs on the red double-decker bus winding its way through the narrow South Bank streets of London.
I went early so I could do the official tour of the theater, and of course the guide was extremely well-versed, among other things explaining how back in the day the audience would drop their pence or two in the admission box, and then they'd go lock up the box in an office. That is, the "box office."
And of course he and I start jammin' and it causes our little tour to run way overtime.
Then I ask Mr. Cool-Guide if I can go back into the private area and look at their wall with all the founding donors' signatures cuz I know Carolyn Cassady who I'm staying with is one of 'em.  And he lets me!
But when we get to this huge bronze wall of little signatures at the top of the stairs, he's thinking, "Why did I let this guy back here?  He's never gonna find one signature …" and right away starts mumbling out loud, "Um, people aren't really supposed to be back here, and uh … "  Boom!  —  "THERE IT IS!!"
And as I'm taking a picture of it he's sayin – twice –  "I can't believe you found it that fast!" 🙂
After this score, I do the whole two-floor exhibit on Shakey Willie and how this theatre's exact replica reconstruction took 50 years to happen, and I spend the whole afternoon totally living it and transported back to the horse & peasant days.
I'd made a bunch of really awesome daytime plans for a boat ride on the Thames and exploring Potters Field by Tower Bridge for the Olympic screen-scene, but once I was back in ancient England it was, "I'm not leavin' Shakespeareville!"
At some point I slip through the back gates and end up backstage sitting at a courtyard picnic table with the props guys, and one of 'em says, "You wanna beer?" and hands me a frosty Corona from the crew cooler and proceeds to tell me all these wild stories of how they do the "O.P." shows, Original Practices, and how everything's done exactly like it was in 1600 and all the costumes are dyed with animal fluids, and washed by hand, and the neck ruffs are made with pins-only — about 200 of them! — and how they toured America and played a prison and the guards counted every pin coming in, and the crew had to manually count and account for every pin coming out!
Next thing I know I'm in my freakin front-row-center lower balcony seat overlooking the groundlings on the floor — best seat in the house — and the show's to die for!
And one of my questions going in was — are they gonna do the opening Induction?  It's this whole weird set-up to the play that's often not performed — this elaborate premise that there's some debate about whether it actually connects to the play or not.
But before it even starts there's this drunk guy on the floor who gets into a fight or something with the staff!  And it starts to escalate, and to get away from it the guy actually runs up on the stage!  And security's called, but before they can get there the guy starts taking a wiz against one the pillars!  And then he starts stumbling around and literally pisses on the audience!  And this poor guy in the crowd runs out screaming for a towel!  And the drunk guy passes out or worse on the stage and the freakin' paramedics get called!  And the stage manager in her headset runs up there and is telling everybody what to do, and the crew and actors all peak out from the wings, and eventually she says the show has to be cancelled.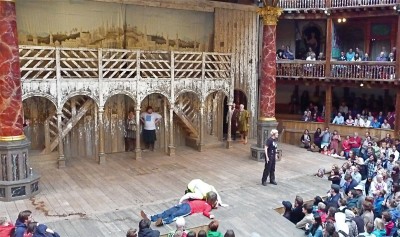 And I'm like, "Dude!  This is two times in a row!!  Can't you guys put on a show in this town?!"  This just happened when I went to Long Day's Journey Into Night last week!  They had some electrical fire backstage and the stage manager came out and cancelled the show half-way through the first act!
But eventually they wake up the drunk guy and decide to put on a play for him.  Just as Shakey Willie designed it.
And thus it was we were introduced to the supreme majesty of THE theatrical master.
And of course the whole play — "The Taming Of The Shrew" — is insanely great, and they work with the groundlings on the floor during the entire show.  At least half the stage entrances and exits are done walking down into the standing audience — pushing through them, starting arguments with them, hugging them, seeking their guidance — extending the play to forcefully include the audience whether they like it or not.  No getting around this one.  Yer in it.
And Then!  All of Shakey's plays back in the day ended with a jig!  I never knew that.  But all the actors would come out and have a party on stage and dance and improvise songs and interact with the audience and confirm to them this was all a play and a party and they'd end with a dance, the healthiest of human activities, London Olympics be damned.  So this whole theatre-wide dance party happens, with everybody on stage and in the audience up and dancing and clapping and hooting and whooping.
And when the show's finally over … I don't leave.  It's just the way I don't roll.  I let everybody else make like sardines while I stay in my seat soakin' it in, the last guy to leave the balcony.

And even after that, I linger in the second floor lobby of the modern building we exit into, and Boom!  there's the absolutely gorgeous delicate blond young-Michelle-Pfeiffer-looking actress, Sarah MacRae, who of course I had an instant crush on, walking right towards me!  I jump at it and thank her for the great show and she's all smiles and lovely and graceful and grateful.  And as I can't take my eyes off her I see her slip through some unmarked door.  Ah-ha!
The power of the pre-scout, baby!  I knew that that Open Sesame actually led to an adjacent Shakespeare-themed bar.  So I follow her in, and right away meet one of my favorite actors from the play — in a supporting role, but he just Crushed it all night — Tom Godwin.  In fact, he was also one of the musicians and at one point riffed a really funny "Johnny B. Goode" that got a theatre-wide laugh.
So we start talking and really getting into it and after a bit he pulls a cig out of a pack and I'm like, "Oh, can you smoke in here?"
And he's, "No, I'm gonna go out there," nodding to the outdoor patio.  And I'm, "Oh cool, I'll get a pint and join you," and he's like, "Yeah, great, do that."
So I go out … and the guy's actually waiting for me!  And it's this whole private patio garden bar overlooking The Globe and the mighty Thames and the whole cast is there including Michelle Pfeiffer looking like a white rose in bloom, and Tom & I start jammin' fast n furious on Shakey Willie and theater and how to do it.  And right away we fall in with one of the leads, "Lucentio," and we're all jamming the rehearsal process and turning the words into actions and creating the direction and Shakespeare vs. O'Neill and the overt sexual entendres in this 400 year old play and how slapstick isn't a bad thing, and I'm having such a good time with these two I go ahead and have them sign my program.  Gotta be the first time since I was a kid that I asked for an autograph, but we were having such a grand old groove of it on this riverside balcony with couches and cold ones, and I had one of these cool new £4 programs they sell insteada giving you a free one, but they're so much nicer, and how many times do Shakespearean actors get asked for autographs?  So the program gets passed around and about a dozen of them sign cool chit in it.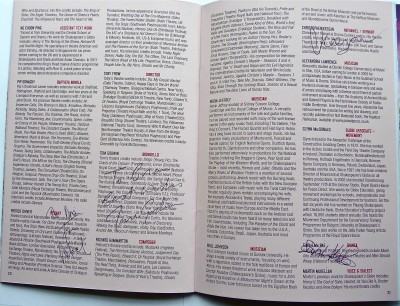 And I'm telling them the "Long Day's Journey Into Night" story about the stage manager coming out to cancel the show, and how that's now happened to me twice in a row in London!  It kills.
And then one of the actors, he's 26, in his first Shakespeare play, and is a total freakin' Prankster, starts doin' magic tricks right in front of us in the latenight trip of it all.  In the middle of a conversation he suddenly starts spitting pins out of his mouth as though they kept unexpectedly showing up there.
And then he gets prodded by his troupe for more, so he tears off a long strip from a paper napkin on the table, hands it to a brother actor, and says, "Is that just a piece of tissue paper?"
"Yeah."
Hands him a lighter.  "Prove it — light it on fire."  So he does.  And as it's burning the guy reaches into the middle of the flame with his finger and thumb and pulls out … a crisp 10-pound note!
And then some New York actress falls into the scene, and the volume kicks up, but there's also some bar manager nosin' around startin' to bust us for being in a pub after 11 PM in this Puritan country, and finally people start to cut out — and fully half the actors leave by bicycle!
For the first time all night I look at my watch and — "Holy oh-oh!" — it's 20 minutes till the last train outta London!!
So I book it down the back stairs to the Thames — and on this pedestrian-only walkway … sits a freakin cab!  What?!  No way!!  Boom!  And he even knows a place between here and Waterloo Station to grab some late night beers-to-go, hits it on the way, and I'm once again on the last train outta Dodge with a pocketful of prosody.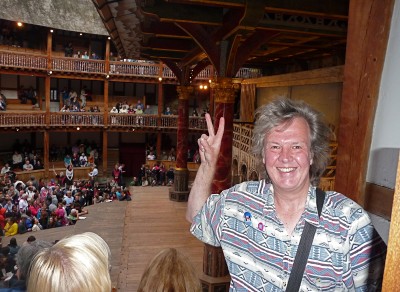 ==================================================
Or for some other adventures there's The Merry Pranksters invade Woodstock
or the Sneaking onto the Pittsburgh Penguins Bus During the Playoffs story 
or the sneaking backstage at the On The Road premiere and meeting Walter Salles story 
or sneaking into the afterparty with Johnny Clegg
or this Long Island Mansions Adventure with Steve Winwood, Sheryl Crow and a bunch of others 
or that one with Carolyn and John Cassady at the Northport Big Sur reading 
or the tribute to my U.K. friend Carolyn Cassady
or that time I drove the whole length of Manhattan in about a non-stop minute story
or speaking of On The Road here's the account of what went down the day the Original Scroll was auctioned
or that whole Obama Inauguration Woodstock was just insane!
=========================================================
 by
Brian Hassett      karmacoupon@gmail.com      BrianHassett.com
==================================================