The Setting:
The new Bob Center is in Tulsa Oklahoma because the Woody Guthrie Center is there, and because both were paid for by the OK billionaire philanthropist George Kaiser.
Tulsa is remarkably like the midwestern town of Winnipeg I grew up in — flat farmland, low-rise, about a half-million people — and both with active supportive arts communities.  Winnipeg had the fertile musical garden that bloomed Neil Young, Burton Cummings and Randy Bachman . . . Tulsa birthed Leon Russell, J.J. Cale and Garth Brooks.
What everyone sees upon first arriving at the Tulsa airport.
Besides the Bob and Woody Centers, there's Leon Russell's recently restored Church Studio (which is in a church) and there's an annual April festival for all things Leon;  Cain's Ballroom (which is so historic they offer tours besides regular concerts);  The Gathering Place park (in every Top 10 list of most beautiful parks in America);  a vibrant local music club scene including the Colony (in continuous musical operation since 1958) and the beautiful Maggie's Music Box;  as well as many miles of the original Route 66.
= = = = = = = = = = = = = = = = = = = = = = = 
The new Bob Center is right across the street from the Guthrie Green and right next door to the Woody Center, and as soon as you walk through the door you're greeted with a 16-foot high site-specific iron gate sculpture created by Bob . . .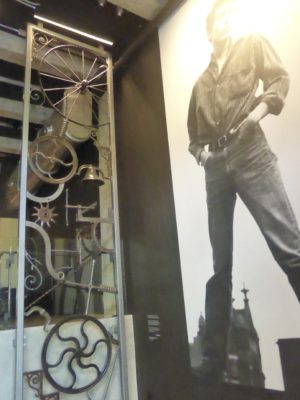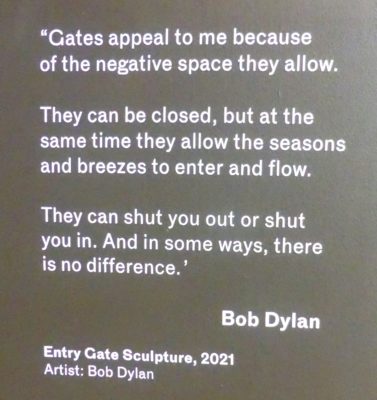 Then you walk up a few steps and you're in a giant welcome room with a gift store full of all sorts of Bob gems and a friendly staff where you pay $10 if you're over 55 and $12 otherwise, and get your free audio guide with 52 different touch stations to hear versions of songs being played, or sometimes interviews and audio backstories, and in a couple cases Sean Penn reading Bob's memoir Chronicles or Martin Scorsese reading Bob's speech from the Tom Paine Awards in 1964.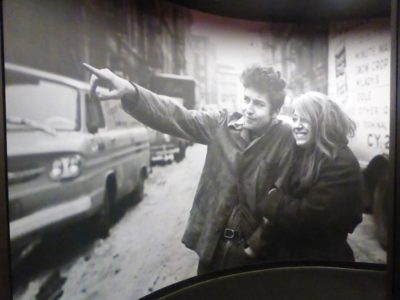 The curved hallway into the film room
The first room of the museum proper is a giant space with a 23-minute (and growing) immersive film by Jennifer Lebeau about Bob's career playing on three different walls and innumerable screens.  No two walls are showing the same thing as images are collaged on screens from wall-sized to tablet-sized.  Wonderfully indicative of the whole Center — it's overwhelming. 
Jack Kerouac in the Dylan film
The first time you experience it you get blinded by the light of all the truths & quotes & images spanning a 60+ year career.  I was so blown away and realized I was digesting so little of it at first glance, I had to come back a second time.  That visit I approached it methodically and was only able to get through the first floor in five hours.  (!)  If you really wanna do this, it'll probably take three visits — cuz two wasn't enough for me.
The 'screens' that the opening doc plays on are pages flowing out of a notebook and a typewriter, and off the music stand on a piano.  It's brilliant interior design.  I lived in Manhattan for 30 years and have toured museums there and all over the world all my life — and I've never seen so beautiful and apt an architectural creation for any artist.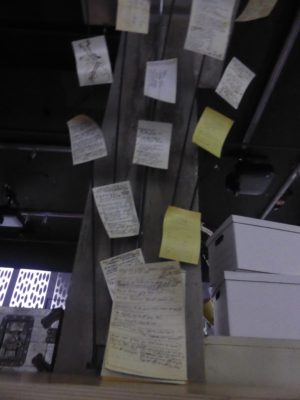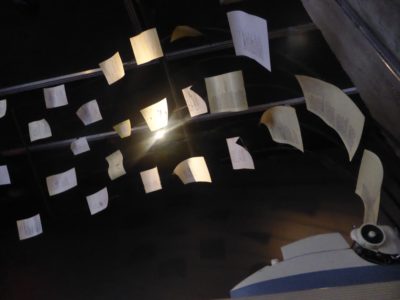 After the surreal swirling movie you enter the main room of the center, which they call the Columbia Gallery.  Along the four walls they chronicle Bob's life in sequence from roughly 1957-ish when he first started to play guitar with others including a couple of cool audio recordings of folks he knew back in Hibbing . . .
… and continuing through him receiving the Medal of Freedom from Obama and the Nobel Prize in Literature, as well as his late-life iron sculpture work.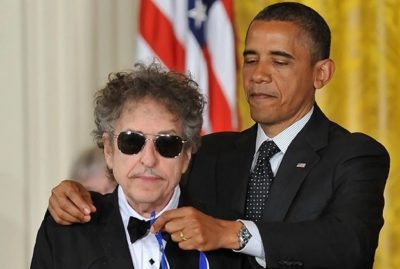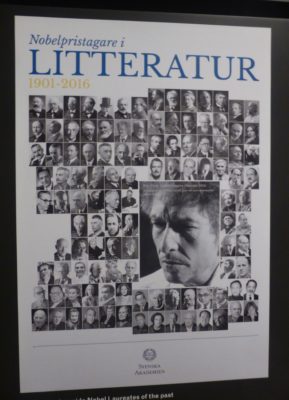 One revelatory inclusion from the early years was some found 8mm footage from Woodstock in 1964, well before Bob had taken up residence there, featuring Joan, Albert, Mimi and Al Aronowitz!
In the center of this giant old industrial building are six big cement pillars.  If you were the interior designer — what do you do with those?  The brilliant team Olson Kundig out of Seattle chose to surround each pillar with an exploration of a different song.  And of course what they'll do is rotate the six songs over time.  For the inaugural installation they focused on Like A Rolling Stone, Tangled Up In Blue, Jokerman, Chimes of Freedom, Not Dark Yet and The Man In Me.  It'll be cool to see the songs they choose in the future.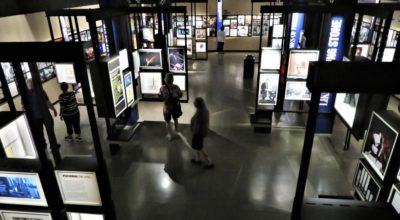 Bri & Sky in the six-pillar labyrinth, photo by Gubba Topham
One other highlight of the main room is a small alcove with a faux recording studio you can sit in behind the mixing board.  Through the glass looking into the recording studio they use multiple projections to create a diorama of each unique session covering five songs and studios where he laid down the historic tracks — Like A Rolling Stone in New York in 1965, I Want You in Nashville in '66, Knockin' On Heaven's Door in Burbank in 1973, Most of The Time in New Orleans in 1989, and Mississippi in 1996/7.
Producer Tom Wilson in the Columbia Studio in 1965
On I Want You and Knockin' on Heaven's Door you have the option to play with a 4-channel mix so you can raise or lower different instruments or hear them isolated.
ADD VIDEO OF TANGLED UP IN BLUE NOTEBOOK
Another installation is the Elvis Costello-curated jukebox that has a bunch of songs by Bob, and songs that influenced him, and interpretations of his songs by others, which is a great idea, but I didn't see many people actually using it because there's just so much else to experience.
Some other highlights that jumped out from the hundreds of artifacts displayed include — this postcard from Pete Seeger explaining to Bob how he did not in fact object to him going electric in Newport in '65.

"My big mistake was in not challenging the foolish few who booed.  I shoulda said, 'Howlin' Wolf goes electric, why can't Bob?'"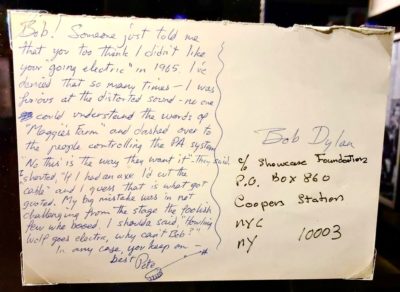 Or Lenny Bruce's phone number in Bob's old address book …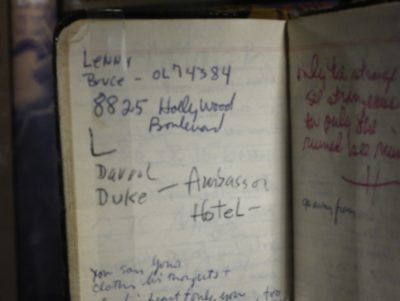 Or there's the note from George Harrison to Bob in 1969 …
Or Bob and my fellow Kelvin High School alum Neil Young playing together in Golden Gate Park in 1975 …
Or this collection of some of Bob's books including Jack's Mexico City Blues and Allen's Howl …
Or a copy of the greatest music journalist ever Ralph J. Gleason's early review of Bob …
Or this On The Road windshield drawing that should be used for the next edition of Jack's book …
.
One of the artifacts they show in the opening movie that I really wanted to see but isn't on display is the sheet from the yellow pad where Bob wrote his first original song — Song For Woody — but to me is particularly interesting because he cites writing it at Mill's Bar on Bleecker Street in the Village.  This was a dive bar on Bleecker that was still there in the early '80s when I was living around the corner — a woebegone joint that has long since been lost to history.  I sure as hell didn't know Bob wrote there back then — and I bet they didn't either.
This original copy is owned by some huge Woody collector in Colorado, but it's in the office of one of the people working at the Bob Center where I was able to sweet-talk my way in to see a reproduction of it.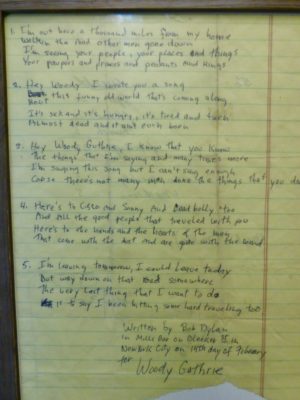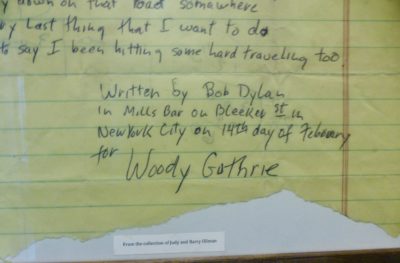 And then there's the whole second floor.
Photo by Sky Lyons
There's another long wall of chronological archival stuff including Bob's costume from a personal favorite creation of his Masked & Anonymous —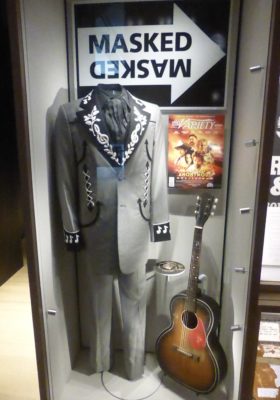 There's also a special exhibition space where they feature different prominent photographers with some connection to Dylan, and a 55-seat theater with a 45-minute documentary collage of different specific aspects of his career.
One omission to an otherwise masterpiece of a design was not including more places for its older demographic to sit and rest and soak it in.  But other than that, this whole place rocks like a multi-song encore.
Admission is $10 if you're over 55, $12 if you're not.
.
Bob Dylan by Ralph Steadman
.
===============================
.
If you want a great account of Dylan at the 25th anniversary of Woodstock plus tons of other great musical Adventures check out my Holy Cats! Dream-Catching at Woodstock book. 
Or here's an account of being at the Springsteen Shea Stadium concert when Dylan showed up in 2003.
Here's a review of a small venue Dylan show in Toronto in 2004.
And here's from the small arena in Hamilton Ontario in 2008.
==============================
by Brian Hassett
karmacoupon@gmail.com   —  BrianHassett.com
Or here's my Facebook page if you wanna join in there —