.
Somewhere in America . . .
Pranksters are gathering . . .
and in this case it was Wonderland.
A dozen acres of wilderness hills and valleys, with a sunken natural amphitheater on the highest point of land in sight.
150 or so Pranksters came from across the land, traveling by every mode there is to play the play like only Pranksters play.  No passengers.  Everyone here's a participant, a character — a bunch of characters.
And there were babies, under 10s, tweens, teenagers, 20-somethings and every-somethings through their 70s … everyone interacting on an equal level … no cliques … no divisions … no separation … and everyone in a beaming mood all weekend … nuthin' but fun on so many levels in SO many locations — the house, the front porch, the covered shed, the clothes painting area, the RVs, the Bertha Bus scene, the sign painting scene, the yurt, the first party tent, the second party tent, the Mad Hatter hat, the 300 section looking down on the amphitheater, the natural balcony level, the stage pit, the bonfire pit, the camping scene, the chess table and other installations in the field — that's about 17 wink wink different scenes right off the top … 
.
And then there's the part where right afterwards people were saying things like . . .
"One week ago, I left New York to see people I've never met and to experience something like I have never experienced before.  It was by far the most memorable weekend of my entire life, and I cannot express my love enough for each person I met.  You all radiated an energy that I can't even put into words.  And you brought the spirits that couldn't be there right to the party.  Sometimes you invite spirits and they don't show, but with this amount of positive energy and love in the air, the spirits couldn't help but be there with us!"
Or . . .
"One day at your party was better than my entire vacation in Hawaii last week.  It's one thing to be in paradise, but quite another to be around incredible people.
"I just lost two of my mentors in the space of a few days and I was feeling pretty down about it all … and suddenly there I am standing in front of the stage … talking to some magical people … and seeing this amazing performance art … then in the mist of the music and the night … the message came from the singer on the stage … "anything is possible."
Or . . . 
"I met my best friends that I never met before … I feel so rich.
"I can't even begin to to describe how much fun being a Merry Prankster has been!  I've met some of the Greatest People that I would have never known if it wasn't for taking that chance last summer.  I have over 100 New Friends (and some I'm still meeting) from all over the country."
Or then . . . Original Bus Prankster Anonymous saying . . . "You have no idea … I'm already rebelling and having thoughts of cross-country driving … the wonderful thing is you awoke this sleeper … and nothing is the same anymore ….. "
It was three days … but really it was five … or two weeks for some … or six months for a few … and lifetime for all.  Leading to this place.
Like … up on the hill, a giant 15 foot high top hat … and if you cracked the hidden slit in the side — there was a full Mad Hatter's tea party going on inside with teapots and teacups and teaspoons and a full compliment of Mad Hatters sitting around speaking Jabberwocky.  
Or there's Grandma Tigger baking cookies by day and blowing fire by night.
Or there's the kids painting their faces and putting on a play on the main stage.  Or there's Anonymous who jumped on The Bus in Calgary in '64 holding court with tales of The Road.  Or there's me on stage reading On The Road with the Adam's Ale soul-swingers, or my own Road Tales with JoJo Stella gettin' stellar with the groove.  Or there's Aretha's trombone player blowin' his rhythmic squonks across the land – sayin, "You made lightning strike."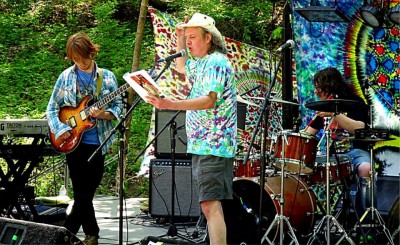 Pranksters.  Nuthin but Pranksters.  And they're nuts!  You know the type.  A little too crazy to fit in naturally with regular folk … they're always on Adventures … and playing … and goofing … and smiling … and hugging.  And man! … a first-thought best-thought was to add up how many miles each person travelled to be here.  Could you imagine?!  East Coast, West Coast, Gulf Coast, Canada … then you know the way sports are covered? — with every hit & shot & everything counted? — what if you counted all the hugs n kisses over this weekend?!  We'd be burying Babe Ruth numbers.
.
Maybe a lot of groups feel this … and I've been in some pretty huggy close families … from Landmark Forum to MTV Networks to Deadheads United … but there was an inhibition-free love here I haven't experienced before.  Cool as the best work family collectives may be, you're prolly not the You you are on a secret weekend getaway.  Or in those self-help groups, you have to buy your way into their advanced programs before you're in a really special place.  But being a Prankster costs nothing.  You don't even have to like the Dead — although most people do. 🙂
It's a mindset.  It's about being playful and participatory.  Maybe you'd find this in a cool theater company's get-together.  Or an invitation-only musicians party.  And oh my gawd — the music!
.
Part of Wiz's whole idea, which he worked up with Yoda, was that all the musicians would play together.  He hired four killer bands of the kinda players you could listen to all night … and that's just what the hell happened.  Saturday there was no break in the music from about 8PM till 5 in the morning.  A non-stop improvised amalgam of jazz-level cats merging in and out of the flow for nine hours.  It was musical medicine alright … just as Yoda prophesied.  And meanwhile on the hillside next to the stage there's a dancing psychedelic light show playing out among the trees as people dance in it and dogs run through chasing the lights causing wolfian sculptures of shadows dancing to the Fire On The Mountain.  And then an octopus appears . . .
And then there's this part where everybody paints or performs or pranks or cooks or makes installations or photographs or cleans up … or lots of the above … and it's this communal gathering with not just people being nice to each other, but everybody letting their freak flag fly and creating whatever it is they do.  Maybe that's playing with somebody and tweakin' their Twanger.  Maybe that's bringing 50,000 beers and giving them away like Gubba, Uncle Mike and Hootie did — after flying in from Vancouver and Albuquerque.  Or maybe it's tracking down one of the original Bus travellers and flying her in like Moray, the laugh-after-every-line Babbs of the Next Generation, did.  Or maybe it's arriving with a half dozen costumes for a three day party.  Or maybe it's becoming a Butterfly and dance-flying all around the garden.
.
Whatever it is — everyone brings it.
And the whole gall-darn point is — it can be done anywhere, by anyone.  It's just upping your Prankster game, and beaming in on those who shine.  Weir everywhere.
But of course this one was silly special.  The first Family Reunion after the 50th Bus Tour last year that brought all the Pranksters out of the woodwork.  And now with The Summer of The Dead … and everything going on in Chicago in July … this is obviously a springtime to feel free to freak freely — "Let your freak flag fly," as Crosby put it — letting out whatever's inside that wants to emerge.  That's the Prankster ethos.
.
As I talked to people all weekend, from kids to old folks, there was a leprechaun glisten in their eyes, an electric wildtude, a Prankster twinkle.  Nobody here was normal.  Everyone was touched and screwy in their own way.  Didn't fit in.  Reminds me of a line in my own book about Jack's friends being odd ducks.  I dunno, but it worked for him, and it's working for me.  The weirdest and most twinklingly playful people around you are prolly the ones you wanna get closest to.
=========================================
For more Pranksterness — here's when I first met Ken Kesey.
Or here's The Pranksters at Woodstock.
Or here's The Reunion event in 2016.
Or there's always The Pranksters on a Mission.
Or here's a review of the new Prankster movie "Going Furthur"
Or the Prankster / Beat spirit alive at a show in the Village.
Or here's a Prankster Adventure with the Cassadys.
Or here's where you can get "The Hitchhiker's Guide to Jack Kerouac"
Or here's people's reactions to it.  Or here's a bunch more.
=========================================
=========================================
Photos by Jeremy Hogan, Wizard, Gubba, Joanne Humphrey & Brian Hassett
Story by Brian Hassett      karmacoupon@gmail.com        BrianHassett.com