The Chad Allan Story
.
When I was in grade 7 at St. John's Ravenscourt school, a teacher, Bernie Beare, told me I could write well.  I didn't know what-the-hell good that was gonna be, but apparently it was something I could do.
So I started to focus on it, and pay attention in English classes, and take the writing assignments seriously.  Sometimes we'd be told to write a poem, and in grade 10 at Kelvin High School I wrote one that the teacher raved about.

It felt good to be keeping alive the creative forces that were laid down at the school a decade earlier by my favorite former student, Neil Young.
What was unusual about the narrative storytelling poem was that it was written by a 15-year-old about life many years down the road – about being married and having a job, losing the job, infidelity, and drug addiction.  Where and how I came up with it I have no idea.  But I was reading a lot.  In those days, that was kind of all you had.  They wouldn't let kids into mature movies, and not much played on the seven TV channels we got.
My Mom was good friends with Bob McMullin who wrote the arrangements for and conducted the orchestra at Rainbow Stage, the big outdoor musical theater in Winnipeg.  He was longtime friends with and had produced Chad Allan, who was the guy who formed the biggest band in Winnipeg's history, The Guess Who.  Chad was the lead singer and bandleader behind their first big hit, a cover of Johnny Kidd & The Pirates' Shakin' All Over.  The song was only a hit in England in 1960 and never crossed the pond, but Chad had a friend who would get tapes of the hit parade in the U.K.  As Randy Bachman describes it in his great memoir Vinyl Tap Stories, "That song just leapt off the tape at us."
Funny side-story:  the group was actually called Chad Allan and The Expressions, which was the entire original Guess Who lineup with Chad, Randy Bachman, Jim Kale on bass, and Garry Peterson on drums.  The keyboard player, Bob Ashley, would quit the band in late '65 because he didn't like touring, and was replaced by a 17-year-old Burton Cummings.  The pre-Burton lineup recorded Shakin' live into a single microphone late one night in December 1964, and their record company loved it.  When they rushed it out as a single in January '65, they just put Guess Who? where the artist's name went to create some mystery around its origin – including because it sounded so much like the British Invasion music, they thought DJs might think it was some secret all-star collective out of England.  It became the #1 song in Canada, and went Top 30 in the U.S. and lots of other countries, making them the first band from Winnipeg to ever have an international hit.  Since DJs kept calling them "Guess Who" the band just changed that to their name.
.
.
My Mom and Bob McMullin hatched this idea to have Chad come to our house and see about turning the poem into a song.  And that's exactly what happened.
He came over on . . .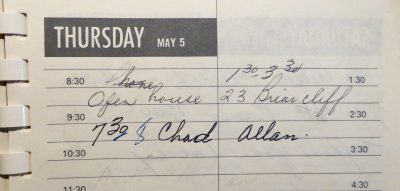 . . . 1977. 
My parents wanted to meet with him before they let us go off together.  Their protected innocent (ha-ha) only child (like Chad was) was about to be put in private confines with a "rock star" – so you can understand their concern.
.
Chad Allan circa 1974
I vividly remember that evening in the big still-sunny living room of our River Heights house filled with classic '60s furniture.  It was almost like a job interview for Chad, and he knew he had to win them over.  I think the premise was a bit funny for him.  He sure as hell wasn't like the long-haired makeup-dripping freak in the Alice Cooper posters on my walls.  He was very straight, polite, unassuming, mild-mannered, with kind-of thick glasses — the polar opposite of the '70s rock stars who would make the news for all the wrong reasons.  He was definitely more mid–'70s John Denver than John Lennon.
.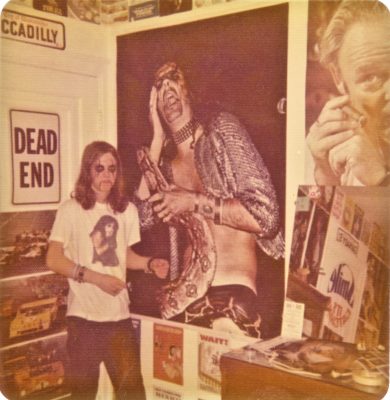 Brian as Alice Cooper, Halloween, 1975
After some gentile tea & cookies conversation, apparently he "passed the audition" and he & I went down to my poster-covered purple-walled rock n roll den in the basement where I had a '70s tuner with a built-in cassette deck and microphone jack.
We got to talk straight-up once the parental units were out of the picture, and the couple of things I remember was that after I'd say something, he'd quite often respond with "Hey?"  I don't know if it was our age difference – he was 34 and I was 15 – and maybe the things I was saying sounded sorta outta-left-field or something, or maybe it was a regular quirk of his discourse, although I don't remember him doing it upstairs.  Anyway, we got along great and had rollicking conversations, but I remember a lot of his responses began with "Hey?"
The other thing was – I'd ask him if he knew some song, which, when I'd ask my friends that, it meant, had they heard it?  But he took it as – did he know how to play it?  I can't remember which songs I asked him if he knew, but his response would often be, "Oh, yeah …" and he'd start playing it on his acoustic guitar.
We spent the entire time in front of the stereo where we were gonna record.  We spread out the typed pages on the top of the tuner, and he sat on the padded piano bench my mother had just bought at auction when Winnipeg's regal Royal Alex Hotel went under.
I recently uncovered the original poem I'd handed in in class that we worked from, and I gotta say, he sure improved it.  It got 9½ out of 10 from the English teacher …
… but it was graded for a 15-year-old.  He really did pull out the best lines and left the rest behind.  He found the essence in a much longer piece, distilled it down to four verses, and spotted a chorus within it.  Kind of amazing.
After we got it, he ran through it top-to-bottom a time or two, then we recorded a take, and he said he wanted to do another one, so we did, and that's the one that survives.  (The master tape got lost in a terrible accident in Greenwich Village in the mid-'80s, but at least I'd made a couple copies of the final take of the song.)  We recorded it with the rinky-dink microphone that probably came with the rinky-dink cassette deck/tuner.  The one feature it had was a record volume knob, so I could gradually turn it down for the fade-out.  I guess I also get engineering credit on this.
After we were done, we went back upstairs to share it with my parents, and he sat on the wine-colored couch in the living room, put the poem pages on the glass-topped wooden coffee table in front, and played the song to its first audience.  It was a pretty cool moment.  The lines their son wrote for a grade 10 English class were suddenly being sung to them in their living room by a rock star.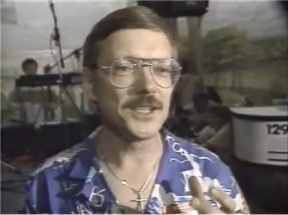 Chad on CBC during the Shakin' All Over reunion, 1987
I saw as he riffed how glowingly effervescent he was – a sparkling leprechaun's twinkle with a magician's magnetism holding all sorts of tricks up his sleeve.
I'd never spent serious time around a professional artist before.  He had a serenity – a sense of not having to prove anything – something my teenage peers certainly didn't have.  Nor for that matter some of my parents' friends who presented themselves as big-shots and were boastful and overplaying their hands, often with liquor behind them, which people drank way too much of back in those '60s & '70s cocktail parties.
Chad just was.
It was like that line in Death of A Salesman when Willy can't believe the neighbor's son Bernard didn't boast that he was arguing a case before the Supreme Court.  Willy says to the dad, "He didn't even mention it!"  And the dad responds, "He don't have to – he's doing it."
That was the biggest lesson I learned from my day with Chad Allan.  That you don't have to boast about what you've done or will do – you just have to do it.  And once you've done it – the work speaks for itself.
In this case, he came over to my house, pulled the essence out of a long rambling poem by a 15-year-old, crafted a song out of thin air, laid it down, and walked off into the Winnipeg night having not only created art that didn't exist before, but having taught a young person what being an artist really was.
My creative productive life was born in those few hours on that spring evening of life with somebody who really knew how to Get Things Done.
.
.
=====================================
.
I heard from a Chad Allan fan named Nick Joseph who found this, loved it, and has a program where he can remove vocals from a song, and here he is doing his own vocal version to Chad's original music.  
.
For an even more epic Real-Life Adventure Tale — check out The Hitchhiker's Guide to Jack Kerouac.
Or there's a ton of them in Blissfully Ravaged in Democracy  –  Adventures in Politics  –  1980–2020.
Or Holy Cats! Dream-Catching at Woodstock features Bob Dylan, The Band, Crosby, Stills & Nash, Traffic, the Neville Brothers, Peter Gabriel, Jimmy Cliff and lotsa others.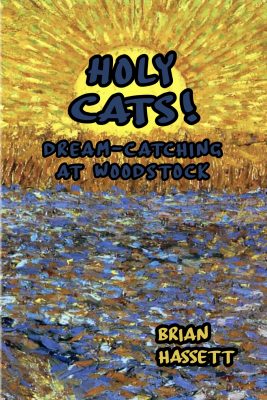 Or there's How The Beats Begat The Pranksters about how the counterculture of the '50s begat the 1960s.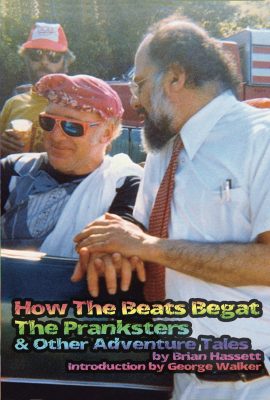 =====================================
by Brian Hassett
karmacoupon@gmail.com   —  BrianHassett.com
Or here's my Facebook page if you wanna join in there —