Fireworks in Oakville
or
The Day Florida Moved to Canada
.
.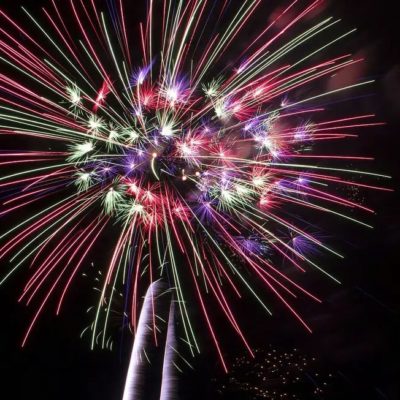 .
What a riot we had last weekend in Oakville!
A buncha teenagers came to my little harbourfront neighbourhood cuz it has a corner Variety store that'll sell anything to anybody including fireworks to kids.  We had a little to-do here a couple years ago on Canada Day (July 1st) when the same thing happened — a buncha kids gathered outside the 7-11 & McDonalds and were settin off fireworks and having a rowdy time of it.
My home office window looks out on this very street behind my house, and when it started (two years ago) I went out and got right in the middle of it as I usually do and hung with the kids and got transported back to my own youth in Winnipeg in the '70s.
One of my takeaways was how multi-racial the collective was — from Swedish white to Kenyan black — and how everybody got along so naturally.  There were a few rabble-rousers, like there were in my teenage gangs, but in the main they were all nice friendly open-minded kids just out for sumpthin to do on a summer holiday night.
When the crowd dispersed and I got home I was stunned to read on this local Facebook group all these old people just railing against these kids — even though not one single one of them spent one single minute with any of them.
This year, around 9PM on the Victoria Day holiday (May 22nd), I heard fireworks starting up from around the same location, so I headed out my door and was in the middle of it 90 seconds later.  The crowd was 3 or 4 times the size of the last one — maybe 200-300 kids — but this time they were armed with a bunch of M-80-type explosives — not so much the "fabulous yellow roman candles exploding like spiders across the stars" as Kerouac famously described the light-up-the-sky kind.
This time the cops were there waitin for 'em from before it started and when one kid allegedly shot a bottle rocket in their general direction they moved in and arrested him, and began a general dispersion maneuver shooshing the kids along the road.
What was so funny to my American eyes was how polite both the cops and the kids were.  There were no billy clubs being swung or rocks being thrown — it was just a bunch of cops politely telling a bunch of kids to move along . . . and the kids moving along.  No shop windows were broken, no epithets hurled, no anger, just a buncha kids being shooshed along the sidewalk on a holiday weekend in the summer.  It was so Canadian.
While I was out there with them, surfing the wave as it rolled down the road, I thought about that neighbourhood Facebook group and figured they'd be up in arms about this like they were last time, and when I got home after the neighbourhood was cleared by 10:30 — boy they did not disappoint!  Literally hundreds of comments from people who'd never set foot outside of their house just shitting on these kids . . . and all their parents!  It was the most despicable behavior I've seen 'round these parts since, well, probably those anti-science yahoos tried to take over Ottawa a year ago.  And of course I don't mean it was the kids who were despicable — I mean how mean these holier-than-thou Facebook warriors were being towards the kids & their parents in their own community . . . without having spent so much as a split-second with any of them.
It was a non-event for the police.  They issued one short statement about a disruption in Bronte resulting in one arrest and no property damage or injuries to anyone — but the way these old bitties on Facebook were raging you'd think it was the Watts riots!
I'm really pro Canada and quite fond of the people who live here.  We all treat each other with respect and politeness — just as I'd seen the police treat the kids and the kids treat the police — until I got home and saw this firehose of hatred from uninformed people hiding behind their doors & keyboards yelling "Get off my lawn" in the most ugly vitriolic way.
It was so striking that these adults — who thought they were so superior to everyone else — would behave so disparagingly towards these kids who were a thousand times more polite and less judgmental than this self-appointed judge-and-jury who were convicting them.
I sure hope as a species we can stop hurling hate at one another . . . and maybe go out of our houses and engage with people we don't know about.   💖
.