Starry Nights in Bronte
by Brian Hassett
In my never-ending search for Adventure I stumbled into the coolest little enclave in the harbourfront park in front of my house — an astronomer's meet-up digging infinity (to riff on Lord Buckley's line).  And these people are really doing it!
Whenever there's something special going on in the sky and the conditions are clear, a whole bunch of science buffs drive in from towns all around with massive telescopes and point them at the sun (using filters) and the planets (when it's dark), and the coolest thing to this novice's eyes — the moon!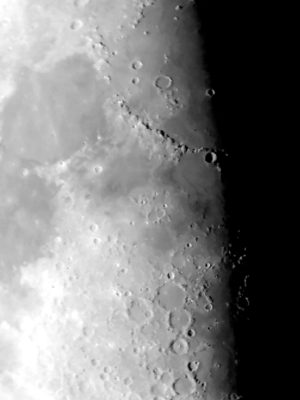 We've all seen great photos of our closest orb, but it's nothing like looking at its surface live in real time through 200-times magnification.  You can almost see the dune buggies NASA left behind!
And what's extraordinary about it is the camaraderie of the assembled, and how popular it's become.  The main organizer, Marc Fitkin, just started doing it six months ago on kind of a lark.  He let his network of fellow astronomers know, and a couple more joined him, then a couple more, and now there's about a dozen who all bring different types of telescopes and gather in the Bronte Heritage Waterfront Park whenever there's a cool astronomical event.
He just started by making a post in a Bronte neighbourhood group on Facebook, and there was such a reaction he created his own Bronte Astronomers group that quickly grew to nearly 1000 people in just a few months.  For the full 'Strawberry Moon' on Saturday June 3rd, several hundred people came by over the few hours they were out there.
In this picture you see a 1903 Marsh Refractor telescope owned by a 19-year-old future Carl Sagan named Matteo Statti.
You know when you go to a sporting event and can discuss the minutiae of the game with everyone around you?  Or to a concert of a band with passionate fans whose eyes light up when you talk to them?  It's that same kind of knowledgeable passion . . . except it's about space!  Suddenly you're hanging at a party full of Neil deGrasse Tysons who not only know the name of every dot in the sky, but can tell you how far away it is and how it's related to the cosmos!
And speaking of concerts, a night with this crew has the same dynamics — the sun as an opening act, and the evening modulates in a steady build to a crescendo as the sky grows darker and the atmospheric conditions change.  Plus you're experiencing a natural symphony in a collective and can turn to one another and share beams of joy at the magic you're all dancing to.
In this crazy ol' world of outrage culture and polarization and high prices for everything . . . looking through a telescope and talking to smart people is still free and fun!
When I spoke with founder Marc about the group, the first thing he said to me was it was based on four founding principles.  I expected him to say something like — science, discovery, investigation and education.  But instead he said — accessibility, dignity, respect and safety.  Did I suddenly slip through a wormhole into theology class?  No!  Even though these guys are dealing in hard science — the things that are most important to them are that their events are accessible to all — including them bringing ladders and chairs so little kids can reach the eye pieces.  And that everyone who comes into their orbit is treated with respect and made to feel safe.  It reminded me of Einstein's line — "The more I study science, the more I believe in God."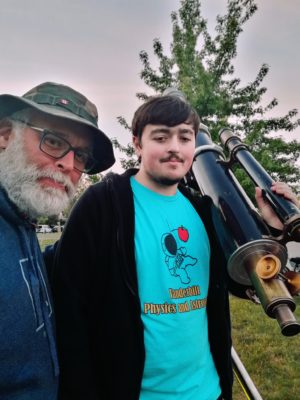 founder Marc and protégé Matteo

So, the whole scene has this solid foundation of love . . . and on top of that you can have every question about the universe answered!
And this study of deep science has inevitably morphed them all into philosophers.  As another of their founding members, Peter West, said — "A park that is used is a park that is safe."  I love that.  And also their playful poetic foundational tenet — "Keep looking up!"
This isn't just about celestial phenomena — it's a philosophy of life.  And it's grounded rock-solid on intangibles.  They may be calculating degrees and adapting for the rotation of the earth and positions of the stars — but at its base it's about hope and optimism.
And it's about curiosity and passion and knowledge.
It's about what is . . . and what might be.
And all day and night long it's attracting people from little kids to octogenarians who stop and talk and look and learn.  And it's about human traits that are common the world over.  In an hour of looking at a full moon I talked to people who started this journey from probably a dozen different countries.
If this was a restaurant — it would be the kind of place that opened six months ago and has a line out the door.  Except it's people waiting to look through a telescope!
These folks have got a hit on their hands.  And next April there's going to be a total eclipse of the sun . . . and Oakville is going to be an hour from dead center in the path of totality!
In this crazy ol' world, if things are bringing you down, know that there's a community nearby where things are always looking up.
==============================
Here's another cool piece about The Power of the Collective.
Here's a riff on the Grateful Dead who also spent time reaching out to space.
Or here's a piece about meeting other cool people — in this case the original Beat poets.
Or here's where you can order any of my six books on Amazon.
==============================
by Brian Hassett
karmacoupon@gmail.com   —  BrianHassett.com
Or here's my Facebook page if you wanna join in there —
https://www.facebook.com/Brian.Hassett.Canada