Some reflections on The Beatles post Peter Jackson's masterpiece, and some fun facts picked up along the way . . .
It was so much the blending of the four compatible yet different personalities that was key to their creativity and longevity.
And that there were four different individuals for people to identify with and faces to gravitate to.  Movie stars and rock stars are just one person.  Even The Rolling Stones were mostly one.  Led Zeppelin were mostly two.  The Beatles were always four presented more-or-less equally in front of the cameras.
I know variations on the following have been said before, but it was something that was reinforced for me over these last few months, including watching countless documentaries on the band's story from the earliest days, but a big part of their creative success was that there were two master songwriters in the same band who were in an unspoken competition with each other.  When one would write a masterpiece, the other was prompted to top it.  For years.
This was not the case in the writing partnership of Jagger/Richards or Page/Plant.  And there have been bands with multiple songwriters — The Band, CSNY, The Eagles — but none of those had a Lennon or a McCartney, let alone both.  And my understanding of each of these other bands is the songs were largely written by one person and then brought to the group.  As we see clearly throughout Get Back, everybody is pitching in ideas on every song.
Their outsider status of being from looked-down-upon Liverpool was why they were detached from and able to goof with the big city London (and world) press.  Career-long Liverpudlian Beatles team member Peter Brown wrote a great piece on this for Time magazine back in 2006.
That no less than the Maysles brothers would document their first arrival and first concert dates in America.  Albert & David Maysles are arguably the most important and influential documentary filmmakers in the history of cinema, and they were only a few years into their journey in February 1964.  The quirk of karma/luck/fate that would put these two creative collectives together is of a piece with the four Beatles themselves first meeting, and then joining with Brian Epstein, George Martin and Billy Preston.  Somehow the exact masters needed would manifest at the exact moment they were needed.
And it's not lost on this lover of the visual arts and musical language that the Maysles / Beatles connection echoes the prior decade's collaboration between the best author and best photographer when Robert Frank teamed up with Jack Kerouac and the Beats-no-les.  The Maysles took the same shots of the American underclass that Frank did, but strung them together at 24 frames per second.  And the Beatles captured the same romantic and later exploratory approach to their art that Kerouac did, but they put musical instruments behind the musical language.
Something I've never heard anyone mention, but — starting in 1964, think about how many record stores in the world were kept afloat because of the sales of Beatles records.  And not only the millions of Beatles units sold, but how the band made young people love music in general, and then buy whatever else struck their fancy.  These dispensaries of music that changed the lives of every person reading this were largely able to exist because of The Beatles.
Although many cite Dylan's Subterranean Homesick Blues as the first music video, filmed in 1965, it wasn't released until Don't Look Back came out in 1967.  More than a year earlier, The Beatles invented the music video, including that it was created for the very reason videos were later made for MTV etc. — as promotion for record sales.  The band realized they couldn't appear on every TV show that wanted them in Europe and America — so they hit on the idea to make a short film of them "performing" that could then be sent to TV shows all over the world and the band could avoid the travel and the screaming mayhem they caused everywhere they went.
Here's their first, Day Tripper, filmed in November 1965 at Twickenham Studios (where they also filmed on the same day three different takes on the B-side, We Can Work It Out, and a trio of "oldies" – Help, I Feel Fine and Ticket To Ride) —
The Beatles were also the first rock group to go on world tours;
⋅ the first to be so popular they'd have to play sports stadiums;
⋅ and the first to make cool movies (as opposed to the embarrassing dreck Elvis & others made), and that their first ground-breaking film A Hard Day's Night prompted young musicians as diverse as Jerry Garcia and Alice Cooper to form rock bands.
Tomorrow Never Knows changed what was possible for a song to sound like — and Sgt. Pepper changed what an album could be.
Malcolm Gladwell calculated that the band had played 1,200 shows together before they recorded their first album — and added — "A lot of bands don't play 1,200 gigs in their entire career!"
Fun fact:  Elvis Costello was a member of the official Beatles Fan Club and got all the mailings.
Fun quote:  "When the girls wanted guys with long hair, it was all over."  😄  Tommy Hilfiger
A lifelong musician friend, Will Hodgson, who knows how to play probably every song you love, said something to me one time about playing Beatles music that I've never forgotten — "Playing a song can be emotional, energizing, empowering . . . but playing Beatles' songs is Fun with a capital F.  I don't think it's quite the same if someone's playing it by themselves.  There's something about the team spirit Beatles music creates.  Like a well-choreographed stage scene, or a well-executed football play, where everyone has a part to play and it's FUN!"
And on a related note — here you can hear no less than The Grateful Dead play some choice versions of a dozen different Beatles songs. 😉
In the 1977 documentary Mighty Good: The Beatles, Derek Taylor, who was getting a bit tired of always being asked about the band, said, "They're the longest running story since the second world war."  😄
It was George Harrison who suggested to John that he use Eric Clapton for the Live Peace in Toronto show.  You can hear him talk about it at 14:15 in this great cued-up honest and revealing late '69 interview —
Maybe this is already obvious, but it's my conclusion after a couple of months on this deep dive that there's never been as influential an artist in any medium than The Beatles.  They completely changed popular music, which is probably the most popular of all the artforms, but they also changed fashion . . . and film . . . and proved the power of the new medium of television, from Ed Sullivan to All You Need Is Love.
If you put "Beatles" in the search bar under Books on Amazon, it says there are over 20,000 of them!
They're the only band in The Rock n Roll Hall of Fame to have every single member also inducted as a solo artist.
And they're the only band to ever have the top five most popular songs in the country at the same time.
And that's just for starters.  😲
==============================
For the most detailed breakdown you'll find anywhere of Peter Jackson's masterpiece The Beatles: Get Back check this time-coded annotation of the entire 7½ hours including lots of conversation transcriptions.
Or here's the de facto sequel to Get Back — when John Lennon flew to Toronto to perform at the Rock 'n' Roll Revival with the Plastic Ono Band.
Or here's the amazing story behind George Harrison seeing the Beat play "The Beard" and his talking about it to Paul McCartney during the Get Back sessions.
Or here's a fun piece on Seinfeld, The Beatles and The Beats.  😁
Or here's a great rock n roll book I wrote that has lots of John Lennon woven all through it.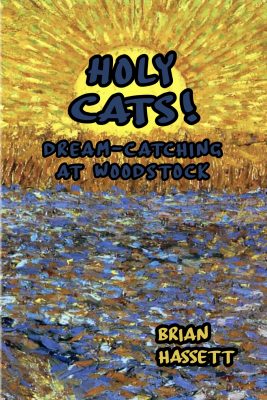 Or here's another about the Beats that begat the Beatles.  😉
=====================================
by Brian Hassett
karmacoupon@gmail.com   —  BrianHassett.com
Or here's my Facebook page if you wanna join in there —