Up and Clean –
How "Down & Dirty" Captured Johnny Winter's New Spring
.
.
Johnny Johnny Johnny … where for art thou, Johnny?
In the long strange lineage of tragic rock n roll irony — see: Keith Moon sitting in the "Not To Be Taken Away" chair on his last album cover — Johnny Winter made his "comeback" documentary just in time to leave the building.
Johnny was messed up for decades — mostly methadone, booze & bad management — and all in his already compromised albino's body.  The hero of the story turns out to be one Paul Nelson, who joined Johnny's band as his complementary guitarist, and finally "risked everything" by telling Johnny his manager was killing him.  He knew he could be terminated on the spot, but instead turned out to be The Hundredth Monkey — the final person in a long line who told Johnny to get away from the man who was keeping him too "medicated" to think — yet another tale of a music business slimeball taking advantage of the very artist he was being paid to protect.
Paul Nelson & Brian Hassett at RIFF opening night.
With his new guide's guidance, Johnny was weaned off anti-depressants, booze, methadone, cigarettes, and pot, in that order, and came out of the darkness and into the light.  Once this happened and he was lucid and presentable for the first time in decades, Paul told the record label it might be a good time to do a documentary.  As the fates would have it, shortly after this, a Texas-born, New York-based indi film & video maker named Greg Olliver heard Johnny spryly soloing on an NPR interview and approached the label about making a film on the still living legend.  And as the fates would furthur have it, the guy turned out to be a true auteur with a storyteller's vision and musician's timing who basically ended up shooting and creating the whole optical opus himself.
This could never have been made back in the day when you needed a crew with lights and sound and production.  It was shot entirely on a small Sony digi in such close backstage / bus quarters even one more person would have been too much.
This may be the most open, honest "warts n all" rock doc you've ever seen.  The Beatles and Metallica may have faught on camera, but this is a senior citizen surrounded by "family" who long ago stopped giving a damn what anybody thought.
This has the raw confessional intimacy of the Maysles' "Salesman" — except it's about a famous public figure.  Almost universally, entertainers (and their handlers) overly manage every image, every soundbite, every split second of exposure.  Johnny, being from another century and another planet — Bluesmania — just doesn't give a shit about bullshit.  All he ever cared about was the sound his fingers could make, and the stories his smoker's cords could sing.  Once filmmaker Olliver passed the entrance exam, he essentially became part of the band, and was there when Johnny woke up, went to bed, and everything in between.
And the bonus is — he's a helluva filmmaker.  You'll love when the movie opens and closes with "Highway 61," fast-cut to the lightning beat of Johnny's playing.  Then there's the long-exposure time-lapse road shots that bring the poetry of the highway to life worthy of Kerouac.  And there's a beautiful sequence where Johnny has (what turns out to be) the last drinks of his life on his 70th birthday in New Orleans that is the most realistic cinematic portrayal of a drunken revelry ever captured on screen — the distortion, the pacing, the volume, the confusion, the surreality, the dreaminess, the mayhem, the unhinged laughter . . . all echoing that classic Rick Danko–Janis–Jerry scene in Festival Express — with Johnny in the role of Rick.  We can love their playing, but it's also a joy to see them playing with their friends.
As Paul confided after the opening night RIFF screening in Toronto, he saw to it that the four tall Stoli-on-the-rocks Johnny ordered only had about a half ounce of booze each.  But with his frail tiny body off the sauces, combined with Paul's placebo psych-out, Johnny got himself quite smashed — or thought he did — and had one helluva final birthday.
This is what it's like to be in the krewe of a blues / rock legend on the upswing.
There's the autograph-hound scene — comedically edited, creating a funny Buster Keaton routine of the put-upon nice guy being trampled by the outside world.
We see the tricks brother Paul came up with to get his boss to eat food and drink water, the physiotherapy to build back his muscles, and the little boy's joy shining through an old man's body.
We see historic footage of Howlin' Wolf, Muddy Waters, Son House, Willie Dixon, Lightnin' Hopkins, Freddie King and all the rest who created the music Johnny built upon.
Blues Brothers — John, Muddy, Johnny & Dan.
We hear contemporary masters like Warren Haynes, Derek Trucks, Billy Gibbons, Joe Perry and others explain how Johnny inspired their approach.
We meet Edgar Winter, Johnny's beloved younger brother, who had been kept apart from his hero elder sibling by the evil former manager, and we see them hugging again, and their vastly different lifestyles of the limo-riding rock star with hit singles that've been licensed up the wazoo in ads and movies and who didn't spend his money on dope, versus the dyed-in-the-Blues junkie.  As Paul summed it up after the screening — "That's the difference between success in rock n roll and the blues."
We see Johnny playing records at home, recording in the studio, on the road, playing gigs, and classic TV appearances over the decades.  We see the arc of his musical life from his first guitar teacher, to playing the closing night of Woodstock with The Band as his opening act;  From B.B. King letting this 17 year old kid sit in for a song, to Johnny producing Muddy's late career comeback album;  From his early Johnny "Cool Daddy" Winter persona as a young regional hit-maker in Texas, to getting the biggest record company advance in history at that point.
We hear him tell stories about the first Rolling Stone article mentioning him that changed the trajectory of his life, and his recent Christmas when he was given the gift of being methadone free.
We see him playing with B.B. King and Muddy Waters, and singing a passionate, monumental "Georgia On My Mind" via Ray Charles at a karaoke bar in Japan.
We hear the stories about getting beat up as a kid and the prejudice in the South — "It's just nuts. Just cuz you're a different color, they don't like you.  They don't like black people because they're black, and they didn't like me cuz I was too white.  It's just stupid."
We hear a deejay explaining how seven years ago when Johnny came in for an interview he was so out of it he gave one word answers and didn't seem to even understand the questions.  It was so embarrassing, they couldn't air it.  As St. Paul first began his Mission, Johnny came back and was answering in complete sentences.  And now we see him at the same radio station telling long colorful tales in full paragraphs.
This was supposed to be an upbeat story of redemption, the old "overcoming obstacles comeback" routine, until one night in Switzerland in July Johnny ran out of breath in his sleep, and this suddenly became an invaluable eulogy, a priceless profile that couldn't be made now, any way any how.  And yes, Johnny was still alive and well when he attended the film's world premiere at SXSW in his home state of Texas.
In the last scene in Johnny's movie — both this one and writ large — he said, "Most of the stories about musicians with drug problems don't end well.  But mine has," as he laughed in his transcendent ageless twinkling send-off sparkle.
Giant hearts all around.
==========================================
==========================================
.
Some Bonus Extra Weird / Cool Things learned from "Down and Dirty":
— "What made you first pick up a guitar?" Johnny: "Chuck Berry." !!  (and the movie has a scorching version of him doing "Johnny B. Goode" circa 1983)
— He's still playing the same Gibson Firebird guitar he bought in 1970 for $225.  (!)  And like a happily long married spouse, he still calls her, "The coolest lookin' guitar I've ever seen."
— Edgar Winter played with Johnny at Woodstock.  In fact Edgar says, "Woodstock changed my life."  And Johnny called it, "Still one of the coolest things I've ever done."
Although the film is still being screened at festivals around the world, it was shot more for the small screen than the big, so I'm sure it'll be on some movie network / Netflix / DVD store near you soon.
==========================================
For another great movie on debauchery gone bad then gone good again check out Festival Express.
Or here's a great book — "The Hitchhiker's Guide to Jack Kerouac" — about a bunch of other revolutionary artists like Johnny.
Or here's a night with Johnny's gris-gris brother Dr. John in Toronto.
Or here's Howard Kaylan's crazy cinematic real-life adventure in chaos My Dinner With Jimi.
Or here's a few hundred people like Johnny & Edgar who didn't had kids.
Or here's some adventure stories in the Birthplace of Music at the New Orleans Jazz Fest.
Or here's some of the greatest Peaks in the history of live music at RockPeaks.
Or here's going to the U.K. premiere of On The Road at the palace in London.
Or here's a night with The Dead at Madison Square Garden.
Or here's the great Bob Dylan cinematic trip — I'm Not There.
Or here's the night Bob showed up with Springsteen at Shea Stadium.
Or here's The Rolling Stones via Martin Scorsese in Shine A Light.
Or here's a night with the great Johnny Clegg in concert.
Or here's Paul Simon doing Graceland in Hyde Park in London. 
.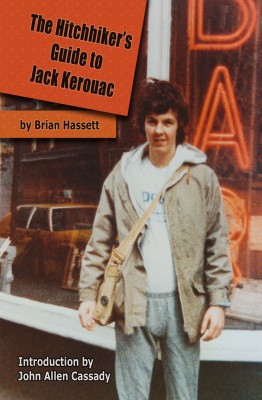 ==================================
by Brian Hassett              karmacoupon@gmail.com            BrianHassett.com
.