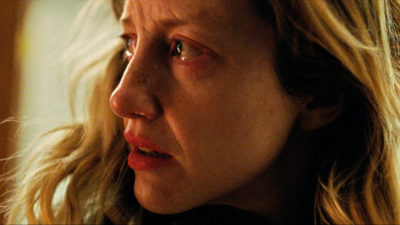 .
The Academy Award for Best Actress in a Leading Role is *the* story of the 2023 Oscars.

I've seen all the nominated performances, and thought un-nominated Margot Robbie sure as hell should have been in the mix for Babylon.
Her co-star Eric Roberts, he of the 621 on-screen acting credits, compared her performance to Liz Taylor's (Oscar-winning) Who's Afraid of Virginia Wolfe — and he's right.
.
Cate's great in Tár . . .
but she's already won two well deserved Oscars (for Blue Jasmine and as Kate Hepburn in Scorsese's Aviator).  I'd rather see the recognition spread to those who've won zero.
.
Ana De Armas is appropriately cast in Blonde because, like Marilyn, you can't take your eyes off her in any scene she's in . . .
but she's young and is gonna be around for a long time so she doesn't really need it now.
.
When I saw Michelle Williams with the Best Leading Actress nomination I thought it was some ridiculous insider industry prop-up.  What the hell is that Dawson's Creek kid doing at the Oscars?  But she gives a glorious riveting performance as Steven Spielberg's complicated mother in The Fabelmans.
.
And it would be great (and at this point is expected) for much-beloved and largely unheralded Michelle Yeoh to win for her multiple characters in Everything, Everywhere All At Once.
But she and this movie have already won shelves full of awards — and there's gonna be more coming on Oscar night — and I'm into spreading the wealth … as well as the attention and the spotlight and the future jobs.
.
I gotta tell ya . . . you have to see Andrea Riseborough in To Leslie before you make a call in this category.  It's kinda no question the single most gut-wrenching jaw-dropping performance of the year.

And here's where it gets really interesting — on IMDb, this movie currently has a worldwide gross total of . . . $31,543.  (!)  😮
If you don't know about it, there's a wild story behind how the performance got nominated … overcoming millions-of-dollars in campaigns for others.  You can watch this to get the backstory —
but what this is is independent filmmaking making either its last hurrah in a world that now makes them all but cost-prohibitive . . . or . . . a low-budget indie film could possibly win the Best Lead Actress Oscar.  (!)
If it did, it would change how films are made (ie; financed) in America — much like the success of Pulp Fiction did in 1994.  This is a helluva story.  No other actor winning would cause more films to get green-lit than this one. 
And it symbolizes and brings into focus the fact that brilliant films are still being made that, basically, nobody sees.  I'd have never even heard of it let alone seen this if it wasn't nominated for Best Lead Actress.
I think this is an important storyline to be aware of.  Even being *nominated* is HUGE (and almost unheard of) for small indie films . . . but if this were to win . . . and all the other nominees did indeed deliver fantabulous performances . . . but honestly . . . this weird indie no-budget movie has a more gut-wrenching performance than any of the A-listers laid down.  And speaking of A-listers, you get to see her working scenes with two of them — Alison Janney, and Stephen Root, who is, as he so often is, nearly unrecognizable.  The comedian / podcaster /actor Marc Maron is the male lead and proves he has a whole other level of talent nobody knew about before.

I hope Babylon deservedly sweeps its three nominations — for Best Original Score, Production Design and Costume Design — but other than that unheralded masterpiece getting recognition . . . for all my friends who *are* underdogs … or who *root* for underdogs … you've got one in this hunt.  😉
============================
Here's my Master Movie List with over 800 movies broken down into Comedies,  Dramas,  Documentaries,  Movies About Making Movies,  Movies About Politics,  Music Movies,  Beat Generation Docs & Dramas,  Trippy Movies,  Disturbing Movies,  the Made-for-TV Exceptions,  and broken down by Auteur.
Here's the most complete breakdown of Beat Generation dramatizations you'll find anywhere online or in books.
Here's a time-coded and annotated breakdown of The Beatles: Get Back — Peter Jackson's revealing masterpiece of creation that people have been reading on my site every single day since it was first posted.
And here's my book How The Beats Begat The Pranksters & Other Adventure Tales that has three different wild stories of going to On The Road premieres — in London, Toronto and New York.
==============================
by Brian Hassett
karmacoupon@gmail.com   —  BrianHassett.com
Or here's my Facebook page if you wanna join in there —
https://www.facebook.com/Brian.Hassett.Canada