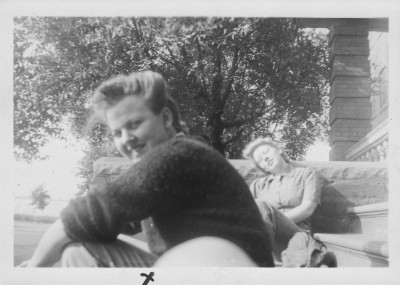 Her father was an engineer on the CPR,
so the whole family got to travel all over North America,
when virtually no one in their town ever went more than a few miles from home.
They had 5 sons, followed by 4 daughters, Enid being the first.
They owned the first (and for a long time only) car and telephone
on Third Street in Brandon.
She grew up in a world with oil lamps for light,
and horse & buggies that delivered the milk;
Without cameraphones,
she painted pictures to share what she saw,
then lived to attach them to emails.
She got her drivers license by her dad taking her to the Town Hall:
"Well, kin she driave, George?"
"Yep. Taught 'er ma'self."
"Alrighty then."
She painted mountainscapes in the Rockies,
seascapes around Superior,
and short stories using words.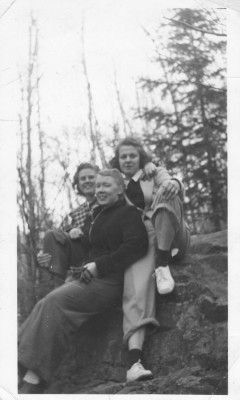 She married a funny, happening Air Force pilot;
they had a daughter and a happy home,
until she was tragically widowed one December.
Then she became an Anesthesiologist at the Mayo Clinic in Rochester,
and did nursing stints in Austin and Houston,
before marrying a cute, easy-going banker from the home-country,
moving to Calgary, and bearing a son.
She was the Supervisor of the first Intensive Care Unit in Manitoba,
and the Director of Nursing at Winnipeg Municipal.
Then she became the top woman real estate agent in Winnipeg.
Then she bought the nicest cottage in Gimli, Manitoba,
… and made it nicer.  Eleven rooms!
Then opened her own manicure & spa business.
Then in her 70s, she up n moved from White Rock, B.C. to Oakville,
on a premonition, a series of dreams, and following some signs.
She always had a sixth sense, and proved time and again that it's real.
She traveled the world, all ten provinces, and most of the states.
She took painting and elocution lessons,
learned Reiki therapy,
studied and collected antiques,
checked out different religions,
raised a champion Staffordshire Bull Terrier,
took a spectrum of New Age classes,
drove a car like she was a getaway man leavin a crime,
won damn near every bridge night she ever went to,
slept and stayed awake whenever she felt like it,
never had more than one drink on any day in her life,
but loved to party till dawn,
and went to writing conferences all over North America,
and was published in both countries.
She hit Limelight, Area, and all the nightclubs of New York;
she caught The Grateful Dead at the very Giants Stadium,
and the greatest jazz in the very tiny clubs of Greenwich Village;
and was known in some circles as the "rock n roll mum."
And besides all that, she was a really focused mother —
Always inclusive and playful and encouraging and adventurous,
And she knew New York City was the place for her son.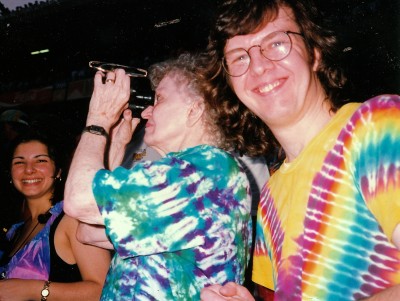 Mother & son at a Grateful Dead concert, 1995
.
= = = = = = = = = = = = = = = = = = = = = = = = = = = = = = = = = =
Some of the tributes to The Mighty & Wonderful Enid.
Her colorful obit and final send-off party.
A similar tribute to my Dad — Vern Victor Hassett — Be Still Here.
Or here's one of the many adventures Mom and I had — The Maltese Fall.
Some other poems in the Spirit . . .
The Boys Who Grew From Northern Lands
Be The Invincible Spirit You Are
= = = = = = = = = = = = = = = = = = = = = = = = = = = = = = = = = =
by Brian Hassett       karmacoupon@gmail.com       BrianHassett.com
.