Visiting

 

.

 

Vincent
.
.
I got this invitation
To take a crazy trip down south
From a blazing young artist
Dripping colors from his mouth.
.
So I got myself a ticket
On the Starry Night Express
Heading out of Holland
To the province of Excess.
.
I'd never met the man
Who turned the Seine to yellow,
But he seemed like such a happy cat,
I had to meet this fellow.
.
So I bought some wine in Arles,
And went looking for his house,
Knowing like I know artists,
He was probably a souse.
.
I wandered past the bridges,
And the boats upon the shore,
Then to his yellow house did I
Come rapping on his door.
.
"Oh Vincent, my good fellow,"
I called out, halfway nervous,
"I've come from Holland, I've got some wine,
My friend, I'm at your service."
.
Creaking up his tiny stairs,
The walls were streaked with paint,
All was quiet, holy, skill,
Like the cloister of a saint.
.
With my heart a'clippin' faster
Than the tracks of that Starry train,
I pushed his door and stepped beyond
The threshold of the sane.
.
Upon his walls were sunflowers
Twisted and blazing yellow,
Not one I tell you, but rows of them,
In a most glorious welcoming "Hello."
.
I suddenly knew him so much more,
His art was so alive,
I thought he was in the room with me,
And it took minutes to derive,
.
It was but his bed, his smock, his hat,
That made me feel his presence,
That, and the tingling joyous buzz
Of his dripping oil presents.
.
Following a hunch,
I went to the Night Cafe,
Even though it was technically,
The middle of the day.
.
I ordered up some absinthe,
And took a look around,
But no where in this swirling bar
Was my Vincent to be found.
.
Then from a table against a wall
The woman of the house looked up,
"Madame Ginoux," she said,
As she offered me a cup.
.
In broken French I asked her
If she knew my painter friend,
She smiled a twinkle, said "Let me tell you,"
Then I thought it'd never end . . .
.
The tales she spun of nights he'd spent
Arguing in a rage,
Ranting loudly, pounding tables,
But with the wisdom of a sage.
.
"Roulin, come join us," she suddenly called
To a portly passing postman,
Approaching came a bearded gent,
Much kindlier than most men.
.
"Bonjour!" he boomed,
Sticking out his hand,
As Madame Ginoux described my plight,
I was blessed in Vincentland.
.
He smiled as I explained
Why I'd come this far,
And what it was about Vincent's art,
In the way he caught a star.
.
Assured that I was true of heart
Roulin released the news,
He'd seen him on the road today,
Armed with easels and his muse.
.
Wandering to'rd the wheatfields,
Roulin had seen him go,
"It's his latest love, those glowing fields
That God Himself did sow."
.
Honored with this sacred tip,
I followed the Golden Path,
It felt like I'd been baptized
In a champion's Champaign bath.
.
Past cypress trees and orchards,
I wandered sun-drenched lanes,
Yielding power with each new step,
The Gods' hands upon the reigns.
.
The wheatfields blew like ocean waves,
Then I spotted something bobbing,
An easel's peak, like a sail,
Of a tiny ship a'lobbing.
.
My heart was pounding, I took a step
Into Vincent's sacred earth,
It came alive, my God I swear,
Just broaching his flaming hearth.
.
There was Vincent! Brush in hand!
Raging against the night,
There was Vincent fighting off
The dying of the light.
.
Palette weaving, body soaring,
I felt myself in air,
Vincent swirling, never knowing,
That I was even there.
.
But the sun was growing ever larger
Engulfing the fading sky,
Into a giant wash of color
I felt my body fly.
.
I lost my mind, lost regret,
Like Icarus I soared,
Wings be-damned, with Vincent's heart,
Through the sky I roared,
.
Into a world he knew so well,
His beaming light a'glow,
All the artists lived up here,
Hey, there's Michelangelo!
.
.
Through purples and yellows and orange and green,
Heaven's alive in you know what I mean.
.
It's there on the wall, it's in the "seeing,"
It's in the eyes of every being.
.
And then I fell into a field — and Vincent now was gone,
But I never did come back from that trip that I was on.
.
Through purples and yellows and orange and green,
Through Vincent's eyes I've seen what he's seen.
.
Through exploding yellow and cascading light,
In Vincent's world I've lived my life.
.
===============================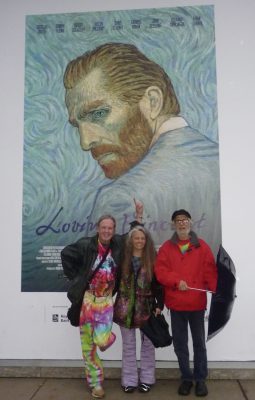 .
Here's a piece about the excellent Loving Vincent movie.
Here's a real-life Adventure Poem about the Dalai Lama in Central Park.
.
=========================
by Brian Hassett  —  karmacoupon@gmail.com   —  BrianHassett.com
Or here's my Facebook account if you wanna follow things there —