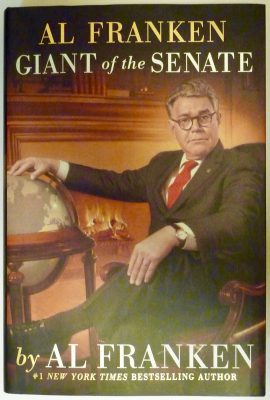 .
Al Franken is a great writer of our times.  When you read even just the first chapter of this book — "Why I'm A Democrat" — it'll make you wanna throw every one of his sanctimonious accusatory quasi-republican Democrats off a cliff — not under a bus, like they did him.
I really enjoyed his Rush Limbaugh is a Big Fat Idiot, and his equally precise Lies: And the Lying Liars Who Tell Them: A Fair and Balanced Look at the Right, as well as Oh, The Things I Know!: A Guide to Success, or, Failing That, Happiness — and to my knowledge this is the first time he's written anything resembling an autobiography.
Al was one of a small group first hired to launch a new experimental TV show called Saturday Night Live back in 1975, along with his comedy duo partner Tom Davis.  And he was hired as a writer — which he expanded into multiple characters and books and screenplays by the time he left.
Maybe there's somebody else who was a writer by profession when he was elected a United States Senator, but I can't think of one.
Reading this made me realize Al Franken may be my favorite living writer.  He is SO smart . . . and funny . . . still — in his mid-60s.
I've read several books on the creation and operation of SNL (including his partner Tom Davis's great 39 Years of Short-Term Memory Loss), and now finally after all these books and years, we get Al's take on it through three of the first chapters.  It you haven't read about what happened at 30 Rock, you'll certainly learn a lot here.  If you are well familiar with how that show works, you'll love this take by one of their primary political writers, who for 15 years laid the foundation for the satire we've all been enjoying during the national nightmare of the last couple seasons.
But what no one has read is a clever professional writer's account of a 57-year-old running for political office for the first time — and getting elected to the U.S. Senate by 312 votes (out of 3 million!)
If you thought you were a fighter — wait'll you read the tale of a real warrior.  Not only has this guy been on the front lines of every battle of our lifetime, he was still doing it up until the day Kirsten Gillibrand and a handful of other meanly-mouthed democrats stabbed him in the back over a rub on the backside.
Thank God he wrote this while he was still kicking ass and naming names in the Judiciary, Health, and Energy Committees, oftentimes being the most articulate and effective opposition on any given panel.
This book is SO well written … and I'm pretty particular about that kind of thing.  You don't hear me saying that very often.  At times he sounds like Dave Barry with running jokes and faux officiality, and other times like Obama's self-depreciating confessional honesty in Dreams From My Father.  And if you liked Dylan's Chronicles, it's got shades of that, too.
All of it is crisp and "punched up" as he would say.  It's playful, elaborate, intricate, comedic word sculpting.
The book is funny, evolved, thoughtful, goofy, fast-paced, quirky, twisted — and it's gonna make you love footnotes!
It's the first book I've picked up that I couldn't put down in ages.
It's such a beautiful work of art, at times I was brought to tears — so grateful to be reading something so exquisitely done — at such a timely moment.
And it also works as an excellent primer for anyone not in politics to run for office.  There's a funny and smart (like everything in this book) description of his quandary about using humor or not in the course of his job.  I mean, this guy is the Merry Prankster of politics, for sure.  And he's a Deadhead to boot!  😀  He even makes Congressional hearings and writing legislation funny!
The book also includes a beautiful touching you-won't-forget-it tribute to the late great Paul Wellstone, the Minnesota Senator whose seat Al fought for and now holds, who died tragically in a small plane crash in 2002.
And there's even a fast-paced and entertaining recap of our political times from Bill Clinton to Obama . . . and ultimately into the current nightmare we're living.
For this reader, there may have been a smidge too much detail on the initial Coleman campaign in '08 that first got him elected, but even that was funny, insightful, dramatic, sometimes nail-biting (re: the recount) and sometimes touching (re: his wife since college, Franni).
What we need in life — especially now — is inspiration.  These are dark times.  And there aren't a whole lotta people shining a whole lotta light.  Despite what the Democratic Party did to one of their own, his voice and vision are alive in print, and I assume he's about to begin a whole 3rd Act in American public life.
He was a pinpoint precise observer and satirist of the political process before he ever became a functioning part of it.  And this book proves (as do all of his, really) where his ethics and ethos lie.
He's been playing the game and working the machine the last eight years — and now he's unencumbered from holding his tongue — which he was never much good at anyway.
As much as we may like Colbert and Stewart and Kimmel and Meyers and SNL's comedic takes on the horrors of drumpf, there's now a new force entering the public arena who may be able to inspire even more people to rise up — and how to go about it — than he was ever able to do as a sitting senator.
.
My first attempt at a selfie — during the Repugnant Convention in Cleveland. 🙂
Here's where you can get my political Adventure book — Blissfully Ravaged in Democracy:  Adventures in Democracy 1980–2020 — including a few stories about Al.  😉 
Here's a story of the first time I met Al — during a fracas at a Howard Dean rally in New Hampshire in '04 that he actually references a couple times in the book!
.
Here's his brilliant final speech on the Senate floor —
.
Here's the first book in my Beat Trilogy — The Hitchhiker's Guide to Jack Kerouac.
Here's the second one — How The Beats Begat The Pranksters.
And here's the third — On The Road with Cassadys & Furthur Visions.
.
=================================
.
by Brian Hassett  —  karmacoupon@gmail.com   —  BrianHassett.com
Or here's my Facebook account if you wanna follow things there —