When Conflict Television Was Born
or . . .
"I'll sock you in your goddamn face."
.
.
1968  —
The year so much changed . . .
Martin and Bobby . . . 
North Vietnam's Tet Offensive galvanizing Americans' opposition to the war . . . 
The Beatles open their Apple Core . . . 
Electric Kool-Aid Acid Test . . . 
The Prague Spring and Soviet invasion of Czechoslovakia . . . 
2001: A Space Odyssey . . . 
Johnson says he won't run for re-election . . . 
Hair opens on Broadway . . . 
Madison Square Garden opens on 33rd Street, and the Fillmore East on Second Avenue . . .
Rowan & Martin's Laugh-In debuts on TV . . .
* And that was all before the political conventions hit! *
And boy – did they hit!
Although the three television networks were broadcasting in color, almost no one had color sets at home — it was still an absurd luxury — B&Ws continued to outsell colors until 1972.
And of those three networks, late start-up ABC was so far behind the others, as someone joked in Best of Enemies, "They would've been 4th, but there were only 3."
To try to do something different than the rote "gavel-to-gavel coverage" of Huntley & Brinkley on NBC and Walter Cronkite on CBS, the new kids came up with the smart low-budget idea of putting talkative spokesmen for the right and left in chairs next to each other and let them go at it for each of the two single weeks covering the Republican and Democratic conventions.
This decision was to become as legendary and transformative in its field as Dylan plugging in at Newport a couple summers earlier.  But sadly, just as that gutsy maneuver led to Ted Nugent and comedically adolescent showmanship, this initially admirable and bubbling-with-possibility idea similarly led to a lowbrow Crossfire hurricane of right-left hate-speech that's dominated American political coverage for decades.
This now-famous tete-et-tete between two reigning intellectuals on either side of the ideological spectrum has taken on a sort of Lincoln-Douglas mythological status.  But just as a transcript reading of those 1858 debates reveals — they were both far from civil or high-minded.  In fact this more recent Great American Debate Legend was bitter, petty, vicious, uncomfortable, conniving, mean-spirited — and absolutely riveting live television.
ABC's ratings spiked through the roof — even as the roof of their cheaply-built "studio" at the convention hall in Chicago literally collapsed on their heads.  But network television, much like Hollywood, is nothing if not a rip-off-and-replicate industry.  And thus the no-budget Point/Counterpoint style of belligerent blowhards yelling over each other was born.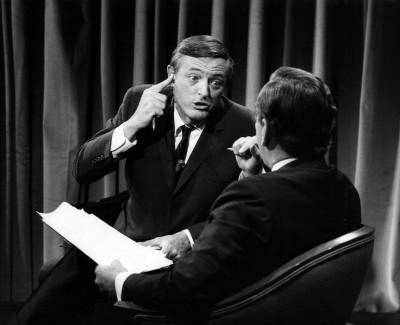 And this documentary — made by the same team as the magnificent recent Academy Award-winning 20 Feet From Stardom — time-travels you back to the summer of '68, but with 21st century perspective from the likes of Christopher Hitchens, Frank Rich, Dick Cavett, Andrew Sullivan and loads of erudite others.  And it's really fast-paced — running through the whole set-up, ten "debates" and the aftermath in less than 90 minutes.
The entire movie is just smart filmmaking — opening with dramatic old aerial footage of the Italian coastline that looks like unused B-roll from To Catch A Thief  taking us to where pondering Gore Vidal lived and paced for decades — and ending with a machine-gun-collage of clips of shows that were born out of this television summer of '68 — from Jon Stewart telling the Crossfire hosts, "You're doing theater when you should be doing debate," to, presciently, this summer's talking-head star Megyn Kelly.  They use the ring of a boxing bell to start each round of "debate," and a perfect piano and cello-based soundtrack by Jonathan Kirkscey that sounds a lot like Philip Glass at times.  In fact, there's a real harmony here with Glass's work on another great documentary, The Source (1999) by Chuck Workman, about how the Beat writers changed history.
And speaking of the Beats … who are these guys and why do they keep following me?
Not seven minutes into the film do we get Buckley walking and pontificating next to a four-foot-high photo of Allen Ginsberg! — wearing the "Pot is Fun" sandwich board, no less!  Which then goes into a slow "Ken Burns pan" up the photo until it's resting on Allen's face (!) as Buckley's voiceover spews his dopy Ayn Rand-ian gobbledegook, "As long as liberalism suggested that it could bring happiness to the individual, then people tended to look to government agencies for those narcotic substitutes for a search for happiness and contentment which they ought to have found in their religion, in their institutions, and their culture themselves."
And of course on the streets outside the Chicago convention hall where Buckley and Vidal were debating, Allen was leading the crowds with chanting and other non-violent protests, alongside Jean Genet, Ed Sanders, Terry Southern, and William Burroughs who was there covering it for Esquire.
And then Allen shows up again when he was a guest on Buckley's Firing Line!  And of course any casual Kerouac fan knows of the author's legendary appearance on that same show — which was — get this — the very first episode the next week!  Immediately after this historic smackdown that would define Buckley's television career (much to his chagrin), Kerouac was in the Vidal seat taking the flamethrower's heat — and as he told his agent Sterling Lord afterwards, "Buckley kept kicking my shoes and telling me to shush."  (And the Ginsberg episode was on just 3 weeks after this!)
Then of course there's the part where Jack wrote in The Subterraneans about meeting Gore Vidal at the San Remo in the Village in the summer of '53 — when they either did or didn't have sex, depending on whom you ask.  Not that there's anything wrong with it, but Gore says they did, and Jack says they didn't.  In fact, Jack wrote his gay pal Al shortly afterwards, not raving about some rapturous night together but dismissing Vidal as "such a pretentious little fag."  And he wasn't too keen on his writing either! — penning Allen the year before their 1953 encounter that it was "so ugly transparent in its method" and "regressing to sophomore imitations of Henry James."
And there's not just Beat cultural references.  
This particularly inclusive & colorful doc also features Rowan & Martin's Laugh-In, Muhammad Ali, Sunset Blvd., Aretha Franklin, The Flying Nun, Norman Mailer, The Best Man, Woody Allen, Playboy After Dark, Henry Gibson, Ben Hur, Paul Newman, Saturday Night Live, John Lithgow and Kelsey Grammer voicing the authors' respective left / right writings . . . and on and on appropriately appropriating mass culture into this political news philosophical debate story because it really was the beginning of the blending of the two.
Prior to this, television news was formal, staid and nonpartisan.  Yes, there was a time when journalists reported news objectively.  But this was televised New Journalism — just as was being invented in the literary form at the same time by Tom Wolfe, Hunter Thompson, Norman Mailer and others.
ABC's slogan for their unexpected hit broadcast was "Unconventional convention coverage" — and this documentary captures every part of it — from the executives' initial decisions to the carpenters rebuilding the studio roof that collapsed just before showtime.  It sneaks inside the minds of both the two prize fighters in the ring, as well as those in the rings of repercussions rippling out from the splash in still waters these two giants made.
Aaron Sorkin (of West Wing, The Newsroom and The American President fame) has signed on to write a feature-length dramatization a la Frost/Nixon, and every network has pledged to give you the same on-the-verge-of-violence "debates" for the next 18 months of Presidential campaigning.
Make sure you see this movie soon or I'm going to sock you in your goddamn face.
.
=================================
You can read this and 50 other Political Adventure pieces like it in my 2020 book Blissfully Ravaged in Democracy — Adventures in Politics — 1980–2020.
For more film fun check out this Festival Express review.
Or here's a recent one on the Johnny Winter doc.
Or here's the On The Road premiere in London.
Or the other recent Beat movie Kill Your Darlings in Toronto.
Or here's a Complete Beat Movie Guide to all the dramatizations.
Or here's the surreal Dylan interpretation I'm Not There.
Or here's the great Turtle Howard Kaylan's My Dinner With Jimi.
Or if you're diggin on the political stuff — here's some Inauguration Adventures from Obama's first swearing in.
Or here's a page with a bunch of my own videos and "movies."
Or here's a whole book that's a similar exploration of another historic event a few years ago — The Hitchhiker's Guide to Jack Kerouac.
Or here's a linked list with 500 of the greatest movies ever made.  😉 
.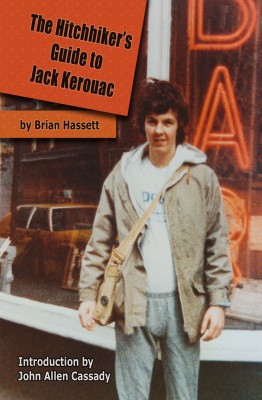 ================================
.
=================================
by
Brian Hassett      karmacoupon@gmail.com      BrianHassett.com
.