.
Shindig Sutra
.
aahhh — San Francisco — home of everything holy.
Home of the Beats, home of The Dead, home of the wild.  The United States of San Francisco.  The city that makes its own rules . . . and that's that.
Of course we're coming home.  To the Museum that Jerry built.  Cimino, that is.  The Beat Museum.  Of course there has to be a Beat Museum.  How could there not be?
Just like that other Jerry from San Francisco started another institution that never died — Jerry 2.0 has finally put brick-&-mortar to an idea that was always in the air there.

The Dynamic Duo – minutes after first arrival
Photo by legendary S.F. photographer Dennis Hearne
.
And just as The Museum was his lifelong dream — so too was having a summit a la Boulder '82 that he almost came to but missed by a hair.
And like a fat book that reads really fast, the million events and people in this weekend orgy of words and ideas passed in the blink of some beautiful eyes.
First there was the pre--opening party.  I mean, it was all about the parties, let's face it.  And a company that accents beautiful eyes — Warby Parker — the high-end glasses shop named for a couple different character names the Jack-loving owner's noticed in Kerouac's notebooks at the NYPL show — decided to throw us a Welcome-to-Town Party complete with jazz trio and poetry readings and a typewriter to riff your own spontaneous bop prosody.
Mutt n Jeff, Hilary Holliday & Tate Swindell
.
But things really kicked into gear Friday night with the official Opening Night Party that took over the entire 2 floors of this action-packed Museum, with all the wine and craft beer you could drink.  Tom Waits, the Dead and '50s jazz played from the speakers in every ceiling corner.  And filling every floor corner were Beats new and old.
There's ruth weiss!  Finally!  Never met her before — with her blazing blue-green-tourquoise hair — an idea she got from a movie called "The Boy With The Green Hair" that she saw as a 20-year-old — and was still dancing on the balls of her feet and bopping with more energy than the 20-somethings.
There was Gerd (pronounced Gaird) Stern — the man who did NOT lose The Joan Anderson Letter — who I was hosting his talk tomorrow and had just met a couple days earlier on this secret sacred houseboat The Vallejo which he lived on at one time and was still in the same harbor he called home in the '40s & '50s.  And there's him and ruth seeing each other for the first time in 50 years!
And there's Big Al Hinkle!  Who's not quite as towering as he once was but is still a giant of a man at 88.  He was of course a star attraction — "The Last Man Standing" — the only guy who was in the car On The Road who's still here to tell about it.  And tell about it he does with a great memory and all his faculties and senses with him.
with Al Hinkle and Jami Cassady
And there's Next-Gen Merry Prankster Moray who brought the original Anonymous who got On The Bus in Calgary as a 15 year old after having just read On The Road and, as she says, she was born "on the bus" — and was as tickled to be hanging with the Beat Founders as any of us.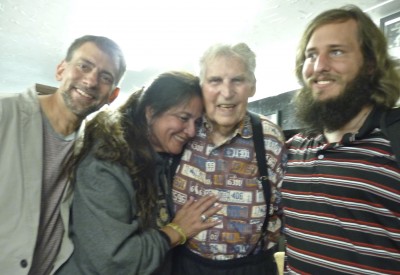 There wasn't even a bridge between the Beats and the Pranksters
— it was just a loving embrace.
And there's Levi Asher — my old brother of the Greenwich Village Beat scene shows of the '90s and 2000s — who I helped produce the big celebration for his web-pioneering LitKicks — their 5th anniversary at The Bitter End in 1999 with a symmetrical 9 hours of non-stop show . . . from a drumming sage-burning opening to John Cassady leading an all-star jam closing at 4AM.
And this weekend was the same damn thing — non-stop from Friday til . . . Tuesday, to be perfectly honest.
And there's long-time Beat Neeli Cherkovski in the role of Gregory Corso — the portly disheveled poet always surrounded by a coterie of confederates on some mischievous mission of madness.
And there's Chris Felver workin' the room — the unofficial official Beat photographer and one of the five who were here in 2015 and there in '82.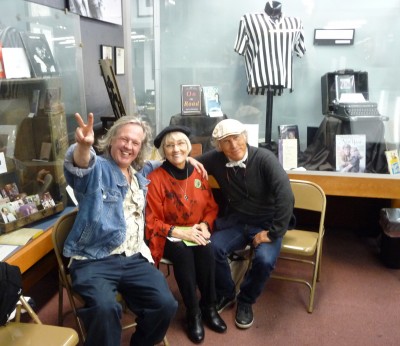 And there's Dan Barth another of the Boulder '82ers who read there at Allen's Oracles on the closing Sunday night and became the Poet Laureate of Mendocino County and travelled down from The Great Green North to spread his Zen Beat poetry in the city lights.
And if you're wondering — David Amram and Dennis McNally were the other two '82ers — but they wouldn't appear until tomorrow.
And there's Hilary Holladay who founded the Kerouac Studies program at U. Mass. in Lowell, and just wrote the Huncke book, and brought out a bunch of her students from Virginia who were smart, polite and Beat to their core.
And there's Tom Galasso who lived with Edie Kerouac in Detroit and is one of the few around I can swap first-hand stories with of Jack's first long-term love.
And then Tom Lake appears — the major Beat player online … known the guy for years … never met 'im … until I hear somebody say, "I'm Tom Lake," and I turn around … and it's the blind guy with the white cane!
Wait — what?  The guy I've been interacting with online for years … is blind?!
No.
But yes!  And we bond like brothers and he ends up being a playful prankster sidekick for this entire Shindigian Adventure!
Which also included of course hangin' at the Hudson . . .
and getting him to take photographs . . . (!)
a blind guy's photography . . .
making art that he can't experience
except by hearing other people's reactions to it.
And there's my Wight brother Orville, another longtime onliner I'm meeting for the first time and who's been On The Road forever, dancing on both sides of the Jerry–Jack fuzzy line …
And there's the beaming Shelly Musgrove who I first met over photos from Vesuvio's and has been on a crash course in Beatlandia, including devouring my book in one sitting, and traveling halfway across the state to be here.
And this whole packed-Museum opening-night cocktail-party is running effortlessly because of beatnik-clad show producers Otto & Baby Doe, who've been doing off-Beat events for decades, and have rounded up an army of volunteers and liquifying sponsors, and weaving it all seamlessly in with the Museum's inner cabinet of Brandon the visual design guy, and Bob the poetry organizer, and E.T. the novelist from another planet, and Niko the sharp-dressed man disguising the nature-loving poet revolutionary that all these Museumistas seem to be.
And all the first-time meetings and long-time reunions by so many segued naturally into a late night hang at Vesuvio's across the street in a dance of interactive eye-blazing joy and story sharing across the universe.
.
Saturday — the first full day — was huge:  Dr. Philip Hicks, the psychiatrist who Allen credits with giving him permission to be himself, spoke in public about that landmark diagnosis for the first time.  Current San Francisco Poet Laureate Alejandro Murguía riffed his imagistic word magic as a harmonizing echo of Kerouac's paeans to The Mission's downtrodden.  The brilliant funny modern-day Lenny Bruce / Mort Sahl of contemporary North Beach — Will Durst — laid down his political and cultural stand-up routine.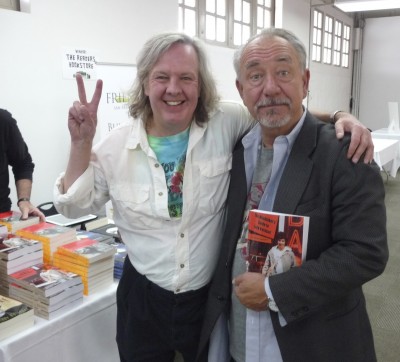 When I told him about the hitchhiking adventure of the book, he looked me deadpan in the eye and advised me — "You're crazy, you know that?"
Director Heather Dalton screened her new "Neal Cassady – The Denver Years" film in its West Coast premiere.  Local Beat authority Jonah Raskin brought the history of the city to life in a multimedia show.  The perpetually beaming Tate Swindell and his brother Todd made sure Jack Micheline and Harold Norse made it to the Shindig through film clips and audio recordings and first-hand stories.  Neeli held a poetry workshop.  Felver riffed on Ferlinghetti.  And Amram performed his patented Jack music & storytelling revue.
3 of the 5 Boulder '82ers — me, Dave Amram & Dan Barth
with Mike Wurm, Jerry & Levi
.
And sitting outside in the secluded Fort Mason enclave that we took over along the northern shore of the city with Alcatraz in the distance were a bunch of late-'40s Hudsons bringing the material machines into the mindful mindfields of poetry and prose.
.
Inside the main building was this giant party room with a poetry & jazz stage;  and all sorts of bookstores with tables of cool stuff;  as well as the Cassadys set-up with Carolyn's easel and paintings and stuff;
and there was a bar selling perfectly cold beer and wine.  Across the outdoor atrium was an excellent cafe / restaurant with all sorts of healthy California delights to stay or go.  What I'm sayin is — we were set!  Self-contained.  You could take a hundred trips without leaving the farm.
I hosted the Gerd Stern talk — of Joan Anderson letter fame — The Holy Grail by The Holy Goof — the letter that blew open the doors for Kerouac's writing and did NOT blow off a houseboat in Sausalito — like Allen Ginsberg pinned on Gerd sixty years ago when in fact Allen had submitted it someplace and just forgot!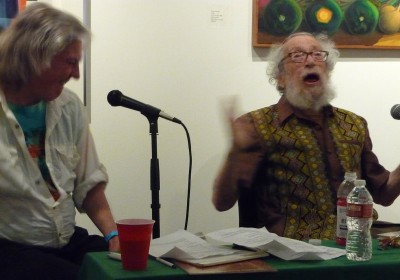 Howling with Gerd
As I say, I first met him a few days earlier on this famous giant historic houseboat called the Vallejo that was home to Alan Watts and all sorts of interesting people over the decades and where I had to sign a non-disclosure release just to step on board that said I wouldn't tell anyone where it is or even take any cell phone pictures that might reveal its location by GPS.
We got along like two buds in a joint right from the git-go — jammin out the crazy storyline of his crazy life, so when we hit the stage that afternoon we were already makin' beautiful jokes together.  We went through the whole sequence of what happened, when and where, from his first meeting Allen and Carl Solomon at the Psychiatric Institute in New Jersey in 1947, and how he gave the manuscripts back to Allen in '53, and his thoughts on why the story came into existence, and the whole yak was videotaped so that'll be out before long.  It was a packed room — and Levi Asher was in the front nodding in grooving agreement the whole time, and by all accounts it was a joyous jam.
.
As soon as this was over I had to bolt upstairs to the main theater to be part of the Cassady Family Panel with Al Hinkle and Jami Cassady, who asked me to be on it cuz I was pretty close to Carolyn n all.  Brother John was supposed to be there, and we kept thinking he'd suddenly come bursting through the curtain and onto the stage but it never happened.
.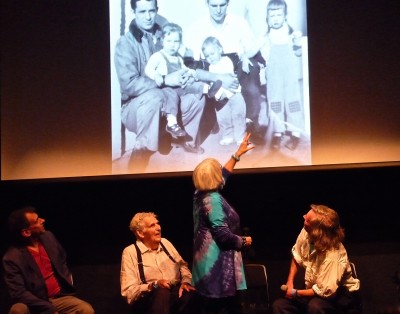 Good ol' Levi was hosting, which I thought was great since we'd known each other for 20 years — until I realized — Al's known Jami since her birth day!  He's seen her grow from a baby to a child to a mother to a grandmother . . . so he really knew the whole arc of the Cassady clan . . . and was the first person any of you ever heard of who met Neal!
.
And get this — he & Neal were actually a circus act for a while!
When they were both around 13, they were going to the same YMCA in Denver.  Both of them were uncommonly strong for their age, and "that Y had the only high-wire circus act program in the country," Al said.  "The big net, the trapeze, the whole schmear.  And I found out later it had been donated by the great uncle of Hal Chase. (!)
"I thought it would be fun.  The first thing you had to do was climb up and jump and land in the net — on your back if possible, so you'd bounce right up.  And then they taught you how to roll over and use your hands and get off onto your feet.  Then they had us swinging on the trapeze and dropping to the net.
"They said to me — because I was almost six feet tall then, and I was thin and had a little muscle — they said why don't you hang from the trapeze by your knees and see if you can catch somebody.  They have a rope to the trapeze, and they pull it back, and get you going, and then they have another trapeze going the other way, and they'd have a guy there, and the only one that could do it was Neal.
"And then they wanted him to somehow do a flip, a roll, and then I'd catch him . . . and it seemed like that was pretty easy to do!  We'd catch each other's wrists.  He'd catch my wrists and I'd catch his — and it seemed like … we could do it!  And we practiced and practiced and got so we could do it most every time.  And they had some other acts — I don't remember — they had a tumbling act, and a human pyramid, I remember that because I was on the bottom of the pyramid.
"So . . . we put on two shows.  And people's parents were there.  And we had a dress rehearsal type thing.  I was supposed to catch Neal twice in each show.  And I did on the first one — I caught him both times — and I missed him once at the second show.  I think he came out of the summersault wrong or something, and he just went down — Boom!  But he landed good.
"And then when summer was over, he was going to one school and I was going to another.  I didn't even know his last name.  We lost track of each other, and I never saw him again until we were both about 19 years old, and Jimmy Holmes, who was an old high school friend, he introduced us at Pederson's pool Hall.  
"I was just back from the Merchant Marines, and one day I'm walking down the street and bump into Jimmy.  I had a 1936 LaSalle convertible with a straight-8, and Jimmy had me come pick him up one Saturday, and I parked about a block away from the pool hall.  And of course Jimmy knew everybody there, and we played a game of pool, and he was practically running the tables, just kinda showin' off, and we're just hanging out there, and then who comes in the back door, but Neal!  And I looked at him, and he looked at me, and it didn't register at first.  And I kept thinking about it, and I guess he was thinking about it, too.  And then we finally made the connection.
"Then at some point I made the mistake of saying I have to go move my car, and right away he went, 'You've got a car?!?!'" and Al laughs heartily at the memory.  "Now I'm his best friend!"
"He says, 'Would you mind if we took a drive to the drive-in?  My wife works there.'  On the ride over we reminisced about the circus together.  Anyway, we get there and LuAnne's working as a car-hop.  And I'm thinking, 'Boy she is a beautiful girl!' . . . but really young.  I guess she was 16 at the time … and they were married.  And we have a Coke or something, and then we go back to the poolhall, and Neal and Jimmy start playing pool, and then these two girls come in the back door, and Neal goes over and gives one of them a big kiss, and introduces me to his girlfriend!!
"Those were the first two times Neal and I hung out together."
And all sorts of stuff like this is going down.  And once again the whole thing is on video, and as soon as I get time I'll get it out there.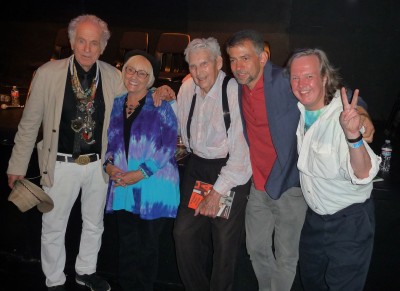 But then the deal was — John Cassady was supposed to be on the panel — then we were gonna drive-like-Neal from there to the Dead show in Santa Clara — basically back to San Jose where he lives.  . . . But the guy never shows up!
And I dunno how this happens — just the magic of the universe — but I'm in the post-show hang with people in front of the stage and mention to somebody I gotta get from Levi's panel to Levi's Stadium . . . in a hurry.  And this girl overhears me and says, "I wanna go there, too.  You don't have an extra ticket, do you?"  Well, as a matter of absent-John-fact, I think I do.  "Well I've got a car."  BOOM!  Dun and Duner.  And Weir outta there in Flash!
Just like '82 — The Grateful Dead are playing smack in the middle of this Big Beat Conference.  Who are these guys, and why do they keep following me around?
So we have this whole massive insane Adventure . . . the Dead's opening night of their Farewell to home-base California — prophet on the golden shore and all that — but it'll take about two days to tell you that whole story … I mean, bunch of stories, sheesh!!  If you really wanna hear a Farewell Dead riff, here's a Grate story about Chicago.
And while yer at it, you prolly don't wanna miss The Phil Lesh Story.  😉
But get this — not only did this girl wanna drive from the Cassady Panel to the Cassady Band — but she was staying in frickin' Chinatown!! — so was driving all the way back to about two blocks from where I was staying in North Beach!!!
I dunno, but sometimes the lights all shinin' on me . . .
.
Anyway, next thing you know it's Sunday Sunday Sunday — the day of the big "Hitchhiker's Guide to Jack Kerouac" show.  Thank god, ol' Bill-Graham-Jerry moved it to the 4 PM slot so there was time to recover n all.
But first in the day — I mean it was unreal — there was Jerry doing a show with Dave Amram with the usual colorful storytelling and all that jazz.  And the authentic rare living Beat poet David Meltzer was there doing his funny poetry and mesmerizing storytelling.  And there was the great Beat filmmaker Mary Kerr screening her movies from North Beach in the '50s.  And the artist Eric Drooker who did all the animation in the movie Howl putting on a whole show.  And Brenda Knight who did The Women of the Beat Generation book among other things — and there was more stuff to do than any one person could.
Plus!  Dennis McNally was there! — who I still think wrote the best biography of Jack, Desolate Angel, not to mention The Official History of the Grateful Dead, and he's riffin on the great Wally Hedrick who I'd written about fairly extensively in my Hitchhiker's book.

Which led me to meeting this poet / professor, David Rollison, who was good friends with Wally, an artist who vociferously shunned the spotlight.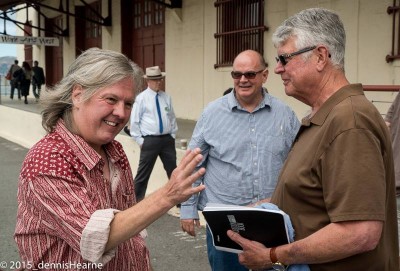 .
And it was David who set me up on a whole other series of adventures just before the Shindig happened — including taking me to the very house I stayed in on the Marin detour in the Hitchhiker book,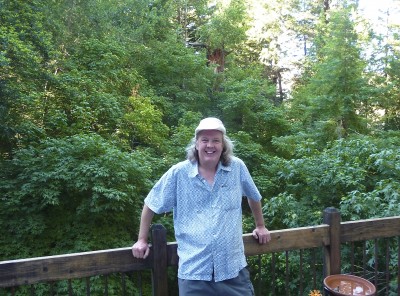 .
And turning me onto the people who live in the Dharma Bums house where Jack & Gary Snyder stayed for a while,
Lying down in front of Jack's old headboard.
and all sorts of other sacred and weird places in Mighty Marin.
.
And a cool thing had developed by Sunday where this area outside the main front doors became this perpetual groove center — where everybody went in or out . . . but there was me and whomever else at any given time just hangin on the loading dock landing that looped around the entire building — and in a way this was the most fun time and place of the whole Shindig Shabang.  Besides our late nights at Vesuvio's, this was the most Beat scene of the summit.
I of course arranged for us to go to the nearest cold beer store and come back with four armfuls loaded for bear.  And we could smoke jazz cigarettes in the cool San Francisco Bay breeze, and there was this constant flow of people, all of whom would stop for a while, and some of the most interactive subject-leaping conversations of the weekend took place on that stoop.  Coulda been New York in the '50s.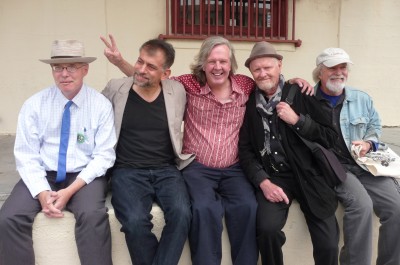 One'a the Stoop Groups – TKG, Levi, yours unruly, James Stauffer, Dan Barth
There was the great S.F. poet James Stauffer who I finally got to meet after we tried to put together the huge "Holy Fools" festival in the Mid-West about 20 years ago . . .
and that colorful Beatific artist Philippo LoGrande from Mexico who's been floating around all conference drawing me and all sorts of other people in the ongoing jam of it all . . . 
and there was Dan Barth, my Boulder '82 brother, finally with time to hang and groove in poet's grove down by the docks of the city . . .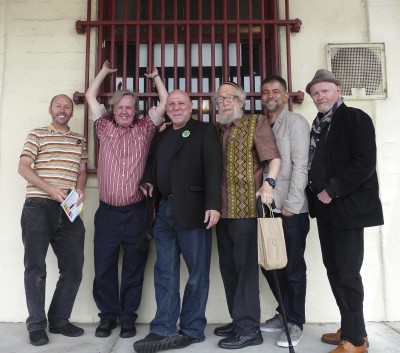 and Tate Swindell and Jerry and Gerd and Levi and James and . . . 
. . . holy shit!  — I still have a show to do!
And then this crazy thing happens where — everything had been going perfectly — but sometimes I get these fainting spells where if I don't get horizontal as soon as I feel it coming on, I'll black out and drop like a stone.  And sure enough, I hadn't really ate much (or slept much after the Dead Spectacular) and when I picked up a box of books to help somebody move — BOOM it hit! . . . And this was 45 minutes before I'm supposed to be "on" — and there I am lying on the floor seeing stars behind the Cassady's table . . . !
Way to go, B!  You're passing out 5 minutes before showtime.  What? — you trying to pull a Kerouac?  I know yer into the guy — but do you really have to be unable to stand before you go on stage?!  I don't think that was his strongest attribute, I'm thinking, as the ceiling's spinning like a merry-go-round.
I very gradually rise to the occasion, and frailly and slowly make my way to the room with the help of Dr. John Wight — and there waiting for me is the unspoken superstar of the conference, Brandon from The Beat Museum setting up to do the visual show with the laptop.  And there's a whole room fulla people! . . . as I'm one wrong breath away from falling over.
So . . . it was a wild trip.  But as people noticed, including me, I was gradually gaining strength as the hour-and-a-half show progressed . . . and about half-way through it started to feel like I was coming back.  It was cool talking to people afterwards . . . that the audience could see this happening . . . almost like a Dead show where the first half / set was basically warming up, then the second half killed.  I was actually up and running around the stage, and at one point, I don't know what the hell story I was telling, but it required me running across the stage and smashing into the far wall!  I have no idea.  But I do remember hitting this wall and seeing the paint microscope-close to my eyes and thinking, "Well, I must be feeling better."
Anyway, the whole thing's on videotape — and this is starting to feel like Steve Goodman's song coming to life.
.
But at least I was a hundred percent for both Gerd and the Cassadys, and that's what really matters.  Honoring your elders and extended family.  Which is really what this whole conference was for all of us.
But of course it was no where near over yet!
After my show's done, a bunch of us encamped on the stoop again, and hung there in a most festive space until it got dark, then hung sumore.  And then ruth weiss came on for the final performance of the conference up in the main theater where we did the Cassady Family show the day before, and we all went up and man, she was great!  She had an upright bass, sax, and her partner on a drum, and she read this very Beat stuff … as in, with a beat, the same kind of breath lines as Jack blew, and about finding freedom and yourself in a sea of blandness and conformity.
And very cooly, she pulled out all this stuff from her repertoire that dealt directly with Beat subjects — poem-stories about meeting them, and about their lives together back in the day.  I know she's continued to write since the '50s, the more recent of which is what she normally performs, but for this shindig she specially and thankfully selected all her original Beat-based material and quite rocked the house — with more energy than I've seen in performers a quarter her 80 years.
And this was naturally followed by more jazz cigarettes and cold Sierra Nevadas on the stoop while everybody mill-valleyed about, and by now me and ol' Blind Tom had become a somewhat inseparable duo — he was so observant — and I convinced him to not leave the next day but stay for the aftershow glow when everyone's relaxed and radiating with the meter off and it's Vesuvio's time. 😉
.
And so ol' Blind Tom wisely does this, and we have a whole day's Adventure . . . 
And I'm encouraging him to write up his Shindig story cuz he's about my age when I did the first one and it would be so amazing to read how he perceives everything — how he can't see but he's all ears — and the way he so highly functions and learns geography and is so self-reliant and Getting Things Done is just mind-blowing.
And we happily bop all over North Beach, including hanging with Paul Kantner at the vividly historic Caffe Trieste and I tell him about staying in his old house in Marin, and he sits there reading that whole section of the book just like Phil Lesh couldn't put it down a week earlier …
.
But the coming night was one of those Classics you play for.
It began with the official debriefing hang with the core crew at Vesuvio's — just as I had prophesied to Jerry we'd do months ago — that beaming lingering evening when we're no longer looking at our watches after months of planning and deadlines — Bill & Chet, as he & I started jokingly calling ourselves, honoring the two great San Francisco promoters — and debriefing we did! — including with old show-producing New York partner, Levi Asher …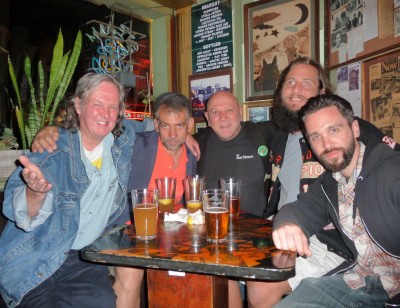 . . . taking over the best booth in the best bar in town — right on the street, right on the corner, right under the Kerouac Alley sign, right inside the door, everything wide open and wild!
And off we riffed on the vibe that was pulsating from the opening night party to the closing night stoop;  on how so many people met each other for the first time;  how Gerd and ruth were like two playful kids even in their 80s;  how cool the Prankster presence was and how natural the blend was with the Beats;  how effective the big party room was except maybe we should have the poets' stage somewhere else so it's more focused;  and how taking over Fort Mason was so perfect, giving us our entire own world in the middle of downtown San Francisco;  how glitch-free everything had rolled;  and how everybody got home safe.
And suddenly I remembered — "Oh Wait!  There's a super-important scene in the book that takes place here!  I sat in here in '82, right above where we are," I pointed up.  "This exact spot, except on the second floor!  We gotta go there!"  So I Pied Pipered the crew upstairs just before they closed it off for the night, and we took over the very table where me and Croz met that actor!  (ch. 27)  Another one of those sites from the book I hadn't been to in 33 years!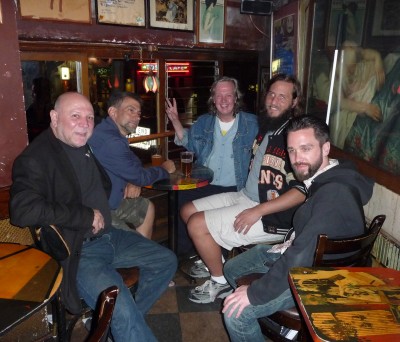 And dig — right under Levi's chin you can see the Kerouac Alley sign outside!
That certainly wasn't there in '82;
but the historic Tosca Cafe above my peace sign certainly was.
And after a few more rounds, responsible Bill Graham bids us adieu — and it's pretty much a wrap on the wrap party.  And outside in the aforementioned Kerouac Alley, Levi and I have a perfect fare thee well moment, where the giant arc of the rainbow came down just like it did over Levi's Stadium, from East Coast to West, from our first deciding to do this and getting together for the first time in years for this perfect Adventure in Beatlandia, and now the rainbow arc ends in Kerouac Alley between Vesuvio's and City Lights — the bar and the bookstore with Jack the bridge — the only two Shindiggers who did both the conference and the Dead shows hugging goodbye, so much happier than Dean & Sal at their sidewalk farewell in On The Road.
And now there were three . . . amigos in the alley . . .
And I figured we had to figure out once-and-for-all exactly where that famous Robbie–McClure–Dylan–Allen photo was taken.  And ol' wiz-bang Brandon pulls out his smart-phaser and beams up the photograph and zooms in on the doorframe and a-ha!  GOT it!  Nailed it.  Know it.  Now.
So we gotta take the fer-sure pictures in the fer-sure spot — and so Yes!  We reprise the Blind Tom trick and have him take the photo!
Outside the door in the Dylan-Beats shot.
Photo by Tom Lake.
And eventually brilliant Brandon bolts for the boonies, and I walk my new Brother Tom home — this Beat conference's Brother Tom, reprising the real-life character so central to the first one — back to his Green Tortoise Hostel a half-block from The Beat Museum — in itself one of the coolest places in North Beach — a center for off-Beat Travelers and Adventurers since the mid-'70s.
.
After the drop-off, I was still way too jazzed n burnin' to remotely sleep, and there was a whole city left to explore!  Suddenly I was on my own, no direction home, free to roam under the starry dome.
I hung a right up some little alley next to The Beat Museum towards The Saloon — since 1861 the longest continually operating bar in San Francisco and home to all the desperadoes since Jack London and Jesse James.  Or something.  But by now it's already past the last call for alcohol and they're not lettin people in the door.  But I look closely and there's ol' Per (pronounced "pair") — my Danish Deadhead brother who'd flown here from Copenhagen for the Fare Thee Well shows — and actually was at the historic Tivoli show on the Europe '72 tour!  We'd been beaming all over North Beach ever since we both arrived about the same time, and together we could do a lot of damage.
So I see ol' Per sittin there, and this seems to be enough for the Wild West Saloon cowboy doorman to let me slip through the swinging doors, and ol' Per's just laughing his Danish head off that I found him, and of course it's time for another Adventure.
We pour outta there, and fall in with this whole German crew who are similarly prowling the streets of No Good, and head round the corner past the closed Trieste and back out to Columbus where we got caught up in the whole strip-bar scene with these hookers and whatevers and guys & dolls of all ages and ethnicities working the hungry sidewalks for a mark & a buck, the full-on hustle of end-of-night scores and hook-ups and tricks and trades and what a circus!
We linger in the swirling scenery of barkers and colored balloons — because life is a carnival, two bits a shot.  But then we remember our mission for beer and continue back to Broadway where the Danes and Germans hold a curbside summit to determine the next drinking hole.  But it takes this Canadian to break the news it's a hard 2 A.M. cut-off in this town — and if Vesuvio's and The Saloon have had last call on a Monday, there ain't nuthin more late-night than them.
I looked at the deli on the corner and the watch on my wrist and told ol' Per — "That's the last beer in town, mate.  And it closes in 15 minutes."  He doesn't wanna believe me, so we sit down on these iron bolted-in bus stop chairs they have, and have a smoke to think about it, watching the open deli door as the minutes tick by.  And sure enough, since ol' Per hasn't come up with a better plan, at 1 minute to, we grab a half-dozen Rolling Rocks, which Per has some crazy elaborate backstory on about how he discovered them on some mad mission in America way-back-when and they hold some special power for him — secret energy juice — and I'll go along with anything for a night.
So we happily load up my road bag and head for my office — this outdoor patio place just down Columbus at Kearny — the perfect setting for the sunset of the trip.
As fate and geography would have it, we had to pass Specs on the way — the other historic hideaway bar in North Beach that's been there forever.
I get us to swing left sweet chariot on ol' Saroyan Alley to the tiny bar you'd never know was there . . . unless you did.
.
And sure as you're born — the door's standing wide open.  And as I start to walk in the empty space, the barkeep calls out, "We're closed!"
"Yeah — I just wanna look around" I say, all wide eyed I am — and completely knowing the play I'm playing.
And he lets us wander in . . . and I stay in character . . . the scholarly studious student of history . . . appreciating said bar . . . painstakingly exploring every inch of the framed history on the walls . . .
. . . buying time . . . showing interest . . . while Per goes over and starts talking to the last lingering local at the end of the bar . . . who I actually happen to already know as he's the sometimes doorman at Vesuvio's, the guy who told me how the scene around North Beach had changed so much for the better with the announcement of the Dead shows . . . their first in 20 years . . . and how he, as a street barometer, had noticed a visible change in the hugs and love of strangers stopping strangers just to shake their hand that had been missing for a long time in this Times Square of Bohemia.
And so, with everyone duly occupied, and me tossing out the occasional inquisitive question to the clearly erudite bartender . . . the desired bond seemed to be developing . . . and as the last of the now-drinkless locals wafted out the door . . .
. . . sure as you're born I hear The Magic Words:
"Could you go close that door and lock it?"
.
Where everything changed
.
BOOM!  DONE!  In.  The coolest tiniest bohemianest bar in S.F. . . . the greatest POSSIBLE moment and place to be . . . the old The-Bar's-Closed-And-The-Drinks-Are-Free Routine.
.
And it turns out this bartender, Michael, is a doppelganger for the comedian Colin Quinn — accent, heritage, looks, mannerisms, humor, thoughts . . .
And he re-fills my pint without asking whenever it's thirsty, and as he's putting everything away and cleaning up, he says more than once — "If you were 5 minutes earlier or five minutes later, this wouldn't have happened. . . .  But you came in right in that window."  We both knew the routine, and were mutually happy to have worked it together.
And boy, was he smart.  A classical music and film scholar, he starts playing all these obscure movie scores that are positively Vivaldian!  And as he's putting stuff away he stops and POUNDS out the beats on the bar like a teenager does rock n roll — and fist-pumping the air at the crescendos.  The guy got his B.A. in film, minored in religion and African studies, and one of the refrains our many-pints-long conversation keeps returning to is — "respect your elders."  And it was that I respected the history of the bar that was my pass into this world — as he reverently tells me about the legendary eccentric owner nicknamed "Specs" who was a jukebox of one-liners — "If I'm not in bed by midnight, I go home" —
and how he made their business cards double purpose that can also be used to protect female customers . . .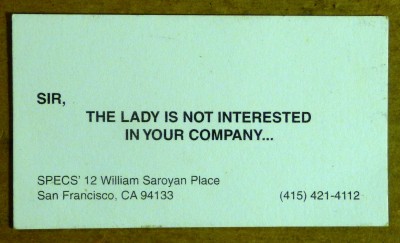 .
The place is like the original Kettle of Fish in New York — just a bar — no TVs — no frills, no nuthin 'cept music and people and drinks — because what else do you need?  I search for the authenticity in everything — the real, the core, the truth, the root, the undoctored, the natural in both the outdoors and the indoors — and this place is bona fide, certified, Beatified real.
With Per — the Wavy Gravy / Chet Helms / Ken Kesey of Copenhagen
at the legendary Table of Tyranny in Specs
And after we have this glorious perpetual-pint-refilling classical music class and North Beach history lesson, ol' Michael's about finishing his chores, and I can read music on the wall and knew this score was coming to its natural resolution, and knowing not to overstay our gracious welcome, I suggest to my Danish Dangerman that we continue on to my office, cuz we've still got that 1:59AM purchased six-pack of Rolling Rock to play us through the nocturnal groove-down.
Back on the desolate angel streets of deserted North Beach, America, the only two Beatniks still beating the conversational adventure drums on this sleepy Monday night in June, euphoric in our score of an after-hours bar that looked so impossible when we were last roaming these empty streets of newspapers blowing . . . as we whooshed around the corner to my corner office with a view.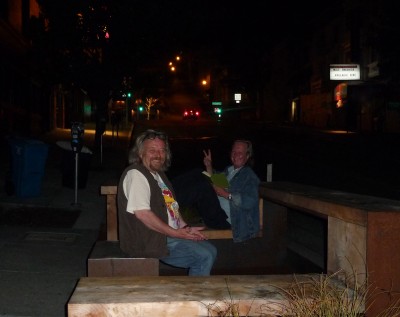 .
Quite ecstatic in the ecstaticness of the 4AM universe — we've pulled it off!  From slipping into the closed Saloon to find him hours ago, to the magic moment in the coolest Kettle this side of 1957, we surfed the waves of this Beach like masters of the never-bored.
And as you can just barely see in the picture, I've pulled out my notebook . . .  and am readin' my notes and writin' new ones . . . cuz if there's one thing I've learned it's — you gotta write it when it happens.
As me and Per are taking the talk for one last loop around the track, I know I got work ahead of me.  Gotta get this down.  Now.
So we walk back to the hotel weir both staying in and met over Grateful Dead t-shirts in the lobby, and bid each other goodnight.
Now, ya see — when I'm burning, I smoke.  And I gotta have a space to write and burn.  Normally it's the street — but this is crazy half-lawless North Beach at 4 A.M.  When I write, I leave the planet.  But one needs to be alert and monitoring the radar systems when you're out in war zones.  And I could not leave earth and be safe with my instrument on the sidewalks of this crazy.
And then — ol' Levi came flashin' back.  Of course, as The Grand Fates had it, I was hanging out front when this brother-from-another-mother arrived to stay in the same joint.  And having experienced Brian in New York, Levi asks as I'm walking him to his room, "What's the roof like?"
I say, "There's no way up."
He goes, "Whadda you mean? There's always a way up."
Now, A) he's not right about that, but B) the moment he says this, we walk past a hallway with a window at the end . . . and a fire escape ladder going up . . . hmmm . . .
The conversation immediately leapt to another subject, as he and I are wont to do, but the snapshot was logged at CentCom for future reference.  "Roger that."
Back to the room — download everything — meaning leave in room everything you don't need;  pack for Adventure:  laptop;  cold beers from mini-fridge, replaced with the last Rolling Rock;  glasses for long range optical enhancement;  camera so I can see what we captured from tonight;  notebook for retrieval;  I.D. because I'm anticipating being caught, and have the whole honest play in my head — "I'm just a writer visiting from Canada and it was my last night, and gosh, I'm sorry, but there were no signs saying you can't take the fire escape to the roof."
BOOM — like Batman, I'm climbing up the side of the building, in the 4AM dark of Big City, America, and sure as shit, it takes you right up!
POW!  On the roof!  Scout it out.  Walk softly and attract no attention.  
It's a bit cold, but I'm puckin here!  And to prove to anyone maybe watching me from higher buildings, I go and sit and get right to work on the roof hatch cover — the only "seat" on the roof, coming up from a locked room and locked hatch below.
Safe on Heaven's roof.
I'm freaking out I'm here — but I got shit to do.  And I start writing the story you just read.  But it's really hard cuz the Coppola Building is hauntingly hovering above me, and Coit Tower's beaconing on the horizon, and Washington Square Church is looming right in front of me . . . and I'm on a roof in North Beach . . . so it's all happening, but I'm forcing myself to get the story down — no hope for full sentences — just exact images — I'll weave 'em together later — as I look around again — surveying the two fire ladder routes to the roof — the only two access points for any enemy to appear — and they're both a long way away — as the city lights are painting moving abstracts on the fog — "So this is where psychedelic light shows come from!" — and . . . "quit lookin around" — Boom — back to the flashes of story images in sequence — get it down, get it down — even though it's also see-your-breath cold — and see your life-flash-before-your-eyes visual — and the computer screen's fogging with unreadable mist in this rainforest San Francisco Bay moisture — adverse conditions at their best — but write on, muthrbruthr, write on . . . .
And then suddenly — Oh Shit! — I'm interrupted by — the pitch black beautiful sky beginning to turn . . . a smidge off black . . .
"Oh no — it's getting light . . . "
.
Which quickly gave way to … "Oh my God!  It's getting light!!"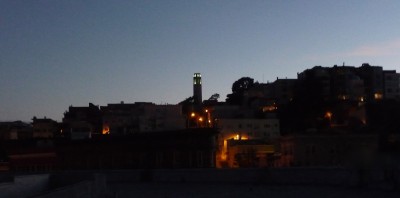 .
And thus The Shindig Sutra ends . . .
.
.
.
.
My corner office from above
.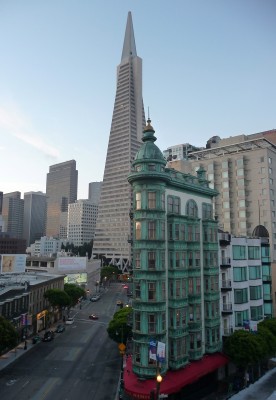 .
.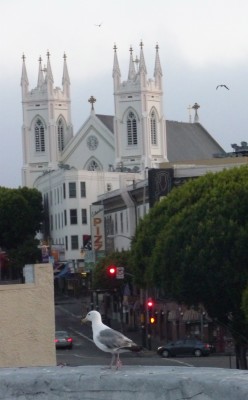 .
H……… With a toast to all the new days.
.
=============================
For the original conference Adventure check out The Hitchhiker's Guide to Jack Kerouac
For reactions to that AdventureTale check out this raving page
Or this one
For a Tribute to the great Al Hinkle 1926 – 2018 go here.
For another Kerouac Adventure with the Cassadys check out The Northport Report
Or here's some storytelling videos about some other Beat Adventures
For my keynote essay from "The Rolling Stone Book of The Beats" on the decade that birthed the Beats — go here.
Or also from "The Rolling Stone Book of The Beats" — here's my riff on The Power of The Collective.
Or for a similar Satori in Lowell check out this moment from their 2016 LCK festival.
Or for another Kerouac infiltration story check out the Pawtuckville Social Club Adventure.
=============================

by
Brian Hassett      karmacoupon@gmail.com      BrianHassett.com
Or here's my Facebook account if you want to also follow things there —
https://www.facebook.com/Brian.Hassett.Canada
.