"It's Your World, So Live In It"
.
.
Note:  Years ago when I picked the best musical performances I ever saw after watching thousands and reviewing hundreds for RockPeaks, it was a Johnny Clegg clip that I considered the greatest single musical performance I ever saw.
*          *          *
.
At the end of the darkness following Jerry Garcia's death, the first instrument I heard played live a month or two later was a solo violin in an art gallery — and it was so beautiful it brought me to tears.  After that breakthrough, when music seemed possible again, the first ensemble I went to hear was Johnny Clegg.  He felt like the right and only music worthy of breaking the spell of silence — one of the few musicians whose impact transcended the medium — and it stole my face right off my head!  That this similarly inspiring polyrhythmic mystic music was still being played broke down a wall and made me believe in the magic of the musical muse once again.
And here he was … comin' around … in a circle.
The only floor ticket left five months ago was one of those wheelchair companion seats.  As a former caregiver, I knew the routine, the seat next to the wheelchair spot, in this case towards the back of this gorgeous new 1,100 seat Royal Conservatory of Music hall, which feels even smaller with the two tightly stacked circular balconies.  It's got the best of everything, is acoustically immaculate and visually melodic, with plushy seats, high-class uniformed ushers, and royal everything.
When Johnny's son Jesse was doing his half-hour opening set, during the last song I went down for a first-hand recon and the only empty seats were a nice 4-spot on the aisle in the 9th row!  Ha!  So of course that's where I experience the show from — until the manic dancing up front for the climactic half-dozen songs with a bevy of joyously bouncing Canadian spirits.
The show was great, and as usual I was fully charged by the magic conjured by this all-South African troupe, and ready to groove-sail into the blissful Torontonian night.  But when you exited the theatre into the lobby, they'd actually hired another South African band to play as people were leaving!  It was so Bill Graham of them … simultaneously encouraging people to linger and maybe sponsor a World Vision child as Johnny's promoting, and generally continue the experience, and perhaps have another cold beer or wine or whatever and dig on some music and bask in the aftershow glow with fellow concert goers before heading out into the cold late-snap April air.
And bliss it was, too — including a nifty outdoor balcony a person could slip out on for a smoke or a call.  But fine groove though it was, after a wee buzz it was time for a wee pee before the drive home.  And just for the trip of it, I decide to take the nearby elevator down instead of the faraway stairs.  And as I'm waiting by the silver doors, these two bubbly well-to-do women come along, being ushered by a straight-street walkie-talkie Security Lady.
I'm trying to go down to the ground floor, but the elevator comes and it's going up, which is where this trio was headed.  And I'm, "Hmm … let's see … you three are going to the third floor / upper balcony … after the show … why would that be?"
So, naturally, in an elevator ride of two floors, I become total besties with the happy duo who are just blubbering over some new Johnny CDs in their hands and still jammin in the joy of the just-birthed show.  "Make friends with everybody," I always say.  Might as well.
At the third and top floor, Security Lady tells me there's no bathrooms up here and I have to go back down.  But … I know there's bathrooms on this floor.  I pre-scouted the hell outta this place.  And the two friendlys walk out the elevator and go, "Oh, look, there's one right here!"  Uh-huh.  So I slip out the doors behind them, turn left down the carpeted hallway, and Stop — in the name of … them having enough time to walk away.  Turn, go back to the edge of the hallway/elevator alcove in time to see Security Lady leading the two birds diagonally across the balcony atrium into the only room up there, about a 20-foot lobby-cross away.
So … disappear — the old into-the-bathroom routine, give Security Chaperone time to leave.  Back out … and it's the third floor of this wild open-air atrium that goes all the way down to the band playing below … and the two outer walls … are made of glass!  Ah-ha!  So I stand back against the opposing alcove wall and with the pitch-black midnight mirrors can recon the empty lobby with the Shining bar along the wall and no one there except the lone bartender and one old security suit aimlessly pacing around, way past his bedtime by the looks of things.
As soon as I spy him turning and slumber lumbering off in the opposite direction I speed-walk on an urgent mission from my elevator cave to the cross-lobby sacred door alcove … which turned out to be two doors!  Both wide open!  And BOOM!  The first person I see is … Johnny!  
Keep goin', no hesitation, you belong in this room.  And the very next face I see is son Jesse!  Who's name is pronounced Jess, or at least that's what Pops calls him.  Anyway, he's not surrounded like "the old man" is — as he calls Pops.
So I walk right up and tell him I liked his opening set, which was actually really good, hypnotic, up-tempo acoustic, just him and the old man's guitarist who's been with him since the Savuka days.  Jess's girlfriend's from Toronto and he recorded his latest album here at David Botterill's Rattlesnake Studios and we got talkin' about Canadian immigration and visas and gigs … and that they're doing this whole tour by bus, and I mention how they were soon playing both Boulder and Saskatoon — two usual places I'm familiar with.  And he goes, "Yeah — and they're back-to-back."
"WHAT?!"
"Fourteen-hundred miles.  We're staying an extra night in Mile-high to rest up the driver."
And then he starts telling me about how the Old Man just gave a lecture at Dartmouth College in New Hampshire, and how he riffed for an hour-and-a-half without notes, and I told Jess the truth: "Your dad's as good a storyteller as he is a musician."  Cuz all during the show tonight he told the most wonderful and elaborate tales about South Africa and life and death that echoed with the rich anthropology that Johnny not only lived through and studied but also taught at the university in Johannesburg.
Then Jess tells me about how he and one of the crew slipped off afterwards to a Dartmouth keg party … in order to study first-hand the anthropology of American students in their natural habitat, you understand.
And the whole time he's talking with that great lyrical British/South African accent that also weirdly comes through in their singing sometimes.  Ya know how you don't hear much of an accent in most British groups/singers' recordings?  Well, somehow in Johnny's singing, his accent often comes through.  It's weird, and wonderful.  Anywho, they both talk with that lovely lyrical sing-songy lilt.
And as Jess and I are hangin', we're right near the Old Man, who has a kinda unofficial receiving line going on.  And all these different people including my two winking elevator besties are hanging around biding their time to go up and shake his hand.  And it's the same thing for all famous people who've affected others in a deep way — each person wants to share their story — how much the music meant to them, some pivotal moment where their life changed after hearing it — and he's really gracious as he listens to each confession.
Then this funny thing happened where … when somebody came up to talk to Jess, I'd just spin over to Johnny beside me, and we somehow fell into this improvised routine where he started using me as his sidekick.  He'd already seen me groovin with Jess, and … he'd often say these funny things, but the person he was meeting was so sorta nervous or whatever that they wouldn't get he was making a joke.  But I would.  And he'd turn and twinkle wrinkle his eyes to me … and I ended up playing Ed McMahon to this Johnny all night.  What a hoot!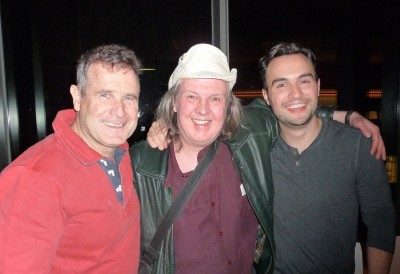 Johnny Clegg, yours unruly, son Jesse Clegg
Note the eye line   😉
And another funny part was later when things were kinda winding down I blurted my own gushing moment!  I told him how the climax of tonight's show actually had me choked up seeing all these (I didn't say it but, normally reserved) Torontonians up and dancing.  It was crazy cuz it was what I call a "PBS audience," all these lefty greybeards and beardettes in an already absurdly restrained audience city that does not get up and dance almost ever.  But it was the women especially who were breakin' ranks and excuse-me dashing from their mid-row seats out to the aisles and letting loose and we all had a helluva dance party out there, lemme tell ya! 🙂
It was so heartening and joyous I actually started choking up in the glowing love energy moment … having to force myself to not start bawling outright cuz I was, ya know, in a room full of people.  But it was that beautiful a moment …
So I tell ol' Johnny this emotion he evoked, and he's like, "Yeah, uh-huh. Next!"  After all my Ed McMahoning I was a little disappointed!
Nah — he didn't really say that, he said something really nice.  But the point is everybody, including me, thinks their precious anecdote is of vital importance … but people like Sri Clegg have heard so often stories of transformation from their art … it's just part of the soundtrack of their lives.  Imagine having people come up to you, multiple times a day, telling you how you changed their life.  And it happening day after day, year after year.  Psycho trips, man.  Then add psychotropic drugs.  By the bushel … … …
Wait, where were we?  Oh yeah, I worked around pop-stars-of-the-month at MTV and it's such a totally different trip when it's artist-fans who've been sharing the same spiritual journey for decades.  And Johnny's been on this path since he first heard a guitar in the streets of Johannesburg in the 1960s.  As a South African I met recently responded when I mentioned Johnny Clegg — "You just said the magic words."
So, there we were, eye-to-eye — the two of us exactly the same height — check out the eye-line in the photo.  It's not often you talk with someone who's on exactly the same level as you. 😉  Anyway, I ask him about his Asimbonanga performance when Mandela came out that was cited and quoted and shown all over the world after Madiba died a few months ago, and how I reviewed that very performance years ago and was now finally able to identify the heretofore unknown location of the gig straight from the horse's source.  He told me it was the closing night of some world health conference in Frankfurt, Germany, where Mandela had given the keynote speech, then stuck around for brother Johnny's show.
Also … it hit me a couple days ago playin' old discs n tapes that Savuka's album cover had Johnny with a kid on his shoulders and I asked and sure enough that's now 25-year-old Jesse.
I love this multi-cultural world-beat human-collage city.  And so do a bunch of other people.  And some of the locals are white South Africans tellin' Johnny about how he and his music gave them strength and vision and direction of how to act with both purpose and dignity in their country's racial revolution.  And then there were these black-as-night South African Zulus who'd talk with him in their native tongue, and oh MAN!  Is that one weird language!  Holy surreal syllables, WhaKooBan!!  Not exactly rooted in yer Latin!
And the son's drinking white wine, and I've got a frosty local Steam Whistle, and Johnny's got a straw in a tall glass of Coke, which somehow me and Jess start goofing with him on his line about "kinky kola" in "Digging For Some Words" and I ask him straight-up, "What the hell does that mean, anyway? Sexy Coke?" and he just smiled and nodded a sort of Yes but wasn't about to elaborate, as is the poet's prerogative, and at least not with his son standing right there.
And it was all magic and fun and then that part was over in the blink of a bus dash …
but just to flash back …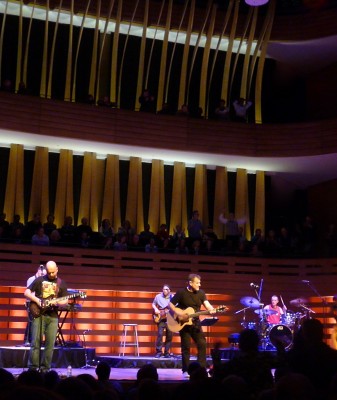 There was this stupendous two-hour concert …
The thing that's different from his '80s and '90s shows is — he's really evolved into a storyteller!  It's so enchanting and inviting and inclusive.  I remember Sinatra did this.  Randy Bachman does it.  Neil Young's been rambling a lot lately.  He doesn't do it every song, maybe every second or third he tells some wild elaborate wonderful story.  It's great.  But unlike those other narrative troubadours, some of this guy's tales involve band members and friends being killed in the warfare in South Africa.  The whole show was kinda like a Director's Commentary … explaining the motivations and background behind his shots/songs — like how the ground stomp was as important as the kick in the tribal dance he did.  If you don't know, this guy studied and performed with Zulu dance masters since childhood and was fluent in the spoken language by 16.
And it's all about The Songs.  It's still that ripple from The Beatles' splash — musicians writing Their Own songs.  And Johnny now has a lifetime of them — anthemic authentic Zulu-Western songblends that grew out of the streets and tribal lands of a segregated country that he brought together musically.  He's got so many hits spanning so many decades he didn't even have time to play them all in a two hour show.  
And it's the Unpredictable Arrangements … in an uncategorizable sound.  It's jazz, it's pop, it's world beat, juju, gospel … and all with a rock band foundation.  It's multi-linguistic, multi-ethnic and multi-instrumental.  It's multiple forms of magic, is what it is.
And it's all about The Players!  This band!  These harmonies!  Great 3-part all night, including the soprano he's been teamed with since the '80s, Mandisa Dlanga.  And the guitarist and musical director, Andy Innes, who's been with him since the '92 Savuka days and switches off on electric, acoustic and mandolin as the song suggests.  And then there's the all-purpose horn man on alto and soprano sax as well as the keyboard fills, Brendan Ross.
And it's all about The Vibe.  It's some sort of crazy mix between a black Baptist Sunday revival and a folk singer protest rally.  It's Sam Cooke, "A Change Is Gonna Come," and Bob Dylan, "With God On Our Side."  At the same time.
And in this spiritual preacher space, he climaxes the main part of the show with "Cruel Crazy Beautiful World" (written for son Jesse) with its joyous endless chanting refrain, "It's your world, so live in it," over and over as the audience starts LIVING a few degrees higher than they were before.
And in the truest gospel tradition, he ends the final encore, "Dela," with its benediction — "I'll pray for you," and makes a point of saying it one-by-one to every person in the room.
And … that's sorta what Johnny Clegg is like.
 *    *    *    *    *    *    *    *    *    *    *    *    *    *    *    *    *    *
Set list  (except for a couple songs I didn't know):
Heart Of A Dancer
I Call Your Name
Take My Heart Away
Bullets For Bafazane
Kilimanjaro
Africa
Digging For Some Words
Step Into My Circle Of Life
The Crossing
Great Heart
Scatterlings
Cruel Crazy Beautiful World
—————–
Asimbonanga
Dela (I Know Why The Dog Howls At The Moon)
—————–—————–—————–—————–————
The band:
Johnny Clegg — acoustic guitar, concertina, lead vocals and storytelling
Andy Innes (from the U.K. and S.A) — guitars, mandolin, vocals (the band's Musical Director, who's been with Johnny for 22 years)
Mandisa Dlanga (from Lusikisiki) — vocals (harmonizing with Johnny for 26 years)
Brendan Ross (from Pretoria) — alto and soprano saxes, keyboards, vocals
Trevor Donjeany (from Durban) — bass and vocals
Barry Van Zyl (from Capetown) — drums and percussion
.
==================================================
Here's a whole page of musical tributes to Nelson Mandela including lots more Johnny 
or here's the Adventure of The Merry Pranksters invading Woodstock
or for some other adventures there's also the Sneaking onto the Pittsburgh Penguins Bus During the Playoffs story 
or for another Toronto concert night that ended with hanging with the band, check out what happened at Dr. John
or there's the sneaking backstage at the On The Road premiere and meeting Walter Salles story
or going to Shakespeare's Globe and hanging with the cast doing magic tricks afterwards
or this Long Island Mansions Adventure with Steve Winwood, Sheryl Crow and a bunch of others 
or that one with Carolyn & John Cassady at the Northport Big Sur reading 
or that time I drove the whole length of Manhattan in about a non-stop minute story
or speaking of on the road here's the account of what went down the day the Original Scroll was auctioned
or that whole Obama Inauguration Woodstock was just insane!
=========================================================
 by
Brian Hassett      karmacoupon@gmail.com      BrianHassett.com