Roaring at The Lion
.
He's Ninety-Two
Let's Hoist a Few
The Jack Kerouac Birthday Bash
On The Road in London
March 12th, 2014, 9 PM
The Red Lion
Starring:
 Brian Hassett — from New York City

 John Cassady — from San Francisco

 Sam Hammond — Swiss Lips bandleader
 Julian Joyce — Jam Junkies blues blower
 Paul Kirkby — British bandleader
Readings, music, songs & stories

.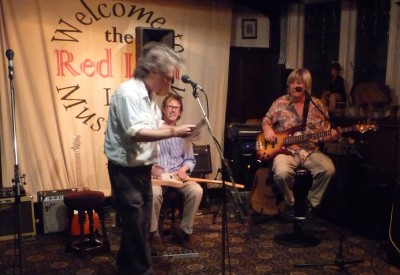 Sponsored by: The Beat Museum and LiteraryKicks

A  Spirit  Production
====================================
For more Brian and John Cassady Adventures — check out The Northport Report.
For more on John and his mum Carolyn — check out The White Knight & The Queen.
Or for other On The Road Adventures in England — check out the On The Road movie premiere.
Or for a whole other wild ride — check out hanging with director Walter Salles at the On The Road movie premiere in Toronto.
Or for a complete overview of all the Beat movies — check out The Beat Movie Guide.
Or for a poetic riff of one of these Beats and music shows — check out Be The Invincible Spirit You Are.
====================================
by Brian Hassett       karmacoupon@gmail.com         BrianHassett.com
.