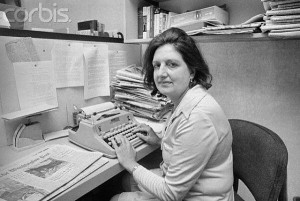 Speak truth to Power.
Or at least ask it questions.
Since I came of mindful age after JFK & RFK and during the Nixon administration, it was near impossible to have anything resembling a hero in the world of American politics. But one of the first people who made me both interested in and unafraid of politics was this small but powerful woman in the front row of every White House press conference who used to fire an arrow from point-blank range right into the heart of bullshit.
I understood her questions and jumped out of my seat at her directness. "You can do that?!?!" I blurted out, wondering why others didn't.
She was the Susan B. Anthony of the press core, the Hillary Clinton of unapologetic bluntness, the matriarch of Woodward & Bernstein.
She went face-to-face challenging every President from JFK to Obama — and no other reporter has ever or will ever ask questions of 10 Presidents.
They don't even need to put up a sculpture of her because she's already forever carved into the American landscape.
R.I.P. Helen Thomas  1920 – 2013
==========================================
You can read a whole bunch of other Political Adventure riffs in my 2020 book Blissfully Ravaged in Democracy — Adventures in Politics — 1980–2020.
For a tribute to another great political reporter — check out my Tim Russert tribute.
For a full listing of great reporters and news sources — check out my Political Sources Primer.
For how well these sources work — check out my 2012 election predictions.
… or here's the 2008 projections — in both elections, I'm over 98% correct.  😉
For an account of the most jubilant night in the history of New York — check the Election Night 2008 Adventure. 
For a night in New York that started out just as joyous — check out the Election Night 2004 Adventure.
For one of the most historic events in American history — check out my Obama Inauguration Adventures.
For how Woodstock promoter Michael Lang used my reports in his book — check out how Obama's Inauguration was like Woodstock.
For how I first got involved in politics check out tale of discovery — from rock concerts to politics. 
For the kind of creations that got us across the historic finish line — check out my poem and video for Wayward Jekylls Hyde.
For an on-the-campaign-trail adventure — check out the physical altercation I was in the middle of with Al Franken at a Howard Dean rally.
For a Cool Club Helen was a part of — check out Famous People Who Didn't Have Kids.
=======================================
Brian Hassett  —  karmacoupon@gmail.com  —  BrianHassett.com