So … oh man … I took a nap that afternoon and lived a dream where I stayed home and didn't go to this show and regretted it later … then woke up to find it was only 3:30 in the afternoon!  Insane.  Follow your dreams, baby. God works in mysterious ways.
It's Toronto Jazz Fest. After doin' N'awlins Fess to the elevens last year, but then spending the entire summer with one elder Cassady, there've been no more Fests for me since.
And Damo — last seen on the sneak-back-and-meet-Walter-Salles Adventure — has been assuring me for years that this headliner scene at Nathan Phillips Square is an easy-breezy prankster special. But me caregivin' mom and doin' gawd knows what, the tumblers never lined up — including in the subconscious dream just moments before. But THEN God brings it home … I'd just hit 50 gazillion targets in a row for the last 4 months on the Kerouac Adventure book and fer one frickin' moment I technically wasn't on a short-term deadline and damn-it I needed to remember why I do this and am alive so I treated myself to a night of music. I mean … it was Dr. John … a Spirit Force of the universe … one'a my bloods. Jerry's gone, Johnny Ace is gone, as are so many of the sacred giants either by nature's toll or man-made interventions — there just ain't much left when it comes to the magic-conjurers of eternity.
But here was the good Doctor in town on a night I could rationalize a trip to the mystic gardens.
So I go, and it's this whole scene … in the courtyard of city hall here in T.O. — which is a hugely cultural city with as many musically options as my beloved New York — but there's this bizarre problem here with … audiences … the people … you won't believe me, but music attendees in this city, no matter what the frickin' show, just stand (or sit) there like they're waiting for a bus. It's the most unresponsive music town I've ever been in. For my American brothers (and can I just use that meaning sisters, too?) you wouldn't believe it — just like there's no way to explain to Americans what hockey means to Canadians — but music audiences in the two countries are a starker contrast than comparing beers!
After seeing Dr. John play with both Springsteen and The Meters as well as his own Lower 911 krewe in New Orleans exactly a year ago, I heard he had a whole new band, so I knew this was going to be interesting — and all the stars and the June SuperMoon were lined up.
Mavis Staples was opening — making it sort of a double bill in a downtown piazza in this giant rectangle white tent that holds about a thousand people. The stage is set up in the middle with the tent sides rolled up so they can sell out the seats at $50-60 a pop, but have this open plaza beyond where low-budget music lovers can listen and see in and dig the show. It's beautifully egalitarian — and another difference between the two countries. If they were sellin' chit in America they're damn sure not to let anyone get it for free. But us Canadian socialists devised a system where you can pay to sit in front of the stage — or dance in the distance for free. And as I was saying' to some brothers dancin' back there —  the distance between us and the performers would still put us in the front 5% of the crowd at the main stages at the New Orleans Jazz Fest.
So, Mavis happens — and among many things she does this killer The Weight.  She takes the first and last verse, and has these passionate vocalists doing the others, including an old man for Pops' verse. It was totally cool, and when it was over she went into a whole rap about Levon, quite overtly crediting him with writing the beautiful lyrics and not the guy who stole all the songwriting credits in that Band.
And I'm good with hanging out here on this plaza with dancing room — where, in Toronto, I may have seen as many as 3 people also shakin' it — but there was lotsa space and totally clear views into the tent — and they're selling local Canadian micro-brewery beer and Niagara region wines and all is good in the universe.
But after she ends with a gospel dancin' I'll Take You There it's … are we gonna sneak in for Dr. John or what?
Damo, Master of All Things, and a perfect road partner, we …. Now see the problem is here, if I tell ya what we do then anybody and everybody including the event producers will know. But think Huck and Tom. Buy me a beer sometime and I'll tell ya. But the next thing you know, we're in the tent. And every seat is full, but there's this VIP section up front … and knowing show production … I do some stealth reconnaissance … and, well, the long and the short of it is, within a about 5 minutes of us sneaking into the tent we're sitting second row center, just along the row from that wise old music writer Rob Bowman.
And there he is, The Good Doctor. Seen the guy a hundred times, including right up close before, but never where his keys were on the lip of the stage and there was no separation between my tapping feet and his.  If I fell over I woulda hit him.
And so … the madness ensues … he opens with Iko Iko!  Of course.  And he's in fine form. 72 years old — just inducted into the Rock n Roll Hall of Fame — just won a Grammy in February for his latest disc "Locked Down" — and this guy is the opposite of an artist in decline.
I recently heard Bob Weir speaking from the stage from the Grateful Dead's induction into the Rock n Roll Hall of Fame, sharing the lesson:
"A few years ago a few of us in the band had the pleasure of catching Count Basie and his Orchestra. The core of the band was a quartet that had been together for 45 or 50 years — and they swung like angels. It was such a treat to watch those hoary heads rocking up and down. Then a couple weeks later we learned that the Count had gone home and put his feet up and quietly checked out. And to a man we all thought to ourselves, 'Yes. That's what I want to do.'"
And this is what music, and the pursuit of the arts — the striving for creation in whatever form that takes for each of us — teaches us about life. Keep doing what you love, whatever it is, and keep getting better at it till your last gig. There ain't nuthin else.
And there's the Doctor … resplendent in his mystic madness, spinning his web a hundred inches from my eyes and ears. I'm audience left so I can look up into his hands on the grand, and right in front of him when he switches to the guitar, close enough to see which finger was hit by a bullet back in the day.
And this whole new band is insane, to a man and a woman — and it's this young white chick who's the frickin' band leader — and you're like, what? I remember her from his Lower 911 band — Sarah Morrow, she's great, but … the trombonist? This is Dr. John … and the other players are these heavy funky black cats, and it makes no sense … but she's runnin' the show … and has this band in her hand … and it's super joyful … and you can tell it's young and fresh … which is probably just what The Doctor ordered. Change it up. And for the first time he's got somebody else playing a Hammond B3. Maybe some musicologist will correct me, but rarely if ever has The Doctor of Sound needed or wanted somebody else playing the church organ.
If you don't know, in recent years he'd taken to having both the grand and the B3 at the front of the stage, and he'd just spin around on his special cushioned bench and play one or the other. And THEN the maestro would play BOTH — right hand on the organ chords and left hand on the high clear notes of the grand — which reminded me of seeing Miles Davis do this in a small club in New York — chording a keyboard with his left hand while soloing on the trumpet with his right.
But now Doc has this whole other cat wailin' the B3 full-time … with this bass player to die for, but the whole deal was the drummer! This guy was beaming from the pocket from the first Beat.
A lot of drummers are really skilled but don't exude their joy to the audience — it's more about them.  Ziggy Modeliste and this Reggie Jackson are the opposite.  Like Keith Moon — another Master who transmitted the energy from himself thru his drums to the entire audience. It's about the conveyance of joy — transmissions, man. And that's what he was doing.
And I noticed that he, being the beating engine, had the piano keyboard directly in front of him so from his kit he could look straight down that line of 88s and follow the boss. It was amazing to watch. This kid on the kit was just joyous and plugged right in … as the bass player thrummed the Beat and the church organ wailed and there was a master electric guitarist for all those peak parts — it's an orchestra and it's jazz and it's rock and it's gospel and it's soul and it's gumbo and yer just exploding in your second row seat.
And he plays everything you want him to … Professor Longhair, Right Place, Wrong Time, St. James Infirmary, Revolution from the new album, and this guy behind me keeps yelling for Such A Night, and after about the fiftieth time I turn around and tell him to chill — he'll play it as the encore, which of course he does.
And by the climax the place had gotten pretty loosey-goosey — formerly largely full of those Torontonians waiting for a bus, but by the time the show was running into the midnight hour they'd faded away and the real energy folks started coming down front, and I did this old trick I don't mind sharing, which is you take the chairs and stack them up like you're putting them away for the night. Every one you stack creates more dance space — and this is what I did — and for the last few songs we had a whole boogie bayou scene boppin' up front.
So it's this whole dancing orgy close enough to the bandleader you could touch him, and there's Deadheads there with Jerry shirts, and NOLA Jazz Festers, and some old friends, and a sacred artist singing the sacred artform.
And as is always the case — the concert ends … and you have to make the music yourself.
So Damo and I started right up.
And after the drummer comes out and I shake my new best friend's hand and thank him for beaming the Beat, brother Damo, Master Of All Things, leads me to nextdoor Osgood Hall, this famous law building from the 1830s in downtown T.O. with this 12 foot wrought iron fence surrounding a gorgeous old-growth park, and of course he knows the one gate that's open, and suddenly we're in this private oasis like Gramercy in New York, except way more trees and foliage-dense, and suddenly we've got a heaven to debrief — the most essential thing go do after a magic moment — let the overtones ring and the resonance sing and the reflections bring it all back to life.
The moments following a profound experience must be carefully managed to retain absorpsion of your gift and control of your space, inner and outer. After great concerts — here's another tip I can share without breaking any secret sacred covenants — don't leave your seat. See, this is what everybody does and you're crunched into this cattle mash of nattering nonsense. What you do is stay right the puck where the goal was scored and soak it in. Eventually somebody will shoo you on, but by then the whole world is cleared out and you've grounded yourself forever in what just happened.
And Damo and I did just that . . .
but THEN we also had near an hour in this heaven of a park to drink cold beers still in our packs and pace about and talk a mile a minute and share everything about everything that just happened — like how during Right Place, Wrong Time you could hear about a dozen people spread all throughout the audience who got the mid-song "woo" moment which is so funny and joyous a part of it, and how in New York or New Orleans the whole audience "woos" in unison but here it was so distinctive because only about twelve people caught the cue. And about Mavis's voice versus Mac's — and whether people will be going to hear Selena Gomez or Justin Beiber when they're 70 — and the whole Dr. John / Grateful Dead crossover, how he played Iko Iko and Wang Dang Doodle just like The Boys might on any given night, and how the spiritual improvisational essence of what he was creating was exactly the same good-energy voodoo Dr. Jerry was practicing.  And how people in the front of the house, the pit, must respect their role as conductors to the audience and cue the masses behind with above-the-head clapping, standing ovations and overt dancing when it's called for.
And of course weir both getting text messages of different hotspots to hit for the late set — and I've got this lead to some jazzy Winnipeg brothers in an outfit called Rockalypso at a club called Mezzrow's that I want to go to even if just to find out if they named it after The Mighty Mezz — but Damo's got this message pleading with us to come to the nearby Rex where the band is SMOKIN' — and since that's about a block away on the Extremely Happening Queen Street we break from our reverie in the green tree silent night heaven park and rejoin the post-show world of celebratory Saturday night Toronto.
When we got to the historic music venue, I looked in the streetside windows and there's Dr. John's whole band groovin' at a table! Boom! In we go, and as defined, the band was this jazz-funk-rock-fusion super-group of progressive cats called New York Rudder with players from Steely Dan, Sting, the SNL band, Rod Stewart etc. making up a killer quartet, and not only is Dr. John's band catchin' them, but Roseanne Cash's as well!  It's the late set musicians' special with ear-popping audio coffee till 2AM. And the whole time I'm stealin' glances at my new heroes, the Doctor's new band, who are goin' weirdly by the old name the Nite Trippers, but there's my blood, the Zigaboo drummer diggin' the late-night Toronto music scene, and I'm thinkin', YEAH!
So, the show ends, and I'm like, "I gotta talk to those guys." But right away all these people start movin' in, comin' outta nowhere, glad-handing the table, and my guys are jibber-jabbering away with 'em, and I'm thinkin' all is lost.
But as some patrons begin to leave, there's these two lugs just sluggin' a jug in the space right beside drummer brother. So, with empty options around, I ask large lug #1 if he'd move over a spot and I pulled up right next to the happiest Beat-man in the world!
And Boom — we were just Off.  Man!  His name's Reggie and he's from Columbus Ohio — where I was just adventuring with "On The Road" director Walter Salles and that sonofa beat John Cassady — and I'm wearing the very "On The Road" button Walter gave me, which by some divine intervention I put on just before leaving the house — and man we're jammin' on that rich man/poor man crazytown Columbus — and he mentions something about "blessings" and right away I ask him about his religion and he's a Christian and seems SO devote I ask him if it bothers him I'm drinking a beer but he's waycool. In fact, he's divine. He gets it. The cosmic giggle. The same grand prank that Kesey twinkled and Aretha harmonized and Martin preached is surgin' through him, with an unstoppable prankster ear-to-ear grin goin' all the time, just beaming joy, and so we're right out in the open and it's all clear sailing, anything goes, and we talk about church, and how he fell into the gospels at a young age, but also dug Mozart and Stevie Wonder, and how he's heard of Kerouac but never read him, and I tell him about my drum invention — the improvised kit built around my computer to play between the beats of writing — and he's like, "You need to film that!!"
And I ask him about his keyboard sight-line and he confirmed that's the intentional way they set the stage. And I show him my New Orleans Musicians For Obama cap and he's beamin' at the sight-line of that, too! But mostly we keep talkin' about The Spirit — and how that's what moves ol' Mac, the doctor — how that's what it's all about. And I'm thinking of every great black singer from Aretha to Whitney and how they came up in the churches, and the bands they had, and that's how cats like those in this new band survived. The musical breeding ground.
And then Bobby the B3 player fell in and we started riffing about words and music and how they blend together and words can be music and music can be words — how prose contains rhythm and music contains poetry — and how he's 59 and I'm 52 and we're both having the best years of our lives — and we're all locked down in the groove.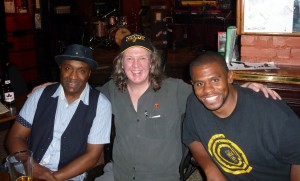 And then, ya know, as always happens, the gig ends. And we're all hugs n magic and beaming and beauty and we say goodbye in the holy night of it, as Jack might say. And in that empty-bar silence after all the rappin' riffs I suddenly remembered this amazing thing — Reggie's drum solo! — how he brought it down to the tiniest quietest Beat that most people thought was the end, but he was just seeing how quiet he could take it while still playing the beat — and this drummer in the second row was keepin' right with it even as premature applause broke out all around, but it was this inside fake-out that was just so cool — and remembering it, I had to tell him cuz he's never gonna get the feedback — so I ran out and managed to catch him still in musician time on the sidewalk out front, and gave him the blessing in front of his whole band, and they were all just beaming like shit — Somebody noticed!  It was this great beautiful moment of giving a gift back to him after all he'd given me. Lots of final group hugs with giddy grins and I bid them a safe tour and went back in to Damo and our crew which was just breaking up, and after what seemed like a long time before they went one way and I the other, I went back out of the club, and damned if the band had only made it about 50 feet down the street and were all taking pictures of The Condom Shack store!
"What are ya, a buncha tourists?!"
And so Boom we're all back together again, headin' the same way in more ways than one, and finally I can talk to the bandleader, this 20 or maybe 30-something young chick, and I'd been wondering all along what the vibe could possibly be between her and the older black cats, and boy, they were A Band. In the early Beatles sense. There wasn't a resentment but a love, a playfulness, a protectiveness. It's that whole yin that we yangers need, that other voice and mind and gender, that counterpoint, that comedic partner. It wasn't that it caused imbalance, but rather she balanced the ballast.
So we shambled off like dingleberries dancing down the street and I wove into the jam like I've been doing all my life with people who interest me — musicians and players and pranksters and poets and parents and people of all professions who practice perpetual playfulness.
It's the game of life. And it's all about how you play the game.
= = = = = = = = = = = = = = = = = = = = = = = = = = = = = = = = = = =
For more Adventures in music — check out the New Orleans Jazz Fest ride.
Or how The Grateful Dead came to play my 30th birthday.
Or Paul Simon doing Graceland in Hyde Park in London.
Or the night Dylan showed up at Springsteen's show at Shea Stadium in New York.
Or when Neil Young returned to Massey Hall in Toronto.
Or Furthur came back and reprised the Dead at Madison Square Garden.
Or when the Dead, Janis, The Band and others took the Festival Express train trip across Canada.
Or when The Merry Pranksters invaded Woodstock.
Or here's the day I finally "got" Bob Dylan. 
Or the night we all lost John Lennon. 
Or the (Route) 66 Best live performances ever captured on film.
Or for all the music stories in general go here.
=========================================
by Brian Hassett      karmacoupon@gmail.com        BrianHassett.com