Some Favorite Moments, Classic Quotes and Lasting Images of the 2012 Campaign,
roughly in the order they happened …
— The ever-increasing availability we all have to unlimited polling data, particularly at RCP and 538.
— The sharing of funny images and insightful articles on Facebook — like having your own customized clipping service by friends from all over the world.
— Looking forward to 11PM for Jon Stewart's take on the last 24 hours.
— Michele Bachmann getting laughed out of the race by the voters of Iowa and going home after one contest.
— Newt Gingrich's, "It obvious to any thinking, independent observer that I'm going to be the Republican nominee."
— Moon bases.
— "Oops."
— All 9 9 9 things Herman Cain said.
— Everything Rick Santorum said.
— "I'll bet you $10,000."
— "I like being able to fire people."
— "I'm not concerned about the very poor."
—  "Middle-income families make around $250,000 year."
— "I'm not familiar precisely with what I said, but I stand by what I said, whatever it was."
— Being in England when he told the country they were not very well prepared for the Olympics and seeing him become a running joke on the tabloid covers and cartoon pages for the rest of the summer.
— And him trying to be witty answering a voter's question about unemployment: "I'm also unemployed."
— The New Orleans Musicians for Obama concert.
— Donald Trump cementing his reputation as a wholly demented buffoon.
—  "We're not going to let our campaign be dictated by fact-checkers."
— "Legitimate rape."
— Senator McCaskill: "This Akin guy is so far to the right he makes Michele Bachmann look like a hippie."
— "I love this state.  The trees are the right height."
— And of course Lindsey Graham's classic "We're not generating enough angry white guys to stay in business."
— Clint Eastwood and the chair.
— Then his later comment to "Extra," "Anyone who asks me to speak at a political convention is an idiot."
— Jon Stewart's tag line for the RNC in Tampa: "The road to Jeb Bush 2016."
— Bill Clinton's hour-long improvised speech at the DNC.
— Watching any and every appearance by The Big Dog after that — seeing the master back in his element.
— "Don't boo.  Vote."
— The whole week that the "47 percent" video came out.
— Mitch's "Nostrahassett."
— Ryan getting booed to his face at the AARP convention.
— Dave Letterman's ongoing refrain "Just don't vote for him" after Romney would never appear on his show.
— Watching Paul Ryan getting challenged by Chris Wallace on Fox and saying he doesn't have time to explain how their tax cuts add up.
— Hearing Rush say, "If Romney doesn't win this election it's the end of the Republican Party."
— The Democrats Abroad's debate watch parties in Toronto.
— Malarkey.
— "Please proceed, Governor."
— "Binders full of women."
— And Bob Schieffer making fun of Romney, cutting him off to end the final debate with  "I think we can safely say we all love teachers."
— Bruce Springsteen.
— Katy Perry's form-fitting ballot and "Forward" rubber mini-skirts.
— All the early voting numbers.
— "When a pregnancy occurs during rape, it is something that God intended to happen."
— Tina Fey's "If I hear one more grey faced old man with a two dollar haircut explain to me what rape is, I'm gonna lose my mind!"
— Romnesia.
— Axelrod's "I'll shave off my mustache that I've had for 40 years if we lose any of Pennsylvania, Minnesota or Wisconsin."
— Governor Christie's praise and embrace of Obama.
— Watching Obama's poll numbers rise as Sandy's waters receded.
— Romney's Jeep-jobs-to-China doubled-down final lie ad.
— Joe Biden's "It's Daylight Savings Time tonight.  This is Mitt Romney's favorite time of year … he gets to turn the clocks back."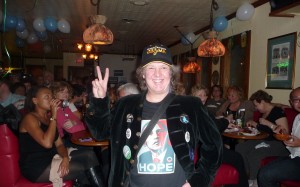 ==========================================
You can read this and 50 other Political Adventure Tales like it in my 2020 book Blissfully Ravaged in Democracy — Adventures in Politics — 1980–2020.
For one of the most historic events in American history — check out my Obama Inauguration Adventures.
For how Woodstock promoter Michael Lang used my reports in his book — check out how Obama's Inauguration was like Woodstock.
For an account of the most jubilant night in the history of New York — check the Election Night 2008 Adventure. 
For a night in New York that started out just as joyous — check out the Election Night 2004 Adventure.
For how I started in this crazy political racket — check out From Rock Concerts to Politics.
For the kind of creations that got us across the historic finish line — check out my poem and video for Where Wayward Jekylls Hyde.
For an on-the-campaign-trail adventure — check out the physical altercation I was in the middle of with Al Franken at a Howard Dean rally in '04.
For my tribute to a great political reporter — check out my Tim Russert tribute.
For a full listing of great reporters and news sources — check out my Political Sources Primer.
For how well these sources also worked in the prior election — check out my  2008 projections — in both, I'm over 98% correct.  😉
=====================================
Brian Hassett  —  karmacoupon@gmail.com   —  BrianHassett.com