"On The Road" Comes Home — The New York Premiere
The day of the "On The Road" premiere in New York (Dec. 13th, 2012) I was up at the NYPL trying to get through the doors of the hermetically sealed vault of the Berg Collection, home to a gazillion literary papers from Emerson to Shelley — but most importantly the entire Jack Kerouac collection!  And when I say "entire" I mean from grocery lists to manuscripts.  The book that lists his stuff there is single-spaced and four inches thick!  And of course the place is harder to get into than the Oval Freakin Office, but I figured with the mojo of this 12/12/12 opening I oughta spin the tumblers and see what happens.
There's forms ya gotta fill out, cards ya gotta get, background checks, Jeopardy questions, a swimsuit competition — it's all way too much, but I jump through every hoop and roll with every punch, and they say they'll get back to me . . .  in a week.
So, I go to the library's free computers to check my email and find this from the film's director . . .
"Brian,
Walter wanted to see if you would like to ride up with him to the premiere tonight."
! ! ! !
Done.
And then at the same time, I get an email from Teri McLuhan saying she can't join us as planned — so suddenly I've got an empty seat beside me for the premiere night adventure!  But instantly, from the NYPL interwebs I'm able to track down The Mighty Debster, my intrepid partner from the MTV daze, the Emma Peel to my John Steed, a dynamic duo that got into every concert or mega-party we ever set our sights on.
"Does Walter want a pretty girl to join us in the car?" I email assistant Gerry.
Two minutes later:  "Yes, one pretty girl in the car, please."
And BOOM weir on.
Back to the Jane Hotel to drop off the day and costume into night,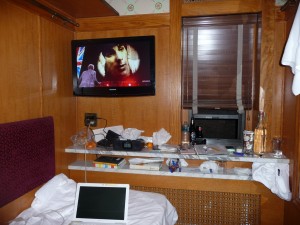 and before I can get out the door there's an email telling me I've been approved to get into the Berg!  I dunno how I dun it — and in 3 hours — but I'm sure it wasn't the swimsuit competition!  So, I float out the door, and make my pilgrimage past John Lennon's house at 105 Bank Street, and although not a very religious type, I did a cross on my chest and say a little prayer of gratitude to John and The Spirits for lighting my Path.
Then cab it down to Walter's funky SoHo shelter from the storm, and there's the limo and there's the driver and before long, There's the birthday boy!  And we're laughin and tellin stories, and I'm remembering my Spirit Guide role in this vital mission.  As Gerry says, "It's your infectious enthusiasm."  Everything positive, everything up, on our way to the New York premiere, the last in a loooong series for Che Walter on his North American crusade for truth, justice & the Road.
And of course Deb's not there yet, and he goes, "You don't promise a pretty girl and then not deliver.  Just don't saying anything.  But don't promise and not deliver," he's ribbin me cuz we gotta get in the car and go, but just then, "There she is!  Just a  walkin' down the street singin' Do wah diddy, diddy-dum diddy-doo."  And Boom weir off in the Starship, sittin back that comfy way you can in limos, almost on beach chairs with your legs stretched out catching rays from the New York lights flashing in the windows like an old projector.
And Walter's holding these pages of a speech he's written, but he's not reading them, just looking down and saying, "I hope I don't forget anybody.  Everybody's gonna be there tonight … oh man …"  And I ask, "What about Steve Buscemi?  Is he comin'?"  And Walter's, "Oh my gawd, Buscemi!!  Gerry, did we invite him?"  And St. Gerry checks on his gizmo, and about a minute later reports he was invited but sent his regrets.  And we're back to Phoosh!  as we whoosh through the Sixth Avenue traffic.  And I remind him the premiere is being held right around the corner from where Jack birthed the On The Road scroll, and Walter says, "There's no such thing as coincidences," and twinkles through the flashing night lights.
And as we turn onto the block we can see the mobs on the sidewalks and the whole scene, and the driver starts to slow down right in front of the red carpet and Walter calls out, "No, no, drive up ahead, don't let me out here!!" not wanting to step into the flashbulb blitzkrieg.  We get our shit together in the darkness of the stretch-Hudson, and then it's, "Go!" and we open the door and stride as quickly as we can into the theater, people calling, "Walter," from all directions, and he grabs Deb on one side and me on the other and we were pretending like we were in the middle of some great conversation for the distance between the car and the glass theater doors.  Funny, fast, and efficient.
And there's the girls with the clipboards and the seas part and we sail into the safe harbor of the lobby.  Outside were the unaccredited paparazzi.  Inside there's a whole Special Forces unit of them — and this time there's no getting around it.  But we slip behind the photographer's backdrop for a deep breath and a twinkling jazzed regrouping before facing that first line of cameras both still and rolling, then a whole wall lined with reporters with notebooks and recorders and accreditation around their necks.  While hanging backstage I spot the crew's cheat-sheets — pages with color photos of each of the expected celebs so the door crew know the faces when they appear.  Good look-out.
Turns out all the seats in the theater are assigned, so you don't just get a ticket, you get a specific seat like at a concert.  Once Debs and I score our juicy pair, we go pre-scout the venue and sure enough we're in primetime dead-center, and I see some cat nearabout our seats, and ask how he came to be here, thinkin this whole row will be friends n family, and he said, "I'm a friend of one of the actors."  "Oh, nice.  Which one?"  And he says, "Garrett."  And I'm like, "Oh great!"  And he asks about me, and I start tellin' him, and he's like, "I've heard of you!  You wrote those great pieces.  Yeah, Garrett was telling me about you."  And I'm thinkin', this is going well so far.
So, Deb & I prankster about for a bit, checkin the scene, eavesdropping on anticipatory conversations, looking into the faces of all the beautiful people who are about to go On The Road.  And there's this guy who looks like Michael Stipe who sang at the Hurricane Sandy benefit last night at Madison Square Garden, but I'm thinkin, "Na, that's just somebody who looks like him."  And I take a roll down the aisles proudly wearing my American flag shirt that later gets raved about at the afterparty for happily waving it in this second term engagement season, and I'm lookin for familiar Beat faces but this is the film bidniss and not exactly St.-Mark's-On-The-Bowery.
Then finally we all take our seats and I'm makin friends in about four different directions, including with these crazy red-haired girls who keep droppin booze bottles on the clanking floor all night which was really funny and very On The Road but I bet some less-than-spirited patrons may have been offended at their lack of decorum at this serious occasion — but to me they were just quiet Jacks laughing in the immensity of it.
And soon some IFC honcho comes on stage and praises Walter up down and sideways as "a master filmmaker and one of the best cinematic storytellers in the world," then Walter comes out and he's all, "Geez, well now I'm really trembling a little after that introduction!"  Then goes, "And I'm also nervous to be here because 'On The Road' was birthed (he's using my word!!) just three blocks from here," And I'm, "No way!  He's doin' my bit!  He remembered!!  Cool!" And then he says, "It was written on 20th Street and 9th Avenue in April 1951, and I want to thank my good friend Brian Hassett, who is here tonight, for reminding me."  And I'm, No way!!  Not only does he thank me, but I'm the first person he mentions in his New York premiere night speech!!  What the?!?!
Then he goes on and talks about the movie and thanks the IFC people and John Sampas and Ann Charters and others but I barely heard it cuz I was still in such a tizzy over he thanked me!! . . .  First!!  And then he does it again!  Crazy!  Pinch me!
Walter does all these incredible off-the-cuff riffs covering any number of subjects.  Like, "I had a passion for the book that was triggered when I first read it in 1974 when I was entering university in Brazil which was living through the dark ages of a military dictatorship, and the book carried all the freedoms we were seeking but not able to experience, so it had a very resonant quality, but I knew that that wasn't enough of a reason to begin an adaptation, so I proposed to American Zoetrope to do a documentary in search of a possible film based on 'On The Road.'  And they went for this insane idea!  And for six years we crisscrossed America on the paths Kerouac had taken when he wrote On The Road, and we met with the characters of the book who are still alive and they were extremely generous to us.  We talked to the poets of that generation that changed the cultural landscape not only of this country but of Brazil as well.  Lawrence Ferlinghetti, Michael McClure, Diane DiPrima, Amiri Baraka, Hettie Jones — it was a unique experience because I had never met younger 70-year-olds than this group, because they had kept two things intact — their beliefs and their integrity.  And that's very very hard to keep in the long run."
And then he brings out the actors in this cool way — in the order in which they first committed to the film.  First it's Kirsten Dunst who plays the person he met on the project who most impressed him — Carolyn Cassady.  "In meeting Carolyn in 2005, I was so impacted by the intelligence and the sensitivity of that unique woman, and I thought that only an actress with those qualities could play her.  Please welcome Kirsten Dunst."
Then he goes into this whole story about a friend of his who saw an advance screening of "Into The Wild" and immediately called Walter about the perfect actress to play Marylou, and he wrote the unknown's name down on a napkin: "Kristen Stewart"  "And when I first met her in 2007 she had such an in-depth understanding of what 'On The Road' was about and knew the book inside out, and she was 17."
Then … "When Garrett Hedlund drove from Northern Minnesota for 3 days to the audition in Los Angeles, he brought such electricity and life to Dean that we knew we had found one of the most difficult characters to cast, and that electricity never dissipated — but what I didn't know is that he would be such a great Road companion."
And then he intros Sam Riley with, "One day I saw 'Control,' and for those of you who love cinema, you know how impactful that could be.  Seeing Sam Riley in that film was something I wasn't going to forget.  There was such intelligence in the performance, such intensity, but also in the non-verbal there was the capacity to understand and decode the world.  And these are qualities writers have, and that we wanted to have to bring Sal to the world."
Then he says, "I have to confess I belong to a specific religion that states — there is no independent film without Steve Buscemi."  Gets a big laugh.  "Many thanks to him for helping, not only for being in the film but for recommending so many great actors that we ended up casting in it.  You're wonderful."
And then the movie happens — my fifth time seeing it on the big screen (!) — and I kinda lost it at the Orgone Accumulator scene.  Now that I know it's coming, I see Viggo as Bill as so freakin funny in this scene, it's just nuts in the Crazy Dept., and before he ever climbs into that outhouse I'm laughing my head off and infect the rows around me so by the time he finally sticks his head in the window our whole section is roaring.
Then the movie's over to many whoops and whistles and raucous applause, and it's one of my favorite times on earth — being in a movie theater right after "On The Road" ends and eavesdropping on conversations and talking to people and looking into their movie screen faces for the story they tell, and of course every face is aglow and the room's a Marshall stack of fast talking New Yorkers all soloing at once, but you can pick out fragments "… the cinematography … ," "… that guy who played Ginsberg … ," "… those party scenes were great!" "… and when he starts to cry at the end …"
And after much beaming Debs and I finally weave out front and hang under the marquee and I ask this group of models what they thought (purely research, you understand) and the prettiest one goes, "AMAZING!" unabashedly beaming, almost giggling in joy.
And we schmooze our way around the circle until the afterglow begins to fade, and it's like, "Okay, let's hit the party."  But of course there's no cabs at the moment you need one, so we mosey on down to 9th Avenue yakkin our fool heads off … What about Kristen Stewart?!  and How about that soundtrack?!  And Debs is goin' on about the costumes and how the people look and how they totally brought post-war America to life.
And we get to the avenue and of course there's no cabs there either, and by now a whole krewe from the movie including the models have caught up with us, and we'd need about 3 cabs anyway, and Deb goes, "It's really close, let's just start walkin," and of course — Bing Bing Bing —  "And if we don't get one by 20th Street, wheel swing past Jack's house on the way to the party!"
Then on the very first corner there's this deli and I'm like, "My God!  I'm in New York!"  And dash in for a cold Heineken Road jar … because I can.  And now weir really rollin and I know no fleet of cabs are comin so I start tellin' the gang the whole story of the 50th Anniversary of Jack writing "On The Road" show I produced — which started by going to this house on 20th and then walking to the corner to find the closest bar and talking them into giving me the place for the night Jack started writing the Scroll.  And one of the krewe actually LIVES on this block of 20th and didn't know this was The Street!
And just as the tour bus is approaching the sacred site, I see someone go up the stairs and through the door!  I scootch up ahead and somehow get the guy's attention, and he's squintin through two sets of doors at this maniac at his gate, then I start waving him out and gosh darn if he doesn't come!
"Hey man!  You know who used to live here?"
"I sure do," the shy guys says.
"Well, we were just at the premiere of his movie!  Of the book that was written right here in this apartment!"
"You're kidding?!  The premiere was tonight?!"
"Yeah, it's great, you're gonna love it.  Hey — what apartment are you in?"
He points up to the second floor, "Right here in number 2."
And I fairly yell, "THAT WAS JACK'S APARTMENT!!!"
And he goes, "Yeah, I know," and smiles a twinkle.
I figured he didn't want to have our whole krewe up to his place without any warning, so we just blessed him, and thanked him, and buzzed him, and left him with a big glow as we continued our flow to the aftershow.
And Aretha's flyin through my head — "This is the house that Jack built, y'all, remember this house …"
"I stopped at John's place on the way to the premiere, and Jack's house after the premiere!" I'm gushing like a geyser and dancing down the street like a dingledodie delirious with everything at the same time and spinning like a centerlight top, and everybody goes, "Awwww … that Brian guy's nuts!"
Then we get to the corner of the party, and now Deb starts jumping up and down!  "Oh my God, it's at The Top of The Standard?!?!" and starts screamin and laughin and yankin on my arm like a little kid about to go on her favorite ride!
Everything had already taken on that surreal tone of a night in magic places in endless New York … and we hadn't even gotten to the playground in the sky yet!
And just as a last throw-ya-off and freak-ya-out before you step into Netherland, the elevators have those crazy mirrors, and trippy lights, and the girls are gorgeous, and the guys are crackin jokes, and we're travelin straight up at the speed of light.
BOOM — into the Gilded Age, in a place that looks for all the world like Windows On The World at the top of the World Trade Center — a high-rise along the Hudson with no buildings out the windows — because it's in the West Village you can just see forever out the vertical frames of floor-to-ceiling glass.  And there's Walter being the gracious host, greeting everyone at the door as they arrive, and I tell him about the pilgrimage to Jack's house and meeting the current resident, and he's shaking his head, "Only you, amigo!"  And another big hug and cheek kiss and wild night with the mad ones was just beginning.
Then he leans in and tells me Patti Smith was at the movie, but he doesn't know if she's here at the party or not.
And I'm like, "Got it."  Boom: Mission Patti.  Find her in about 3 secs.  Back to Walter.  "She's right there by the window," I nod.  He smiles.  "Anybody else you want me to find?"  We laugh, and I'm off to the party.
And right away his saintly assistant Gerry goes, "Oh, there's something Walter asked me to give you," and pulls out these magic beans — tiny "On The Road" buttons based on the orange-covered first edition I ever owned!
And I wander a few more feet and there's ol' John Sampas … and we're all super friendly.  I know bad shit's gone down, but he was really helpful to Walter and the film, and I thanked him for that, and he was all wide smiles and really liked how the movie turned out.
And there's Hal Willner the forever music supervisor of "Saturday Night Live" and movies like "Howl" and "Gonzo" and also produced a bunch of Allen and Burroughs' albums, and posthumous Lenny Bruce and Edgar Allen Poe, and so he's right in with the family of crazee Roadsters, and we jammed on the fragments of lost memories in the mindfield landscape.
And then there's Ann Charters and Regina Weinreich at a nice corner table overlookin the city, and just like the movie — the women are most prevalent.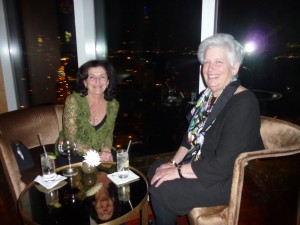 And after scouting the room, I realize the headliners' section was that sunken booth area by the front door, and as I head down into it I overhear the undercover security protecting the stars saying, "He's okay, I saw him with Walter," and Boom — I'm in.  And there's Garrett beaming, and we finally talk, and he knows who I am, but he's still in official promo mode, all polite and by-the-books, but a while later I spin back and he's got a pack of cigs in his hand.  "You goin' up for a smoke?"  The eyebrow high-five, and weir off.
The Roof!  I'm Home!  They have a whole closed-in heated plastic room up there, but the real scene is the wide open spaces — most of the entire roof is a giant party space with views in every direction around this port city, and weir just blazing as the night starts kickin' in, and Kirsten joins us, and some director doing Garrett's next movie, and Debs is there refraining Amsterdam, and we're finally havin' a yak about all things Beat, and Garrett tells me the two scenes he had to audition for the role were the suicide rap and the 4-way sex letter.  I guess Walter felt if you could deliver those two solos you could be in the band.  And I flashed back to Walter saying how he loved Garrett's acting but didn't know then what a great road buddy he'd turn out to be.
Then after a smoke or three we start headin' back down the stairwell to the party, but up comes brother Ben and Katia, Garrett's friend couple from our row at the premiere, and suddenly weir having this reunion on the landing of a stairwell with a glass wall behind us facing uptown New York City, and a party ensues, and then Boom, Sam Riley appears at the top of the stairs, and Garrett goes into an incredible Sam impersonation, and MAN has this guy got the gift for it!!  He does Riley better than Riley.  And suddenly Jack and Neal are together again hangin' in the stairwell, riffin off each other 50 years later.  And THEN Kristen Stewart comes walkin down the stairs, and suddenly it's the whole Road crew!  hanging on a stairwell balcony, only missing Big Al Hinkle, who we could see on the street below running out for more rolling papers, as weir looking over twinkling New York with Neal carrying on multiple conversations in multiple voices at once.
And then back to the party and Walter introduces me to Kristen Stewart, which is such a strange and unexpected thing that he has to be dealing with with this movie.  Like, nobody in it was supposed to be a movie star.  The leads were all cast because they were unidentifiable fresh faces — film goers were already coming in with such fixed images in their minds as to what the characters looked like, the filmmakers couldn't also have actors with established characters affixed.  So they cast all relative unknowns in the main roles.  Then lo and behold, Kristen Stewart becomes the biggest grossing actress of 2012 before the movie even comes out.  So Walter, and her, and everyone, have to deal with this.
But I get to hang with the mega-star for a while, and man, she's so petite you could put her in your pocket!  And she's bookish, and reserved, and 180 degrees different than Marylou.  We talk about indie film, and she confirms my assumption that's she's gonna do them the rest of her life.  We didn't say it, but this is a 22-year-old indie chick who fluked into the biggest movie franchise of the last few years and she never has to work another day in her life.  Yet she is going to be so many different interesting characters in the years to come.  I tell her the truth that she brought Marylou more to life than Jack did, but she would hear none of it.  To her, it was all Jack.  And I beamed.
Then back to the center bar with windows out three sides, and now it's lookin' like The Rainbow Room, and all New York is spinning, and there's the krewe from the Jack's house walk!   And we start riffin', and I pull out my scroll book, and they start jammin and reading passages from it, and then 20th Street homie sez, "You got a favorite part?" and hands me back The Bible and I play some boppin' "Hearing Shearing" in the bull's-eye center of the room, Jack's voice in the house, and the whole krewe whoopin' and the Gold Club bartenders bug-eyed, and the neighbors nodding, as the bass player hunched over and thrummed the beat, faster and faster it seemed!  And oh, Mighty Jack — his songs still singin' and swingin' above old New York …
And suddenly there's Walter!  And we hug and he says he has to go find somebody and I'm "Okay," and we wander off on some mission.  I dunno what we were doin' but we ended up on the roof and back again and I dunno if we ever accomplished anything but I told him, "Your kids are all gathered in the corner — you should go see them."  And this was the most amazing thing — in this beautiful penthouse skyline scene where I would not and did not take any pictures except for the one I'll share shortly, but in the corner of this mobbed premiere party, Garrett, Kirsten, Kristen, and Sam were able to sit side-by-side in this alcove by the window, the four of them together again for perhaps the first time since they were all crammed in a '49 Hudson for months, and able to enjoy the reunion together.  And it's so obvious how close they all are — it was like my high school reunion of a couple years ago — talkin, laughin and huggin all at the same time.
And like a high school reunion, things started to get crazy, people were making out, people were disappearing, people were reappearing, and all of sudden I'm talking to Michael Stipe, and he's a leprechaun, and I ask him how it felt to be out on stage at MSG last night for the first time in years, and he kind of avoids the question, then I ask him again, and he says he hadn't planned to do it, and then I asked him again how it felt to be out there on that stage, and he looked away.  Then he smiled a beam and looked back and twinkled, "It felt good."
And then Patti Smith comes by and we chat for a bit about the old St. Mark's Church scene, and she says it's still happening, and then Walter shows up and we form a trio, and I'm like, "Wait a minute," and I pull out the camera and capture these two artists gushing over the others' work.
And they had a great long one-on-one, and she called the movie "authentic" and that's the kind of thing you want to hear from someone who knows the meaning of that word.
And then there was the part about … I hated that I was comped and on-the-list for this whole thing.  There wasn't a single sneaking in prank involved anywhere and I hadn't really broken a serious rule all night as far as I could tell.
But then the party was suddenly over, and all these strange people were streaming into the club who weren't at the event … and ol' fast-thinking Deb, Master Of All Things, gets us to boost a booth from the sunken celeb scene, then scores a bucket of fresh ice from one table, and a bottle of juice mixer from another, then I dump out a glass full of stir-sticks for a clean one, and she does the same from the next table, and before long we've got a booth and a stocked private bar overlookin Manhattan with a nearly full bottle of Grey Goose that Deb says would be $400 to be sitting here with.
And the staff comes and cleans up the other booths all around us to a pristine club-opening state, but our scene looked like New Year's Eve at 3AM, with two happy semi-sober streamer-covered revelers still poundin them back.
And from this well-stocked cockpit, the last Beats holding the fort saw out the night, overlooking the twinkling Christmas of lower Manhattan, curved booths at our back, an open bar at our knees, and more stories to tell than we could ever get through.
————————————————————————————————
For a story about the London "On The Road" premiere at Somerset House — check out this sex & drugs & jazz.
For a great story of the world premiere of the new shorter final version of "On The Road" — check out this Meeting Walter Salles Adventure!
For an excerpt from my book about the '82 Kerouac Conference in Boulder — "The Hitchhiker's Guide to Jack Kerouac" — check out Meeting Your Heroes.
For more from the Boulder Beat Book — check out Who All Was There.
For the full book — check out "The Hitchhiker's Guide to Jack Kerouac"
For a vivid account of being at the historic "On The Road" scroll auction — check out The Scroll Auction.
For a bunch of these stories and many others in print — check out my book How The Beats Begat The Pranksters.
For a story about Henri Cru's birthday — check out The Legend Turns 70.
For a beautiful poem to Carolyn Cassady on her birthday — check out the Carolyn Cassady Birthday Poem.
For an account of the historic Beat show at the Whitney Museum in New York — check out Wailin' at the Whitney.
For an inspiring description of being at a Beat jazz-&-poetry reading in Greenwich Village — check out Be The Invincible Spirit You Are.
Or here you can check out a linked list of over 500 of the greatest films ever made.
==============================================
by Brian Hassett
karmacoupon@gmail.com            BrianHassett.com