Here's the artists / bands / ensembles I caught at New Orleans Jazz Fest over the last week . . .
Thursday, April 26th, 2012 (1)
— the Honey Island Swamp trio – at the Ogden Museum of Art
Friday at Jazz Fest (11)
— The Classic New Orleans Revue – with "Carnival Time" Johnson and all these other famous musical voices of the city — the perfect grounding start to Fest – from right in front of the front audience rail with the early Fest dancers

— James Andrews (Shorty's brother) – just rocking it in the Blues Tent including second-lining around the room
— The Dixie Cups singing "Iko Iko" and "Take Me To Church On Time"
— Seun Kuti (Fela's son) only for a couple of songs, but he was great!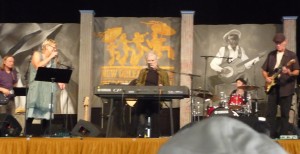 — Chuck Leavell & Friends including Bonnie Bramlett – whole set from 5th row center
— Bon Iver – great diversity in players & sounds
— Beach Boys – nuthin' but hits – John Stamos joined on percussion
— Cubano Be-Bop – with Pancho Sanchez and Terence Blanchard
— Joe Krown – Wolfman Washington – Russell Batiste trio
— Robert Randolph & Family Band – from the front row of the VIP balcony
— The Grateful Dead's Bill Kreutzmann, with Little Feat's Paul Barree & Fred Tackett, Anders Osborne, Papa Mali, Billy Iuso – doing Friend, Franklins, Dixie Chicken–Tennessee Jed, Lovelight :-0 — from the center VIP podium
Saturday (7)
— Jon Cleary – thinking he sounds a lot like Dr. John, then he sits in with The Doctor for his entire set tomorrow!
— Voice of the Wetland Allstars – Dr. John, Tab Benoit, Cyril Neville, Johnny Sansone, Johnny Vidocovitch, Anders Osborne, etc. – dead center 20 feet from the front of audience rail
— Cee Lo Green – doing "F… You"
— Carolina Chocolate Drops – doin' "Goin' Down The Road Feelin' Bad"
— Midnite Disturbers – with Stanton Moore, Treme Brass Band and others
— Tom Petty & The Heartbreakers – dead center 20 feet from front rail
— Allen Toussaint quartet – in a 50-seat jazz club
Sunday (11)
— Batiste Brothers – doing "Wonderful World" then "Black Magic Woman"!
— Trombone Shorty – Dave Koz joins him – dead center 10 feet from front rail
— Dr. John – with Jon Cleary for the whole set!  and the E Street Band all watching from the wings – dead center 10 feet from front rail

— Yolanda Adams – dead center 6 feet from the rail

— Bruce Springsteen and his New Orleans E Street Band! and Dr. John joining in! – dead center 10 feet from front rail
Here's a sweet 90-second audio clip of me leaving the site after Bruce's set — Brian post Springsteen comments – great
— Trombone Shorty – leaning on the front of the stage for the whole show!
— Karl Denson, Stanton Moore, Will Blades – essentially standing on the stage over Will Blades shoulder at the Blue Nile
— Herbie Hancock with 4 different ensembles involving Terence Blanchard, Kermit Ruffins, Dr. Michael White, Ellis Marsalis, the Treme Brass Band, and others – 10 feet from front of stage at Congo Square at sunrise to start International Jazz Day. 😉
Monday — Tipitina's "Instruments a' Comin'" show (9)
— two different 100-member marching bands!  – from the curb beside them
— Donald Harrison and the Tips Band – playing Miles Davis outside – from the sidewalk next to them
— "Wolfman" Washington – aaa-ouuuu – and then Henry Butler backed by Wolfman & band doin' Prof. Longhair – on front rail of tiny Tips
— Galactic – joined by Glen David Andrews,  and Corey Glover – on front rail
— BIG – russell Batiste – Ivan neville – george Porter band – 3 feet from rail
— Dirty Dozen Brass Band – middle of half-full house
— Honey Island Swamp Band – with Papa Mali, an 11-piece band doing "Gotta Serve Somebody" – from middle of half-empty room at 1AM on a Monday night
Tuesday — "New Orleans Musicians For Obama" (12)
Entire benefit experienced from front row of VIP balcony!
— Caesar Brothers Funkbox – doing "Love The One You're With"
— Kermit Ruffins – joined by Irvin Mayfield and Leroy Jones, including a jumpin' "Iko"
— Claude Bryant – the guy I sat with.
— Fathers & Sons of the New Millennium – The Batiste Family Band
— Dumpstaphunk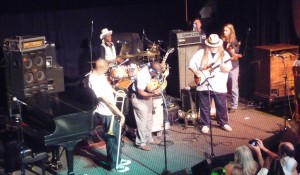 — Papa Mali with Trombone Shorty, Cyril Neville, Kipori Woods, Rockin' Dopsie and others

— Wolfman Washington, joined by Deacon Jones for "Statesboro Blues"
— Rejected Youth Nation
— Brass-a-holics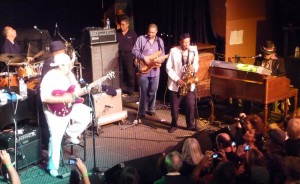 — The Meters reunion, with Dr. John in for Art, and Big Sam
— Cyril Neville's Funkalicious – from the floor
— Marcia Ball with 8 horn players and Marie Muldour – from the floor
Wednesday (3)
— The Iko Allstars – in the Rusty Nail courtyard
— Absinthe Minded – doing "Got Stoned And I Missed It" by Jim Stafford at inside bar at Rusty Nail
— Honey Island Swamp Band – in Rusty Nail courtyard
Thursday — last day at Jazz Fest  (10)
— Dukes of Dixieland – guy on brass clarinet ! doing "Wonderful World" and loads of Louis Armstrong songs!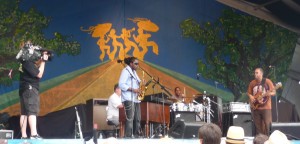 — George Porter & his phunk band Runnin' Pardners – 3 feet from front rail
— Ivan Neville's Dumpstaphunk with Ian Neville on guitar – all the waiting Florence fans totally blank-faced to George and Ivan! 🙂 – 10 feet from rail

— Ani DiFranco with The Preservation Hall Jazz Band ! — best surprise of the day!! – never would have got to hear them if not for Ani

— Esperanza Spalding – started 40 min. late then upright bass didn't work! 🙁
— Florence & The Machine – the audience was like being at a high school dance at an all-girls school
— The Iguanas – great – Latin-Caribbean blend
— Jimmy Buffett – "Margaritaville" and "The Last Man Standing" – the last song I heard at Fest  🙂
— guy on grand piano doing "The Weight" for Levon at Jean Lafitte's – the oldest bar in America – everybody gathered around the piano singing along – last (non street music) song I experienced in N.O. 😉
That's 64 total artists/bands/ensembles, almost all of whom had additional masters join them on stage – for an average of 8 different all-star bands every day for 8 daze!
=====================================================
For the full Adventure Story of this festival, check out my dispatches from the front — Gorgeous Gumbo.
Primer of how to do Fess for someone who hasn't been — check out this First-Timers Planning Guide.
Or for more Adventures in Music — you may want to check out the (Route) 66 Best live performances ever captured on film.
Or how The Grateful Dead came to play my 30th birthday.
Or the night Dylan showed up at Springsteen's show at Shea Stadium in New York.
Or when Neil Young returned to Massey Hall in Toronto.
Or when Paul Simon doing Graceland in Hyde Park in London.
Or Furthur came back and reprised the Dead at Madison Square Garden.
Or when the Dead, Janis, The Band and others took the Festival Express train trip across Canada.
Or the night I was hanging with Dr. John's band in Toronto.
Or here's the day I finally "got" Bob Dylan. 
Or the night we all lost John Lennon. 
=========================================
by Brian Hassett      karmacoupon@gmail.com        BrianHassett.com