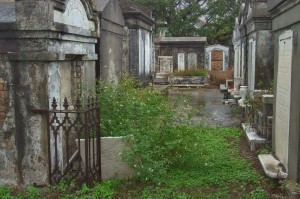 It's 4AM on Frenchmen Street in New Orleans —
on a dosey-doe night of subterranean hideaways and pirate characters right outta "Treasure Island" and hanging in the Blue Nile next to Will Blades the young Hammond B3 master as he works the keys and valves and peddles to Karl Denson on sax and Stanton Moore on drums on a stage so small the players could shake hands without getting up,
and after the magic music's over, I'm thinkin I should just go to Congo Square now for the Herbie Hancock all-star sunrise concert that we were all staying up for — they'll be people there early setting up so it'll be safe in this historic park as sunrise blossoms in this ever-blooming city.
So, I go in search of a cab, and this couple from Michigan are lookin too, and we finally find one.  I get in the front, the couple in the back, and Boom!, we're off to the Quarter to drop them off and then take me to Congo Square!
Everything's gone blissfully since I'd been in New Orleans for four daze.  I call JazzFest "The Festival of Random Acts of Kindness" because that's what it is.  The traveling out-of-towners are my kinda people, and the locals are blowing my mind in their friendliness and positive approach to life.
So, we drop off the couple, and the unofficial rule-of-thumb during JazzFest is — when there's multiple people in a cab, everybody pays 5 bucks.  So, we stop, and the cabbie asks the couple in the back for $10.  The dude only has a 20.  And the cabbie says he can't break it — which registers as weird.  "What working cabbie late at night during JazzFest can't break a twenty."  Then he asks me if I have a 10.  Which, even in my crazed haven't-slept-much-and-just-seen-God-Yolanda-and-Bruce mind — strikes this old New Yorker as odd and that he's trying to get me to pull out my money to see what I got.  If this little moment and insight hadn't have occurred, I may not have acted fast enough on what was coming ahead.
The couple come up with a 10-spot, pay the cabbie, get out, and we start driving to Congo Square, which is just on the other side of Rampart from the Quarter.  I realize if I'm headin to the park for a while I wanna load up on some beers n smokes, and ask the guy to stop somewhere along the way.  This actually gave homeboy his opening.  "You want me to take you to a place that has beer and cigarettes?   Yeah, okay, I can take to you a place that has beer and cigarettes.  I take you there."
And even though he's got a scarred and scary face, everything's gone so perfectly over the four wild daze in this great city of New Orleans, I'm goin' with it, and we're actually having a nice long talk about Yolanda Adams.  Gospel music. The grace of God.  And he says he knows of her, and we're talkin The Spirit and how music and spirituality and this city go together.
I have a vague sense of how far Congo Square is, and it feels like we're kinda goin' too far, and I eventually said something but he goes, "No, it's just up here for the place with beer and cigarettes."
Finally he turns off Canal somewhere, and on the corner we're turning there's an open 24-hour store with neon beer signs and everything, and I'm lookin at it n goin', "Hey, that place looked like it had beer & cigarettes."
And when I turn back to the new road ahead, we're now driving underneath a freeway — way-the-hell far away from the Quarter and Congo Square — and it's completely black for as far as you could see.  There's a tall brick wall running along the entire right-hand side of the street, no streetlights, everything under the freeway is black — and suddenly all the warnings I'd read about crime in the city came flashing back.  This is it.
He says, "There's a place up here with beer & cigarettes.  I take you to it."  … after we've just past one.  And I immediately look at the door for the handle.  And of course it's an unfamiliar car and it's totally dark and I figure I only got one move.  Like, if you grabbed for something and it wasn't the handle . . . he'd know what you were doing.
So, I'm secretly eyeing the door trying to figure out the handle while still looking up ahead where it's just black dark nothingness as far as you can see, all the while pretending like I don't think anything's wrong so he's not suspecting anything.
The guy's going fairly fast, and I'm thinkin jumping out would prolly result in injury.  Like — you could end up worse off.
But there's nothing ahead and it's only getting worse by the second.
Then he unexpectedly slows down — at the first opening in the tall brick wall — and starts to drive into … a cemetery!
At 4 in the morning.
In the worst neighborhood in America.
At the slowdown on the corner I think, "This is it" — and lightning-reach for the dark shape I've guessed is the door handle, pull it, and thank God the door opens!  I hear the guy yell, "Hey!!"
I look down and it's a gray gravel-dusty road surface, and in this nanosecond-flash realize that the ground is stationary and is just sitting there like always — only the car is moving . . . so I'm just stepping out onto that solid ground.
I fling the door wide open, and step out of the car just like you do every time, but bending knees a bit and shooshing right into it like letting go of a bumper after taking a hoppie in winter in Winnipeg, and barely even spilling any beer from the Blue Nile cup!
I immediately run back to the corner of the totally black road under the underpass and it was like the horror days of old New York — just scary as shit.  He'd taken me into the middle of the Treme which is freakin' Harlem circa '75 and there's homeless encampments and no lights and nuthin but slimy black scariness in every direction.
To my left is a 10 foot brick wall and a cemetery, behind me is a badguy and miles of blackness, and to my right is a lightless ghetto.  All I could see were the lights of distant Canal Street straight ahead the way we came, two long city blocks away.
I've just been diagnosed with a bad heart, I haven't slept in a day, and I'm in the middle of the worst neighborhood in The Murder Capital of America.
I only got one chance — maybe I'll die tryin' but it's all I got.  So, this very white guy in shorts starts running through Harlem at 4 in the morning — the hour of which may have been my saving grace because it was Sunday night into Monday morning and my old New York life taught me that this unique time deadzone is usually devoid of even the badguys.
I won the 1500-meter foot race at River Heights Junior High, but that was a lotta beers n butts ago.  But I got no choice and no other chance or direction home.  And so I'm just running this black-of-night marathon towards the light, and apparently the whole time with my freakin beer in my hand!  But fuck it – I didn't wanna die of thirst!
And I'm running it like a football player for a touchdown, reading the field in front of me, watching for anyone coming out of the darkness or any car coming at me or anyone coming from behind.
And about a hundred feet from the lights of Canal the guy drives back lookin for me just as I was expecting him to do sooner, but when he sees me at the lights he actually yells, "Hey you owe me money!" before he screeches away.  If I hadn't gotten as close to the corner as quickly as I had I believe the phrase would have been, "Give me your money."
I kept running.
And made it all the way home for a refresh and what-the-hell-just-happened?!?!, and back out the door for Herbie at sunrise.  Nuthin was gonna stop me.  I was still one of the first people there and right at the lip of the stage for my hero Herbie Hancock, plus Terence Blanchard, Ellis Marsalis, Kermit Ruffins, The Treme Brass Band, a massive African drumming collective, Harry Shearer and a buncha others including me blessing International Jazz Day at its very birthplace.
No bastard's gonna stop me when Herbie Hancock is on the line.
And that's the whole everlovin' story of that.
= = = = = = = = = = = = = = = = = = = = = = = = = = = = = = = = = =
For more Adventure Tales, you might enjoy . . .
The Setting A Driving Record up First Avenue in New York story.
or … the wild physical confrontation both Al Franken and I got caught up in at a Howard Dean rally in New Hampshire.
or … the time I jumped on the Pittsburgh Penguins team bus during the playoffs.
or … that whole Long Island mansions Adventure with Steve Winwood, Sheryl Crow, Tom Cruise, Spielberg, Tim & Sarandon.
or … scammed my way into the "On The Road" premiere in London in the courtyard of a palace.
or … snuck backstage at the world premiere of the new "On The Road" in Toronto and met up with Walter Salles.
or … our whole Adventure together at the New York premiere.
or … there was the greatest single night in New York's history — when Obama first got elected.
or … the worst single night — when John Lennon was murdered.
or … there was the time The Grateful Dead came to town and played my 30th birthday party.
or … the night I went out in the Village with Jack Kerouac's old friend Henri Cru on his 70th birthday,
or … went running with the Olympic torch when Canada was hosting in 2010.
or … the time I snuck in to Dr. John and ended up hangin with his whole band.
or … the time I found that cat while out waterfalling on the Niagara Escarpment.
or … the time my mom and I got trapped in the worst hospital in Italy and barely escaped with our lives.
or … of course one of the great multi-day Adventures of all time — Obama's first inauguration.
= = = = = = = = = = = = = = = = = = = = = = = = = = = = = = = = = =
by Brian Hassett
karmacoupon@ gmail.com            BrianHassett.com