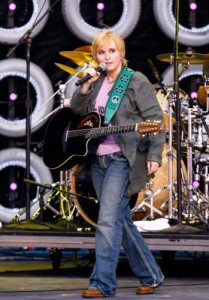 After Christina Aguilera's performance of James Brown's "It's A Man's World" at the Grammys, this is one of the more transcendent performances by any musician I've seen in years.  Or ever.  This woman's a channel, for sure.
"Live Earth" was the most watched event in human history, the single event experienced by more people at the same time than anything else we've ever pulled off.
I love the way she just stares out at the audience before she starts!  🙂
Here's the complete performance but low quality … http://www.cincheetah.com/flash1/liveearth.html
part 1:  http://youtube.com/watch?v=MGtCiDfcIos
part 2:  http://youtube.com/watch?v=JI8nyOqHakQ
Besides her Oscar-winning song, "A Inconvenient Truth," it's all about the improved raps she riffs she lays down for the day's global eyes.
I watched much of this 24 hour day event with my mom.  In fact, it was the last month she was in the house.  She's now in a nursing home, and there's no more of those kind of shares, both insomniacs, up watching the beautiful Japan temple concerts at 5 in the morning, and then Giants Stadium (where I took her to see the Grateful Dead) in the afternoon.  She was into the environment before I was, but she was always so far ahead of her time.   In a way, Melissa is her, in a different vessel.
= = = = = = = = = = = = = = = = = = = = = = = = = = = = = = = = = = =
For more Adventures in Music — you may want to check out the (Route) 66 Best live performances ever captured on film.
Or take the New Orleans Jazz Fest ride.
Or how The Grateful Dead came to play my 30th birthday.
Or the night Dylan showed up at Springsteen's show at Shea Stadium in New York.
Or Paul Simon doing Graceland in Hyde Park in London.
Or Furthur came back and reprised the Dead at Madison Square Garden.
Or when the Dead, Janis, The Band and others took the Festival Express train trip across Canada.
Or the night I was hanging with Dr. John's band in Toronto.
Or here's the day I finally "got" Bob Dylan. 
Or the night we all lost John Lennon. 
=========================================
by Brian Hassett      karmacoupon@gmail.com        BrianHassett.com