The Beats, The Beatles & The Brotherhood
.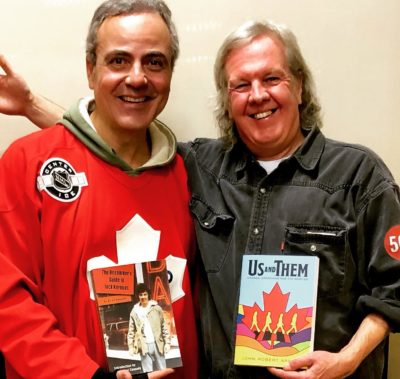 .
This month I met a fellow Toronto-area author, John Arnone, who's just written a book about The Beatles and Canada — Us and Them: Canada, Canadians and The Beatles.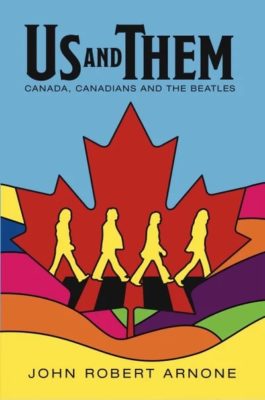 In fact, in keeping with our Canadian heritage, we met after a ball hockey game and then went to Tim Hortons.  😄 
Turns out we were both born the same year as The Beatles, both dig into research with the same tenacity, and both love weaving great artists of the past into the present.
I'm not much one for distinctions over national boundaries, but what a hoot it was to read all the different connections between the Canadian colony and her royal master's voice.
Did you know the first pair of Beatle boots came from Ontario?  😲  George's mother bought them for George while visiting her brother in Ontario in 1960.  The rest of the band were so impressed they went and found some in London.  Or the first time the band topped the charts in North America was Sept. '63 in Canada with She Loves You.  Or that the first time a Beatle — or any rock star — met with a sitting head of state.
There's 300 pages of other cool details, but one thing I loved learning about was how Capitol Records in Canada got behind the band from the get-go — and how mind-blowingly dysfunctional and out-of-it their U.S. counterparts were.  Did you know, that time they famously had the top 5 songs on the Billboard chart in April '64, that they were on four different labels?  😲  It was because Capitol U.S. didn't think the band would amount to anything and sold the songs to small labels for next to nothing.  😱  
.
Another joy of the book is that it's written by a precision-sharp journalist who's spent decades in the high end of the corporate world where one has to be letter-perfect and detail-oriented.  He's not writing in generalities, but paints with Realism's precision.  He's also a lifelong musician so he's bringing that to the narrative — comfortably conversational with song structure and their ever-changing insgtrumentation.  And I don't know if he's a songwriter but he's certainly got a poetic flair for phrasing — "somewhere left of Greenland" … "far from simply lazy rivering in the sack" … or following a lead down a rabbit hole that was "a delightfully difficult task."
And something else this reader appreciates is his sense of what to put in and what to leave out.  That sounds kinda basic, but so many nonfiction authors are painfully bad at this.  I'm sure any avid reader has had the experience of skipping paragraphs or pages until a book gets interesting again.  But that doesn't happen here.  He's got a professional precision with a glued-to-your-seat storyteller's sense of the juicy.
Did you know that Maple Leaf Gardens was the only venue in North America that the band played on all three tours from '64 to '66?  Or that at one point in 1964 The Beatles Fan Club in Canada had more members than either the U.S. or U.K.?!  Or that the last time John Lennon was ever paid to play a live performance was in Toronto in 1969?  Or that there are a ton of connections between The Beatles and The Beats?
Here's some deets from my book The Hitchhiker's Guide to Jack Kerouac  —
It was when The Beetles backed up British Beat poet Royston Ellis in 1960 that they were prompted to change the spelling of the band's name to reflect their mutual interest.  As Royston remembers, "Since they liked the 'Beat' way of life, were 'beat' musicians, and would be backing me as a 'Beat' poet, I suggested to him why not spell the name with an 'A'?"
And it was Beat confidant and journalist Al Aronowitz who brought Bob Dylan to The Beatles' Delmonico Hotel suite in New York in the summer of '64 specifically to get them high on marijuana for the first time.  And you might say that had some effect on their music.  I'm tellin' ya — these Beats are nuthin' but trouble!
As everyone knows, marijuana is a gateway drug … and before you know it you're reading poetry!  So the band decided to start a spoken-word record label as part of Apple, called Zapple, and although it was short lived and didn't release much, some of the first people they signed up were Allen Ginsberg, Lawrence Ferlinghetti, Michael McClure, Richard Brautigan and Ken Kesey.
McCartney would later famously and wonderfully perform and record with Allen on his 1995 poem "The Ballad Of The Skeletons."  "I wrote Skeletons because of all that inflated bull about family values," Ginzy told the L.A. Times.  "The 'contract with America,' Newt Gingrich and all the loudmouth stuff on talk radio.  It seemed obnoxious and stupid and kind of sub-contradictory, so I figured I'd write a poem to knock it out of the ring."  The Beat and The Beatle would get together in England later that year when Allen was there to do a Royal Albert Hall show.  Macca liked the poem so much, he showed up to accompany Allen on it at the reading (also attended by Carolyn Cassady), then contributed guitar, drums, organ and maracas to the recorded version the following year.
And that same sacred majestic Royal Albert Hall was also packed to its very high rafters for one of history's pivotal (and largest) poetry "happenings" —
The International Poetry Incarnation, in June 1965 — staged with good old Allen organizing and headlining the night, and including a restrained Gregory, a playfully political Ferlinghetti, and Burroughs on tape, joining all sorts of British Beat Bohemians like Michael Horowitz and Beatle bud Adrian Mitchell in a moment of group enlightenment for Londoners that the Human Be-In would be for San Franciscans 18 months later in the way it brought out of the basements and into the light thousands of underground artists of varying disciplines (including a young Jimmy Page) who suddenly realized they weren't alone in their pursuit of the unknown.  As The Clash's Joe Strummer laid it down — "… you can mark the beginning of the British underground scene of the 1960s to that particular night."
And then there's William Burroughs on the cover of Sgt. Pepper.  He was probably on their mind since at the time they were letting him use the rehearsal studio they'd built into Ringo's unused London apartment on Montague Street in the spring of '66 — when there was music in the cafés at night and revolution in the air.  Bill was there experimenting with backward tapes, recording things at different speeds, and dropping in random radio broadcasts or reading newspaper reports into the recordings.  And yes, all of that should sound familiar to Beatles fans.  Over the next year the band would run all those same studio experiments as they recorded Revolver, Yellow Submarine, Strawberry Fields Forever, and Sgt. Pepper, then The White Album the year after that.
William did some cut-ups and we did some crazy tape recordings in the basement," McCartney remembers.  "We used to sit around talking about all these amazing inventions that people were making, like the Dream Machine that Ian [Sommerville] and Brion Gysin had made.  It was all very new and very exciting."
And ol' John, he carried that Beat spirit with him across the pond when he famously emigrated to New York in 1971, making sure to meet up with Allen Ginsberg when he landed, including inviting Allen to John's 31st birthday party at a hotel in Syracuse, New York, where they were for a Yoko art exhibit opening, and a camera was rolling and there's actually footage of them all partying together.  John also asked Allen to be a part of the only full concert the former Beatle ever staged after he left his band, the One To One benefit at Madison Square Garden where Ginzy joined John on stage for the climactic "Give Peace A Chance," just as John had him join in on the original live recording of the song in Montreal in 1969.
.
I dunno how we're gonna end up collaborating, but we're gonna do sumpthin. 😍  We've already got a show hatched at a local music venue where we'll both jam and be followed by Paul Dante's Beatles band.
Here's to lots more Beats and Beatles bringing joy to this crazy ol' world!   💕   
==============================
To plug into John Arnone's Beatle world check out his website Us and Them: Canada, Canadians and The Beatles. 
For more Beatles check out this time-coded and annotated breakdown of Peter Jackson's The Beatles: Get Back that people around the world have been reading every single day since it was posted during the initial airing of the masterpiece in 2021.
For an even more recent Beatles-related film check out this piece on Revival '69 and Lennon's first solo concert in Toronto filmed by D.A. Pennebaker.
For another connection between The Beatles and the Beats — check out when George Harrison told Paul McCartney about Michael McClure's play The Beard.
Or here's a fun piece on Seinfeld, The Beatles and the Beats.  😁
==============================
by Brian Hassett
karmacoupon@gmail.com   —  BrianHassett.com
Or here's my Facebook page if you wanna join in there —