The Magic Genie's Happy Place

—

  Saturday July 9th, 2022
.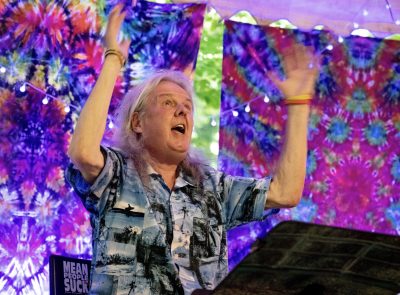 The matinee show (4PM) stemmed from a massive reorganization of all my performance pieces — many dating back to New York in the 1980s and '90s.  A bunch of them still held up — and since nobody's heard me do them in 20 or more years, I thought it would be fun to bring them back to life.
I noticed a theme in some written in my 20s or early 30s that dealt with growing old — which seemed so odd that I was writing about that so often when so young.
Here's the opening of the show and the first four poems —
Very Soon Today
Under These Same Elms
Riding on Page 599
Gotta Get a New One
The next three were about — how we can be too hard on ourselves;  deciding whether to get into a new relationship or not;  and a comedic poem about praying.
The Marksman
Window Shopping
Answered Prayers
Then I did the rallying cry piece I used to perform often after Giuliani was elected in New York;  plus a couple short Kerouac pieces as a teaser for the evening show.
New York Wins Another Round
Kerouac's "List of Essentials"
"Hearing Shearing" from On The Road
I ended the show with a classic I first wrote in 1985 and continued to customize for different shows for the next 15 or more years.
Another Pious Frenzy
.
Or here's all four clips in a playlist so you can watch the whole show in one click.  🙂
.
=============================================
The 7:30PM evening show  —
The Prankster Address
Ode to Lowell Celebrates Kerouac
Jerry Garcia on hearing Jack Kerouac
Appreciation of Edie Kerouac-Parker
Part 2 — the climax of the New Hampshire Democratic primary in 2020 — after the final Bernie Sanders rally in an arena — for the first time all primary I felt Kerouac's presence in the New England winter night.  A bunch of the college students went out on an outdoor skating rink and a special moment happened.
Part 3 — With Tricia Eileen Murphy on guitar, I took the audience to the On The Road scroll auction at Christie's in New York in 2001.
Part 4 — the climax of the show — "Floating Universities: The Power of the Collective" from The Rolling Stone Book of The Beats.
Plus the Ode to Jack.
.
Or here's all four clips in a playlist so you can watch the whole show in one click.  🙂
=============================================
Here's a cool book with lots of Beat and Prankster content, including some poetry and lots of poetic prose  —  The Hitchhiker's Guide to Jack Kerouac  . . .
.
And here's another one with lots of Beats and Pranksters and Adventure Tales  —  How The Beats Begat the Pranksters  . . .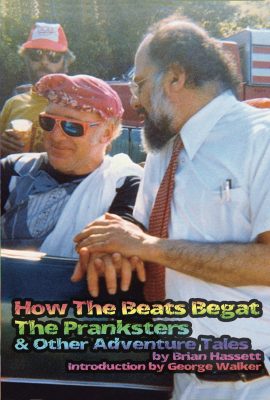 =====================================
by Brian Hassett
karmacoupon@gmail.com   —  BrianHassett.com
Or here's my Facebook page if you wanna join in there —