When

The

Good

Guys

Win —

Head

To

The

Skyscraper

Rooftop
.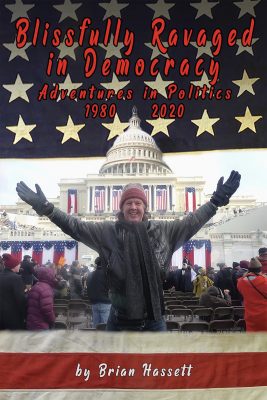 A wee rooftop Adventure excerpt from Blissfully Ravaged in Democracy  . . . 
The Democratic Party victory party at the Sheraton Hotel in Midtown Manhattan in 1996 . . .
New York City is a very liberal and a very Democratic town.  And it's where the money & media & power are.  So every major Dem was there at the party, and most of them spoke from the stage.  The esteemed and now mightily missed Senator Daniel Patrick Moynihan; our '84 Vice Presidential nominee Geraldine Ferraro; former Governor Mario Cuomo; our senior House Representative Chuck Schumer who would go on to end the nightmare that was Alphonse D'Amato and become a Senator in the next Midterms in '98; longtime Harlem Representative Charlie Rangel; Brooklyn Representative and "the Librarian of Congress" Major Owens; a young Jerry Nadler long before he'd chair the eventual impeachment hearings of another New Yorker who shall remain nameless; Representative Carolyn Maloney representing my district in Manhattan; former Mayors David Dinkins and Ed Koch; and a couple thousand or so of us various levels of operatives.
We may not have won back the House or the Senate that night, but it was still a helluva party.  They had a huge balcony off the ballroom looking down from the second floor over Seventh Avenue right near Times Square which was an ideal place to smoke a celebratory joint or three beyond the noses of the new Giuliani police.  There were all sorts of New York characters who had managed to find their way into the party.  I remember this limo driver who carried in his wallet a picture of every cool person he'd ever driven, and had concocted elaborate stories about how they'd become best friends.  And there was a comedian who was doing a one-woman show in the East Village and seemed to be making up new political material on the spot.  But the most memorable was a magician in full top-hat-dapper-suit regalia who was spitting playing cards out of his mouth in the middle of conversations.
Since I was in this nice hotel where I didn't usually find myself, I did what I did in every building I ever temped in — I went up to check out the roof.  Back in the pre-9/11 daze, almost every roof in the city was accessible.  I went out to the deli and grabbed some beers, and came back in the hotel as a guest of the party, but pushed the top floor on the elevator.  I was always tempted back then to write a book about how to get onto every roof in the city but I knew that would blow the secrets of all the sacred lookouts I'd found.
Outside every elevator door there's a floor-plan with the stairwells marked In Case of Fire.  All you had to do was go to the one that had a stairway going up to a door with a sign that said "NO ROOFTOP ACCESS" and then push that door open — and Whoosh! you'd feel that big gust of 40-story-high wind and know you were home!
The thing about New York is — it's crowded.  It's the greatest city in North America, at least, and everybody wants to be there.  But one place you could have the city to yourself was on the roof of a skyscraper.  The madness was going on all around you, but you had a space the size of a building all to yourself, with 360 degree views, open air, and the adrenaline jazz of being someplace you weren't supposed to be — but were!
What was cool about this roof was the massive "Sheraton" sign.  Something I first experienced on the Essex House roof on Central Park South was that you could climb up the ladder onto the iron scaffolding that the sign was attached to and boy — that is a freaky wild experience!  It's one thing to be standing on a rooftop with the wind blowing around you and being able to look out into the crowns of the other architectural masterpieces that every damn building in New York — but, man, when you're up in the scaffolding with the wind blowing up from below, suspended on a narrow little fire escape type walkway in the middle of the air above the city, it seems like you're flying. It's the closest thing I've experienced to what a bird must feel.  And that's what I saw coming on top of the "Sheraton"!
BOOM!
Find the ladder — and get higher still!  Up I went until I was right there at the crest of the giant two-story-high "S" of the sign!  The wind was blowing up a storm — in fact there were wonderful storm-like conditions that night, with a very low cloud cover, and in a lit-up city like New York, the illuminated flowing clouds create this undulating 3-D painting right above your head.  And of course I had saved one last joint — which are always a bit of a challenge to light in these conditions — but I didn't have four stars on my tie-dyed Prankster collar fer nuthin.
I sat down on the iron slats and let my legs dangle in the emptiness as I pondered all we had done and all that was ahead.  The Mission of the Year accomplished.  The first baby-boomer president was re-elected over a turn-the-clock-back geezer.  The good guys won! I thought of the button I was wearing that night — "It's the Supreme Court, stupid" — playing on the '92 campaign's "It's the economy, stupid."  Bill had appointed Ruth Bader Ginsburg and Stephen Breyer in his first term, and we had big hopes for the term ahead.  Nobody ended up retiring in his next four years, but we didn't know that on election night.
I knew Bill wasn't Jerry Brown or Ralph Nader or anything, but he had assessed and worked the electorate.  There'd been Republican presidents pretty much my entire adult life, and America was not Greenwich Village, as much as I wished it were.  You couldn't be as far over on the left as my friends & I and win Ohio and Florida and all the places you had to to become President.  But Clinton had tilled the middle ground.  And because of that, women's rights were safe. Voting rights were safe.  The environment was safe.  Education was safe.  Judgeships were safe.  PBS was safe.  Newt Gingrich and his right-wing selfish pals were up to some serious no good.  And there was only one office-holder in their way.  And we just held that office.  And it was time to celebrate.  On a rooftop in New York.  Under the billowing clouds of history.
=========================================
You can order a paperback or eBook here.
Here was a live stream from home as part of a Merry Pranksters Virtual Reunion weekend that includes several passages from the book —
Here's the book's excellent Introduction by The Beat Museum founder and lifelong politico Jerry Cimino.
Here's the part when I met Joe Biden during the primary in New Hampshire.
.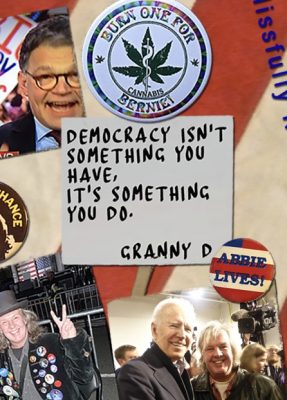 =========================================
by Brian Hassett
karmacoupon@gmail.com   —  BrianHassett.com
Or here's my Facebook page if you wanna join in there —
https://www.facebook.com/Brian.Hassett.Canada