Excerpt from Holy Cats! Dream-Catching at Woodstock — from Thursday evening as it was just beginning . . .
It was 10 PM, the gates had just opened, and beaming faces were exuberantly discovering the field by the thousand. Fresh hay had been laid all over the natural amphitheater and it glowed like cashmere in the moonlight. A back-log of ticket holders had built up because there was some delay in getting identification bracelets or something, but now they were all running around like kids in a playground, exploding with hours of pent-up energy. Tents were being pitched, property staked, lawns pampered, hair brushed, and bottles popped. People were even setting up tents directly in front of the stage. "And I thought I had a good spot!" I said out loud to the ghosts of everyone I ever knew who was right there with me on this dewy field of Woodstock.
Futuristic gizmos and interactive cosmos were buzzing everywhere. Up the hill behind the sound mix tower a huge spaceship had landed. On closer inspection it appeared to be a giant mist machine for cooling people off. As you walked underneath huge white space tubes, a gentle steam hissed out as though you were cooling off beside a waterfall. Near that was a big wooden corral for horses, which on classroom detention — I mean closer inspection — turned out to be a frame to hold the piping that carried water to a hundred faucets pouring off it. Surrounding this dead center water shed were layers of lava shale like a manicured garden. The whole place looked like Versailles just waiting on ice for Josephine.
Across the entire quilt of a field there wasn't a wrinkle anywhere. But there were more rides than Disneyland! Over by the stage I noticed some bleachers and immediately penciled them in my Itinerary. Surrounding the massive field was a ring of huge striped tents that housed God knows what at this point. Here and there, new things were everywhere!
Then some Wink Dinkerson deejay wanker came out and made a few straight-street opening remarks, welcoming us to history but sounding much more like Big Bird's tour of a farmyard than the marching orders for a generation.
All of a sudden right above my head a giant light exploded! I was standing directly underneath when they suddenly began projecting Easy Rider on movie screens approximately the size of the sun. It seemed a little late to be starting a movie turned up so loud you could hear the pot crackling in the joints Fonda and Hopper were sharing. The sound was Clean, Big & Precise, it certainly bore well for the music ahead, but probably not for those who hoped to sleep tonight. I was suddenly overcome with a profound sense of joy and happiness that my tent was made out of a van, and wasn't pitched in the middle of this decibel testing zone.
I crossed the giant drive-in — I mean sit-in — with all the kooky colored tents parked pell-mell as the campers watched the flickering road story or made love behind zipped flaps or just whispered collectively, "This is amazing!" Wide eyes beamed white like headlights. But this was only the jaw-dropped calm before the storm, while everything was still perfectly laid out the way the host prepared it before all the rowdy guests showed up and trashed the joint.
And speaking of a joint, it felt like it was taking a really long time to cross that field. But by tomorrow the same route wouldn't be passable in any amount of time. The hay-laid bowl directly in front of the stage was currently free and open but would soon become a bodycrushing mosh pit for the rest of the weekend. I crisscrossed its fresh carpeting several times, watching as wandering fans walked closer and closer to the stage like Lilliputians tentatively approaching Gulliver. The structure was so huge it was intimidating. It was loud. It was alien. But it was ours. And very slowly we were getting used to that idea.
We were drifting in the islands, sailing in the tropics, singing on the road. Easy rider. Joy rider. Raft slider. Rum runner. Song hummer. "Mama, mama, many worlds I've come since I first left home," as someone kept playing Brokedown Palace on the jukebox of my brain. The peace. The place. The field. The space. The resonating bliss of the chimes of freedom ringing, people singing, memories zinging, bodies swinging, karma calling, mattress falling, pillow mauling, dream installing.
"In a bed, in a bed,
By the waterside
I will lay my head;
Listen to the river sing sweet songs
to rock my soul."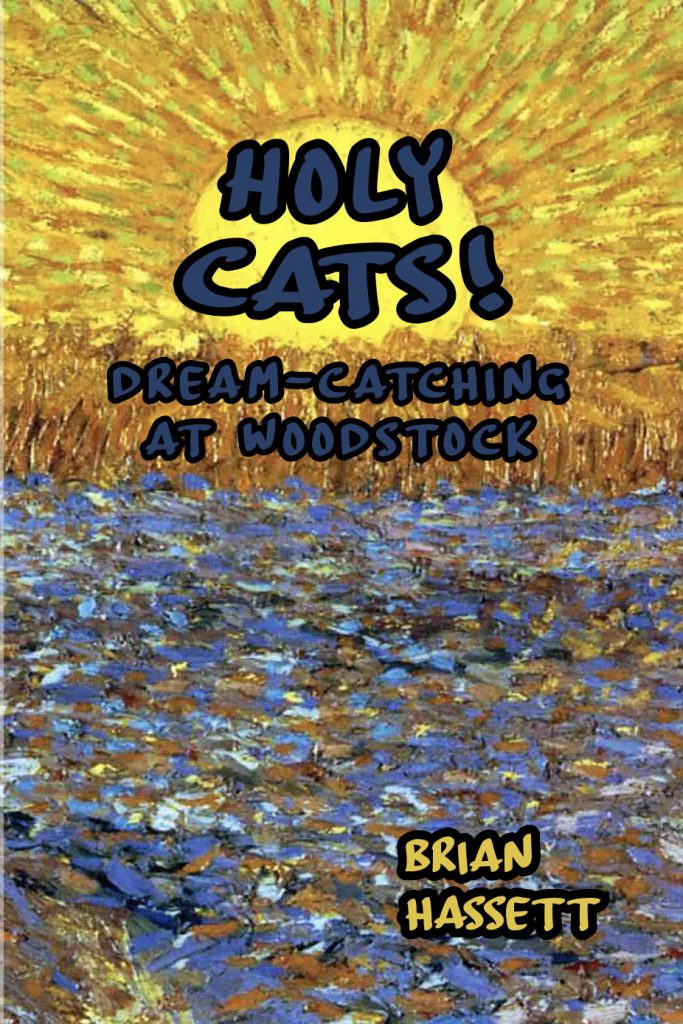 = = = = = = = = = = = = = = = = = = = = = = = = =
You can get the new 2019 Holy Cats! Dream-Catching at Woodstock directly by emailing the author, or you can order it here.
Same idea with all three of the books in The Beat Trilogy:

— The Hitchhiker's Guide to Jack Kerouac

— How The Beats Begat The Pranksters
For a ton of videos & such — go here.
For a bunch of interviews & such — go here.
= = = = = = = = = = = = = = = = = = = = = =
by Brian Hassett — karmacoupon@gmail.com — BrianHassett.com
Or here's my Facebook account if you wanna join in there — https://www.facebook.com/Brian.Hassett.Canada