.
.
15 minutes before this show I was lying on the ground behind the Cassady's booth trying not to lose consciousness. . . .
An hour into it I was running around the stage playing Gregory Corso on a football team.  The build from wounded wobbly to careening comedy is completely crazy.
Everything had been going more-than-well.  I'd done two killer hour-long shows the day before [see them here or below], then gone to the kick-off of the Grateful Dead's Fare Thee Well 50th anniversary all evening, and despite the non-stop madness, was holding up quite well — until I helped move some boxes of books just before showtime sparking one of my dizzy/pass-out spells.  I've seen doctors about it, and they tell me I have to get horizontal as soon as it happens or I'll lose consciousness.  It was one of those.
This past month I've been editing & posting all the filmed shows on file from the last two years since The Hitchhiker's Guide to Jack Kerouac came out — and by flukey happenstance / karma / fate this was the final one revisited.
It's by far the weirdest craziest strangest Beatest of them all.  I look like hell, and feel older than Ferlinghetti! . . . but then gather strength & steam as it progresses — in fact, beginning surprisingly a minute in when the "opening announcement" gets not one but two big laughs.  😀 
I appreciate a good drama — be it the stage the page or the screen — and love "the arc."  But this is the only time I've ever done a show where it happens without being written into the script — from barely conscious … to sustained needle-pinning laughter.  It's real-life reverse aging — where the character gets more youthful with each passing moment.  But it's all natural / real / improvised and unrehearsed.
To me, this is my most Dead-like show.  It's so weird, and so easy if you're not inclined and don't know there's a pay-off coming to turn it off.  But this crazy thing happens . . . it just sorta builds and gets into its own groove and wild blossoms bloom . . . I can't explain it, like you can't really explain a Dead show.  But this is the closest I ever came to executing one.
.
.
Tate Swindell, B, Jerry Cimino, Gerd Stern, Levi Asher, James Stauffer
Sunday, June 28th, 2015, The Beat Shindig, San Francisco
.
Here's the Cassady panel from the day before — featuring Jami Cassady, the great Al Hinkle, myself, and hosted by Levi Asher . . .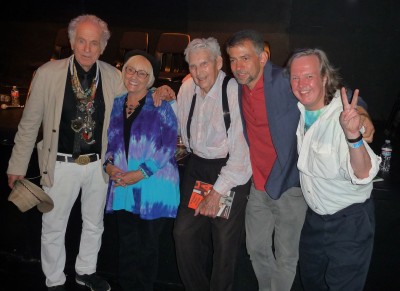 .
Or here's the funny interview with Gerd Stern about the infamous "Joan Anderson / Cherry Mary letter" . . . 
.
Or here's a playlist of the Woodstock Mothership show on the same day but the next year  . . .  🙂 
.
Or here's a playlist of the Lowell Celebrates Kerouac show in 2016 including the killer first-time-ever "Pic" . . . 
.
Or here's a playlist of all the Hitchhiker's Guide to Jack Kerouac clips from 10 different shows over 2 years . . . 
.
Or here's the group piece we did from the book release party at the Kettle of Fish in New York featuring Jami Cassady, Levi Asher and Walter Raubicheck . . . 
.
Or here's the opening of the Merry Prankster family reunion in 2016 . . . 
.
For more on The Hitchhiker's Guide to Jack Kerouac check out these reviews & reactions. 
Or here was a ton more including a bunch of the original Merry Pranksters.
Or so many kept coming in there was a whole nuther batch!
Here's where you can get the book direct from the publisher.
Or here's where you can get it on Amazon.
Or here's where you can get an e-book Kindle version.
Or here's a whole wild story about the whole wild Shindig.
Or for more on the Grateful Dead's Fare Thee Well shows check out this report from Chicago.
=================================================
by Brian Hassett  —  karmacoupon@gmail.com   —  BrianHassett.com
Or here's my Facebook account if you wanna follow things there —