Republican Convention — Day 2 — Tuesday July 19th 
.
As the crazy circus rolls on that is the Repugnant National Coronation of their favorite racist bigot who is now their official "standard-bearer" after years of less obvious assholes — the playful sense of humor of many sensible and silly Americans is still on display.  In places.
Multiple Uptight Citizens Brigade Theatre-like groups have been staging sketches and songs on the streets all over town.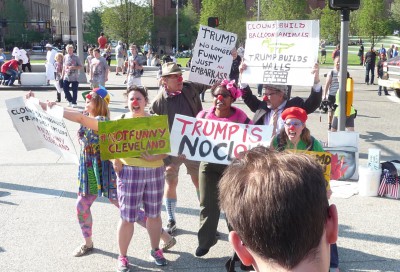 .
And another group brought hundreds of tennis balls to protest the convention banning them (!?) while allowing people to open-carry guns.
As you can see by this photo, as is pretty much always the case, the cops outnumber the protesters about 10-to-1.  It's the strategy of "overwhelming force" — so nobody even thinks of doing anything wrong.
Note the pink & yellow tennis balls being held high
Beeg protest (!)
There has been nothing I've seen resembling actual violence or real threats by any civilian in Cleveland, but the cops have been overhired with our tax dollars and get all dressed up in their hot & heavy Play War gear every morning, and after a couple days of smiling and playing nice, they're now ready to crack some heads and kick some ass.
Check out these stormtroopers!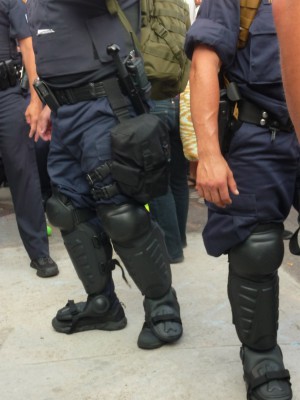 What was once a cool, friendly, welcoming scene has devolved into an over-policed aggressive unfriendly vibe.
.
Do you know who Robert Smigel is?  He created the TV Funhouse cartoon shorts on Saturday Night Live, and the puppet character Triumph, the Insult Comic Dog, and he and I spent some time together at a Kerouac event at St. Mark's Church in-the-Bowery many years ago where he absolutely killed making fun of us as Triumph.  Really funny guy.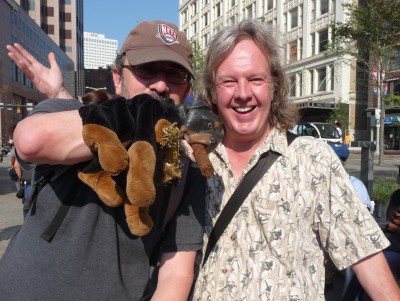 He's been out on the campaign trail at Trump rallies (for instance saying to a heavyset Drumpf supporter, "I think he needs to build a wall between you and McDonalds," which made even the guy laugh) and doing his level best to keep people lighthearted during this ugly period in American history.
He organized a comedic parody of a protest at the Public Square — one of the designated gathering places in town — with such inflammatory protest signs as . . .
And positively positive absurdist messages like "God Hates Morning People" . . .
We were there for this, and it was obviously a really funny joke "protest" playing on the Jesus freaks [who are everywhere here] and other peaceful sign holders.
But the cops obviously missed the joke.  The Square was peopled with nothing but Smigel fans, curious bystanders, and about a bunch of official (and non) reporters with cameras.  Again, maybe because they feel like they have to do something since there's 50 million of them everywhere doing nothing but standing around in the 80 degree sun, they called in reinforcements and systematically cleared the entire square, pushing people back using bikes, riot gear, and barking voices.
On the stage platform was a satiric comedy routine.  A gag.  A goof.  But they brought in the armed forces.  Although they didn't fire, it was painfully reminiscent of the peaceful May 4th protests at Kent State, the site of which I just visited Monday.  This was authorities in uniforms not at all understanding what was happening in front of them — and overreacting.
I guess they got all dressed up in their war gear and had to show these pranksters their muscle.
And a very strange sub-set among the citizens-assembled are both young and older mostly males walking around filming what they see and describing their strollabout.  If you overhear them they're describing things as though everything in front of them is terribly nefarious, and disaster is about to strike.  They're narrating their reality as a death trap, and damn but they're going to have their cameras rolling when Armageddon hits in the next few seconds.
But besides even the cops and camera loons, if there's one thing that's killing the buzz in downtown Cleveland it's the Jesus freaks with bullhorns yelling at everyone.  I didn't know the guy, and neither did anybody else know, but he seemed to be generally about peace & love, not unlike a lot of his other fellow longhairs.  But listening to these bloviating blowhards he sure sounds like some mean judgmental fascist dictator who was telling everyone they weren't as good as he was.  The whackjob extremists yelling about him seem to have gotten The Bible about as wrong as some Muslims have gotten the Qur'an.  It's no wonder so many people are turned off religion these days.
As a Christian friend of mine said of these assholes, "Welcome to the U.S. 'Christian Right' … aka anti-Christ."
Me, I'm not losing my religion.  I learned everything I need to know about life from these guys.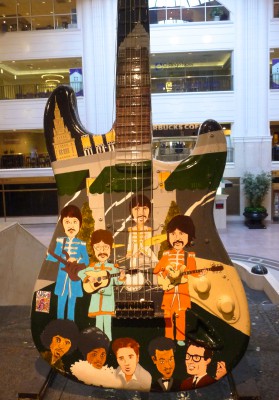 And there's still beautiful people like this doing nothing but spreading the gospel of Love.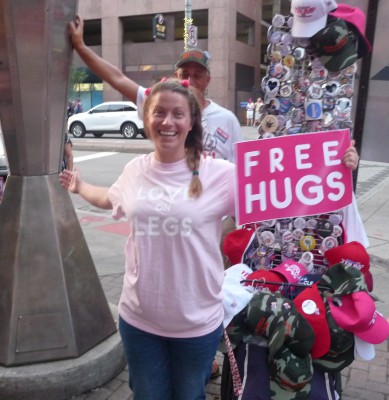 .
Watch this space and your choice of others because the next couple of days are only going to get hotter in Cleveland — both in temperature and vibe.
.
Here's the next and final dispatch from the Cleveland front.
.
===============================
You can read this and 50 other Political Adventure Tales like it in my 2020 book Blissfully Ravaged in Democracy — Adventures in Politics — 1980–2020.
Here's Part 1 of this story covering the two days leading into the convention.
The story of the first full day of the convention can be read here.
Here's where you can read about more Adventures like this — in my book "The Hitchhiker's Guide to Jack Kerouac"
Or here's what some people have been saying about it.
Or here's the Adventure Tale of a Bernie Sanders rally in Indiana including shaking his hand and looking into his eyes at the end.
Or here's how I first got involved in politics.
Or here's an account of the most jubilant night in the history of New York — check the Election Night 2008 Adventure. 
Or here's the most excellent real-time Adventures at Obama's Inauguration.
Or here's my story from Clinton's first Inauguration.
Or for how Woodstock promoter Michael Lang used my reports in his book — check out how Obama's Inauguration was like Woodstock.
Or for the kind of creations that got us across the historic finish line — check out my poem and video for Where Wayward Jekylls Hyde.
Or for an on-the-campaign-trail adventure — check out the physical altercation I was in the middle of with Al Franken at a Howard Dean rally in '04.
Or here's my 2012 election predictions.
… or the 2008 projections — in both, I'm over 98% correct.  😉
===============================
Brian Hassett  —  karmacoupon@gmail.com   —  BrianHassett.com
Or here's my Facebook account if you want to also follow things there —
https://www.facebook.com/Brian.Hassett.Canada
.