.
"This is a Shitshow"
.
When I tried starting this story last night immediately upon arriving home around 4 AM . . . this was all I got writ —
Republicans are loons …
😀
But boy, I just had the greatest time!  Sheesh!  This was like the 4th of July for a week!  As I said before — now I know why they're called political parties!
Somehow the definitive moment for me was dancing at night in the fountain at the Public Square, led by a super-skilled drummer named Freedom who I just became friends with a couple days earlier.
It was right before Drumpf's speech on the final night and security had secured the week, done their job & it was pretty much over, and Freedom picked right up on the freedom and started a tribal, festival-like, Grateful Dead dance party at the very heart of the city.  Just one of the many people I met here who I'll probably be friends with for life.
The post-drum circle group hug – courtesy of the great photog Jeremy Hogan
Another definitive moment was experiencing Trump's speech on 4th Street, which was interestingly/ironically being broadcast by MSNBC.
You could read into this that Fox didn't set up a giant screen viewing area to broadcast their party's words to the city.  But MSNBC thought people should see this!   😉
4th Street is a one-block-long narrow former (Kerouac?) alley that's evolved into a pedestrian street lined with bars & restaurants on both sides.  It's the coolest block in the city and was the go-to place for everyone not in the arena.
The street was pretty much packed from one end to the other, and what was funny/striking was how unenthusiastic and non-responsive people were.  The paid prop poobahs inside would cheer and applaud each line on cue, but outside it was mostly falling on deaf ears.  In a street full of Republicans.
Here's one's reaction at the table next to me . . .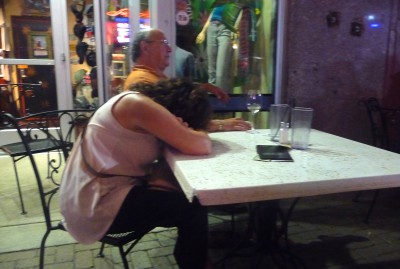 And these two were standing in front of me for a bit . . . reading their phones . . .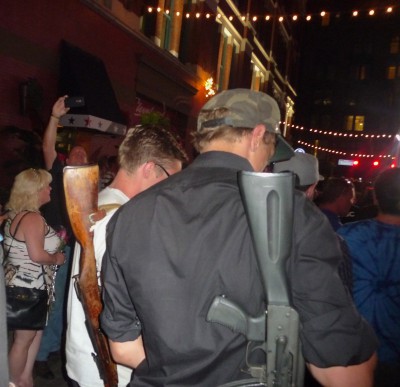 .
This should have been like being in the crowd at a home team's victory — like Cleveland just celebrated last month with the Cavaliers basketball team bringing the first national championship to the city in 50 years — but instead it was like being at a home team loss.  The silence was deafening as the applause-track from the arena played to nonplussed indifference.  In Cleveland.  To Republicans.
These conventions are like the Woodstock of politics.  Every star in the political world is here, there's non-stop "shows" on multiple stages all over the festival site (city), and people are partying like there's no tomorrow.  Which, in the Republican's case, is true.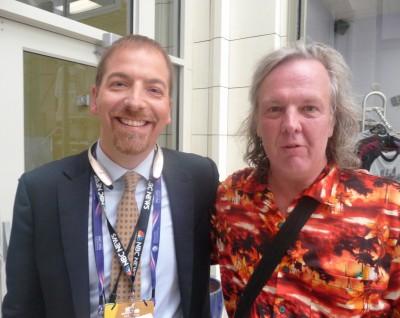 Instead of smiling I was busy telling Chuck Todd how he was Tim Russert's living legacy.  And boy did he appreciate that.
Mika & Joe
Me on MSNBC behind Al Franken 🙂
Van Jones doing a beautiful riff with the crazy Infowars guys.
Fellow Canadian David Frum — who observed Cleveland is like Toronto in the '60s and early '70s … lakeside city with great old architecture, and relatively untouched.
And another David spotted in the mix
John Lennon's guitar he played Revolution on as well as The Beatles's last gig on the Apple rooftop — at the "Louder Than Words" politics & music special exhibit at the Rock & Roll Hall of Fame
Another reporter captured in the afternoon sun-speckled wild
With Hugh Hewitt.  Fraternizing with the enemy  🙂
Another smart young political reporter whose name I can't remember, but I never forget that face.  p.s. – just remembered – Olivia Nuzzi.  🙂
Joy Reid having a good time on 4th Street
With Robert Smigel and Triumph the Insult Comic Dog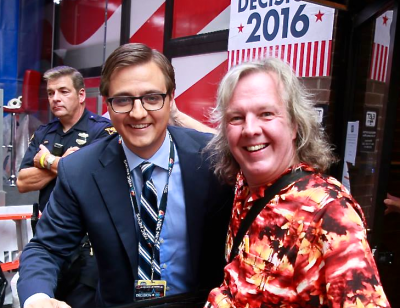 MSNBC host Chris Hayes – taken by the great Beat photog Jeremy Hogan
The Washington Post's Chris Cillizza
And the Post's Dana Milbank
Meeting all the Washington Post writers, I had a good entry line with, "I'm a big fan and longtime subscriber …" which always seemed to buy me extra time and a genuine connection.  These guys who can stay so focused and get the story with new angles and insights and deadlines day after day, year after year, impresses the hell out of me and makes me laugh every time I see someone dismissing the MSM.
Others seen on the scene but unsnapped — Rick Santorum; NBC Nightly News anchor Lester Holt; their super-professional campaign reporter Hallie Jackson; former RNC Chair Michael Steele; Jonathan Capehart; Howard Fineman; Campbell Brown & Dan Senor; Politico's bespectacled Mike Allen; Mother Jones writer and breaker of the Romney 47% story David Corn; Republican strategists Mike Murphy, Barry Bennett, Jack Kingston and Alex Castellanos; Roland Martin, Larry Cutler, Ron Fournier, Joan Walsh, Tucker Carlson, Samantha Bee, and that enormous Repugnant pig Frank Luntz.
One thing I found for sure — every writer or senior Republican operative I talked to all week saw the same writing on the wall.  More than one of them used the phrase "This is a shitshow" to describe what was happening, and the party chairman of one of the largest states in the union put it simply — "We're fucked."
This was the demise of the Repugnant Party I came to witness — and boy, the Donald did not disappoint!
Plagiarism, disconnection, disloyalty and dictatorial were the words to sum up each of the four days in sequence.
I've been in a lot of crowds at a lot of awe-inspiring concerts & other large-scale events over the last 40 years and know what happy fans look like.  The delegates and others leaving the arena looked like they were walking out of a funeral.  They should have been dancing in the streets after their team just put on the greatest show on earth . . . yet they were stumbling as though they just wanted to get home and bury their head under a pillow.
.
I'll add more photos (and thoughts) to this as time & energy allows.  Took a Jack notebook fulla notes and 500 snaps.  I'm sure there's a couple good ones in there.  🙂
And I just have to mention — from his countenance on TV, I always thought David Frum was some depressingly dour frump.  But he was prettymuch the friendliest, funniest, most talkative, interesting, coolest guy I met from the other side in Cleveland.  It just goes to show ya — people aren't always what they seem.
And a shout-out has to be made to my Beat brother Ken for not only hosting my 24-hour madness for a week, but being an Adventure Buddy and cameraman-in-a-pinch!
Ken, Freedom & me, in the fountain in the Public Square, 10PM Thursday night
.
==================================
You can read this and 50 other Political Adventure Tales like this in my 2020 book Blissfully Ravaged in Democracy — Adventures in Politics — 1980–2020.
Here's Part 1 of this story covering the two days leading into the convention.  And that'll lead you to each of the other stories in sequence.  😉 
Here's where you can read about more Adventures like this — in my book "The Hitchhiker's Guide to Jack Kerouac"
Or here's what some people have been saying about it.
Or here's the Adventure Tale of a Bernie Sanders rally in Indiana including shaking his hand and looking into his eyes at the end.
Or here's how I first got started in politics.
Or here's an account of the most jubilant night in the history of New York — check the Election Night 2008 Adventure. 
Or here's the most excellent real-time Adventures at Obama's Inauguration.
Or here's my story from Clinton's first Inauguration.
Or for how Woodstock promoter Michael Lang used my reports in his book — check out how Obama's Inauguration was like Woodstock.
Or for the kind of creations that got us across the historic finish line — check out my poem and video for Where Wayward Jekylls Hyde.
Or for an on-the-campaign-trail adventure — check out the physical altercation I was in the middle of with Al Franken at a Howard Dean rally in '04.
Or here's my 2012 election predictions.
… or the 2008 projections — in both, I'm over 98% correct.  😉
===============================
Brian Hassett  —  karmacoupon@gmail.com   —  BrianHassett.com
Or here's my Facebook account if you want to also follow things there —