You can read about the two days leading into the convention here.
Monday July 18th
.
Holy shit!  What a first convention night in Cleveland!  This town is throwing A PARTY!  Wow!
I mean, the cops and all levels of security are being so freakin nice!
At one point, 'round midnight, I needed to know if this certain exit from the Quicken perimeter was the only one, and I go over, and this Secret Service agent spends 5 minutes figuring out the answer for me.
Unreal.
I've seen police forces here from California, Michigan, Texas, Georgia …
and there's armies of them!
After three days at the core of it, tonight, once, I heard the only cross words spoken between two people.  It was between a local and a Republican supporter.  And frankly, the guy on my side was out of turn.  He was just taking out his anti-Repugnant anger on this one guy.  But I've been around thousands of people, maybe tens of thousands, for days, and have only heard this one angry exchange between any two people.
How many huge political gatherings can you say that about?
.
Bizarrely and depressingly, I decided to start my day by visiting the nearby site of the Kent State massacre in 1970.
When people talk about how bad things are in our country today — at least the National Guard aren't shooting unarmed student protesters.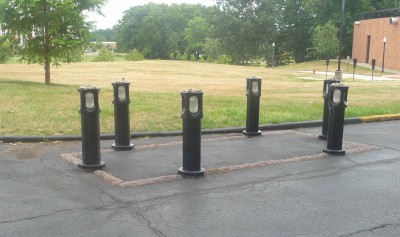 The university has done an amazing job of honoring the fallen, with the spots where each of the four died permanently marked off, and interpretive signs all over the area that walk you through each step of that terrible day, plus an entire museum dedicated to it that's spectacularly tastefully and effectively rendered.  It brought me to tears.  And I can't have been the first one — because look what they have for viewers in the film room.
And it seems like the lessons have been taken to heart.  I had a lengthy discussion with the Deputy Police Chief about all things security, and at the end when I asked if I could get a picture with him, he asked if I minded if he put his arm around me while we take it.
Which was proceeded by hanging with leading alternative / anarchist presidential candidate Vermin Supreme.
And me and my convention buddy Ken even got some quality one-on-one time with the Donald himself!
Where there had been really no protesters to speak of during the entire weekend leading into the convention — when the town was as full of delegates and reporters as it would be during the convention — by Monday all the characters and costumes were out in full color.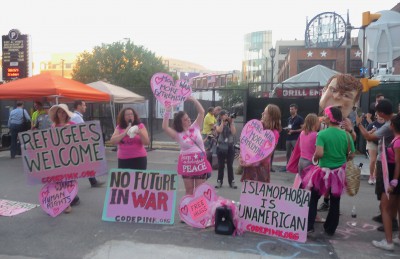 And the thing of it is — this is Prankster protesting by committed Groucho Marxists.  Abbie Hoffman would be proud.  I mean, there was even a Kesey-like psychedelic Thunder Machine.
This is not a rocks and Molotov cocktails crew — it's more your flowers in the ends of gun barrels.  And comical condoms.
The convention and city have become a giant art show with installations all over town — both official —
and un —
There are characters . . . 
and clowns . . . 
The real (insane) Roger Stone, backed by the real intrepid "Roger, stoned."
I mean, at times I couldn't tell if I was hanging with Pranksters or protesters.
Or exactly whose convention I was attending.
At one point I said, "I think there's more Democrats in this town than Republicans."
Ken, Panther, Freedom, and your friendly Beat peacenik
But for sure there were the best political reporters and minds in the country — including the great John Stanton who knows more about the details and machinations of American politics than I'll ever master in a dozen lifetimes.  This guy is such a hero of mine — and I'm so glad I got to tell him so!
And besides us writers on hand, the whole scene is being captured and broadcast live to the world on things like this $100,000 steadicam.
But of course nothing says "democracy" like miles of steel fences . . .
and platoons of cops with cameras on their heads!
As our two friendly Beat reporters on the beat capture the corner table at the corner bar at the key corner in all of Cleveland — 4th & Prospect — ending the night like the Fourth of July with fireworks, calliopes and clowns.
More as it develops. 😉
.
Update:  You can read the next installment here.
.
===============================
You can read this and 50 other Political Adventure Tales like it in my 2020 book Blissfully Ravaged in Democracy — Adventures in Politics — 1980–2020.
Here's Part 1 of this story covering the two days leading into the convention.
Here's where you can read about more Adventures like this — in my book "The Hitchhiker's Guide to Jack Kerouac"
Or here's what some people have been saying about it.
Or here's the Adventure Tale of a Bernie Sanders rally in Indiana including shaking his hand and looking into his eyes at the end.
Or here's how I first got involved in politics.
Or here's an account of the most jubilant night in the history of New York — check the Election Night 2008 Adventure. 
Or here's the most excellent real-time Adventures at Obama's Inauguration.
Or here's my story from Clinton's first Inauguration.
Or for how Woodstock promoter Michael Lang used my reports in his book — check out how Obama's Inauguration was like Woodstock.
Or for the kind of creations that got us across the historic finish line — check out my poem and video for Where Wayward Jekylls Hyde.
Or for an on-the-campaign-trail adventure — check out the physical altercation I was in the middle of with Al Franken at a Howard Dean rally in '04.
Or here's my 2012 election predictions.
… or the 2008 projections — in both, I'm over 98% correct.  😉
===============================
Brian Hassett  —  karmacoupon@gmail.com   —  BrianHassett.com
Or here's my Facebook account if you want to also follow things there —