Not Fade Away — Birthday Adventure 2014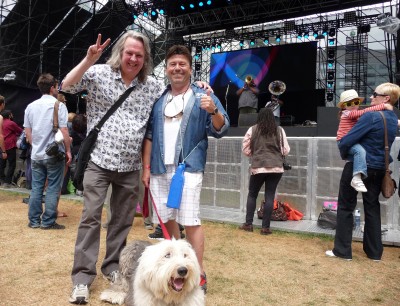 The start of the Adventure.
Just home from the 5-show birthday blow-out!  Sheesh!  Started with New Orleans' Soul Rebels outdoors in a park with my New Orleans Soul Brother Ross Perlmutter.  The funky brass-n-drums combo were joined for some songs by Toronto's own frontline horndogs The Heavyweights, creating a new 11-piece band called The Soulweights, or maybe The Heavy Rebels. But whatever it was, it was a living incarnation of the collaborative jazz that's makes New Orleans the birthplace of music as we know it.
The show's part of this massive luminous 2-week Toronto arts festival called Luminato with thousands of artists from all over the world putting on theater, film, photography, readings, magic, dance, installations, interview talks, improv street theater, and of course — music!
And as part of the park concert scene, this Cuban collective called Los Carpinteros (art carpenters) created the illusion of a beach with deck chairs, beach umbrellas, cabanas, and even a lifeguard tower — all made out of cardboard!  You could lounge on the beach chairs or climb up in the guard towers of this temporary installation … but all made from recyclable paper products!
Ross and I groove post-show on the picnic tables in the enormous outdoor bar with some frosty Canadian microbreweries for company as we're sharing crazy tales of mother Nawlins.  After I walk him to his car to end Part One of the day, I head back to the park and sure enough Ziggy Marley's doing his soundcheck for the evening show!  I smooth-talk a security guard that I'm an out-of-town promoter and wanna scout the site, and he lets me in!  And there's the son-of-a-Bob and his enormous band that just won the Grammy for Best Reggae Album for his "In Concert" live disk last year, and he's rockin' steady with the real roots including a couple joyous run-throughs of his Dad's inspirational incantation "Lively Up Yourself."
Then it was a mad dash up to Bloor Street to hit my favorite little bookstores, where I walked away with a cool Evergreen Review collection with Kerouac and all the boys in it, and the Jann Wenner oral biography of the mighty doctor, Hunter S.  Then it was a synchronistic sojourn back to the site of my 50th b'day, The Cadillac Lounge on Queen Street West, to meet up with the next round of loogans, Damo, Greg, Peanut and the boys, who were all caught up in a New Year's Eve-like party of screaming World Cup "football" fans from a half-a-dozen face-painted countries in this multi-cultural metropolis, guzzling beer using pitchers as glasses!
With a Herculean effort, I finally pour my bloods out of the sports stream, and we toss Damo's bike in the back of the Blue Bomber, put Dr. John's "Locked Down" on the jukebox, and bolted off to the next big park party scene — with a Led Zeppelin cover band!  Of course just as we're walking in they begin the ultra-trippy "Dazed and Confused" which they proceeded to play for about the next week.  Then in keeping with the New Orleans theme, they noticed we were there and broke into "When The Levee Breaks" which I thought was quite nice of them.
From there it was a bolt over to the main course of the day's feast — a Jerry Garcia Band in a funky old neighborhood pub, the Linsmore Tavern, that's been hanging there on the same corner wonderfully unchanged since the 1930s. Fulla Deadheads — in a place you wanna go where everybody knows the game.  And they're already playin', both band and audience, in that magic unspoken collaboration between listeners and musicians that we all know and live — playing in combo and rising with the tide of the vibes.
.
It was Mark Thackway's band, and of course I ended up hanging with him and the Merl Saunders/Melvin Seals keyboard player, Wayne "Shakey" Dagenais. Although you'd never know it, it was actually these two veteran's first public performance together — a new musical adventure for both them and the audience.  And work it did!
They played three sets and all the songs you'd wanna hear … That's What Love Will Make You Do, Sittin' Here In Limbo, They Love Each Other, How Sweet It Is,  After Midnight with an Eleanor Rigby woven in the middle, Sugaree, The Weight, Deal . . .
But it was really this one Moment that brought it all together:
In this perfectly small bar, the quartet was perfectly replicating the small bar the Garcia Band was born and raised — the Keystone in Berzerkeley, California.  With the band set up by the front windows and the tables and chairs cleared away all around the stage and corner door, the dancing music energy was at its vibrating peak at the very threshold where you stepped into the room.
And that's right where this Magic Moment occurred numerous times . . .
As the musically motivated would arrive mid-set, when they pushed open the old inner smoke-windowed door they were already sporting a grin from ears to cheeks, and their face was beaming like an incoming stage light, as they gratefully, gracefully, dancefully floated into the improvised scene — not looking for a seat, not ordering a drink (till the set was over) — but falling seamlessly into the rhythm groove and group move, strangers dancing with strangers, just to shake their body, rub-a-dub dubbed, and the hugs were free.
And speaking of hugs, Magic Moment #2 happened right in the middle of this mayhem as some girl I'd been sorta dancin with n stuff overhears somebody wishing me Happy Birthday, and goes, "Oh — it's your birthday!"  Big smiles.  "Well, what kind of a drink do you want, birthday boy?"
"Well, aw geez I don't know …" cuz see, I don't really drink the hard stuff anymore.  But she's quite persistent, she is.
"You gotta have something special.  I'm buying.  It's your birthday …" And finally I come up with my old go-to — tequila & orange.  And she squeals in delight and jumps me with a hug and kisses me on the cheek!
"I LOVE it!" she says, and heads to the bar, and all of a sudden I'm headin for trouble.
And, ya know … we start dancing side-by-side arm-in-arm, swayin' in the groove and talking in the downtimes, and she's very soft and bright-eyed, and it's definitely The Old Flirty Bar Fling Routine.  But to be perfectly honest I'm still in love with all the girls I've ever been in love with, and all my memories of intimacy are fairy-tale idyllic.  And in this moment in this bar on this reflective day, I just didn't want to mix some new bleary beery images with the tender magic I've lived. Not to mention mixing bodily fluids with a complete stranger.  I believe it's written somewhere — When A Girl Buys You Drinks On Your Birthday, You're Supposed To Go Home With Her.  But then … see … I've never been much of a rule follower.
.
And THEN right when this is not going down … The Giant Downer Happens — where my ever-present everything-in-it over-the-shoulder bag was stolen! What an insane birthday bring-me-down!  I'm talkin to some other vivacious girl post-show and go to grab something out of it — and … it's gone.  I mean — gone gone.  Nowhere.  Definitely.  A bunch of people start looking around for it, so I bolt out the door to see if maybe I'd see somebody leaving with it or find it ditched somewhere or something … but of course … not.
My camera. Cell phone. Notebook. Car keys!!!  What?!  I'm totally fucked.  It's totally gone.  I'm shaking, white as a ghost.  I tell my bloods Damo and Greg while the blood is draining from my face … lost and gut-punched, in a trembling trance.  Then at some point I turn around blankly and hear some guy say, "Did you lose a bag?" …  And he's wearing it!  The guy was so dazed and confused by the end of three sets of Jerry, he walked out and started heading home with my bag instead of his own!!  Oh my Lord!  I had it back!  Cashin' in a buncha karma coupons right there!  Had to have a whole sit-down chill-down after THAT!
.
And THEN as a final evening musical encore — out on the sidewalk along the Danforth at 2-something in the morning, some brother strapped on an acoustic and began singing us all onto the road and into our night with "On The Road Again," which I always thought harmonized so beautifully with my brother Jack's most famous motif. 😉
And THEN he breaks into one of my handful of favorite songs ever written!  "Not Fade Away" by the immortal Buddy Holly, which became a climactic singalong anthem in the Dead's repertoire for their whole 30-year run.  And not only is it a personal favorite, but it's also the song where I appear in the movie of their Radio City shows, Dead Ahead!  And there we all were, singing like buskers without a case on the street-corner of eternity.
And that's the name of that tune.
"Love for real, not fade away."
A smoky night in The Big Smoke.
(miraculous photo and tale exactly as happened)
===========================================
For more Grateful Dead birthday adventures, check out "The Grateful Dead Played My 30th Birthday"
or here's where Furthur brought the magic back to Madison Square Garden
or here's arriving at a Grateful Dead show at Red Rocks in 1982.
or here's the story of The Pranksters invading Woodstock
or here's a feature story I wrote for Relix Magazine about Jerry & the Boys on the Festival Express train trip across Canada
or here's the Toronto Dr. John adventure from last year
or there's the Johnny Clegg adventure from a couple months ago
or the Paul Simon in Hyde Park adventure
or here's some riffs from a recent New Orleans Jazz Fest
or here's a fantastic collection of the best live music performances I reviewed for RockPeaks
or here's something on a decision I made — as did a lot of other cool people — to not have kids.
=========================================
by Brian Hassett      karmacoupon@gmail.com        BrianHassett.com