An excerpt from 
"The Hitchhiker's Guide to Jack Kerouac"
The Adventure of the Boulder '82 On The Road Conference —
Finding Kerouac, Kesey and The Grateful Dead
Alive & Rockin' in the Rockies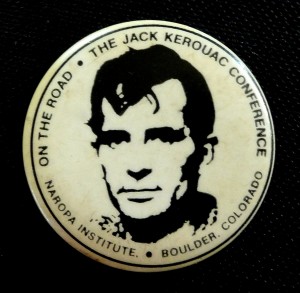 I guess I haven't mentioned who all was here yet . . . 
This was the biggest gathering of Beats and their various spiritual progeny ever assembled in one place — before or since:
Allen Ginsberg (and his brother Eugene), Jane Faigao, the tai chi instructor at Naropa who was the main make-it-happen organizing producer following Allen's lead, William Burroughs, John Clellon Holmes, Gregory Corso (and his daughter Miranda), Lawrence Ferlinghetti, Michael McClure, Carolyn Cassady, Jan Kerouac, Edie Kerouac, Herbert Huncke, Robert Creeley, Robert Frank, Robert LaVigne, Diane di Prima, David Amram, Peter Orlovsky, Carl Solomon, Ray Bremser, Joanna McClure, Joanne Kyger, Joyce Johnson, Anne Waldman, Ted Berrigan, Al Aronowitz, Jack Micheline, Andy Clausen (and his son Jesse), Larry Fagin, Michael Brownstein, John Steinbeck Jr., early Kerouac biographer Charles Jarvis's son Paul, who was I think the only person from Lowell to make it, Maria Livornese, Jeff Nightbyrd, David Cope, Randy Roark, Jay McHale, Kush, the funny-cool Naropan Judy Lief who some people said the conference was her idea, Bill McKeever, Todd Colby, Patricia Donegan, Eliot Katz, Dan Shot, Joan Dobbie up at the Chautauqua lodge . . . 
As well as the leaders of the generation that followed, Kens Kesey & Babbs, Abbie Hoffman and his "running mate" Johanna Lawrenson, Timothy Leary, Paul Krassner, Pranksters George Walker and Jane Burton . . .
And then loads of scholars like Ann & Sam Charters, Lawrence Lee, Dennis McNally, John Tytell & Mellon, Gerry Nicosia, Joy Walsh, Tom Clark, Tim Hunt, Clark Coolidge, Jay & Fran Landesman the ex-pats who flew back from England, Nanda Pivano from Italy, Arthur & Kit Knight as you know by now, organizer Jane Fiagao's husband Bataan, Henry Allen, Regina Weinreich, Ronna Johnson, Albert Huerta, Warren Tallman who's the only other person I know of to come from Canada, Jaap Van Der Bent from Holland, James Grauerholz, Jose Arguelles, Dan Barth, Sam Kashner, Henry MacWilliams, environmental activist Peter Warshall, radio alchemist Len Barron . . .
And a bunch of the Denver crew, probably the #3 city in Beat history after New York & S.F., including Justin Brierly (the catalytic source of the Denver – Columbia connection, and who sounded exactly like Walter Cronkite when he talked), journalist Ivan Goldman, Ed "Sketching" White and Jim "Poolshark" Holmes, as well as a crew from the Denver Union of Street Poets including Les Reed, Padraic Cooper and Carolyn Reed . . .
Plus the actors Paul Gleason (The Breakfast Club, Trading Places) who hung with Kerouac in Florida in the early '60s and decided to become an actor only after seeing Splendor In The Grass with Jack in a theater, and longtime Beat Max Gail (Barney Miller's Wojo, and Chief Bromden in various productions of One Flew Over The Cuckoo's Nest), invisible but ever-present photographer Chris Felver, and lots of filmmakers besides Robert Frank, like Janet Forman, John Antonelli, Richard Lerner & Lewis MacAdams, and Doug & Judi Sharples running around capturing it all, and Jerry Aronson who came up with his concept for The Life and Times of Allen Ginsberg at the conference.
Oh and a little rock group you may have heard of, The Grateful Dead, were playing just down the road at Red Rocks for three nights, and roving ambassadors like John Perry Barlow and Mountain Girl were scouting Camp Kerouac and asking questions of the masters just like all the other students.
It was every major Beat figure alive at the time, except Gary Snyder who was officially off building a zendo (a Buddhist meditation hall) in California, but history tells us he's long avoided these attention-getting Beatnik gatherings, and interviews reveal he never saw Jack again after their Dharma adventure ended in May of '56. But with his regrets he sent a nice letter to Allen saying, "Jack Kerouac was the wandering scholar troubador storyteller youngest son of the Jack tales in us all. … The voice of the water going over the edge of the waterfall itself."
And the other thing to remember is — they were all so fuckin' young then. But look who's talkin'! Other than 30 year old Jan, the youngest of them was still more than twice my age!! Babbs & Tytell were 43, Abbie & Ann Charters 45, Kesey & Joyce Johnson 47, McClure 49, Gregory 52, Allen 56 … not that many of this crowd would ever live long enough to be doddering old folks, but they were what we now know of as in their mid-life prime.  And while they weren't necessarily producing their early ground-breaking poetry and prose, they had adopted the Cassady and then Kesey concept that your life is your art. They were, to a man and a woman, better people than they were in their explosive youth. Better performers, better teachers, better organizers, better tempered, better conveyors of their inner vision. And at this event, thanks to the Bill Graham of the Beats, Allen Ginsberg, they were collectively staging the biggest Woodstock of Jack since he first played the Cavern in '57.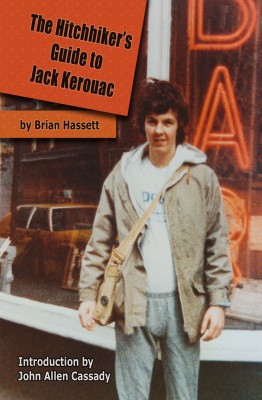 .
= = = = = = = = = = = = = = = = = = = = = = = = = = = = = = = = = = =
You can order a copy of the book from CreateSpace here 
. . . or Amazon here.
 ==============================================
Or here's a bunch of videos of performances from the book with all different line-ups of musicians.
Or here's a bunch of readers' reactions.
Or here's a bunch more rave reactions that came in from all over the world.
For more on the Boulder Beat Book — check out Meeting your Heroes 101

Or here's another part from the book describing Jack's first wife Edie and one of his oldest friends Henri Cru.
Or here's the part where we arrive at Red Rocks for the Grateful Dead's show as part of the conference.
To read my keynote essay from "The Rolling Stone Book of The Beats" on the decade that birthed the Beats — go here.
Or also from "The Rolling Stone Book of The Beats" — here's my riff on The Power of The Collective.
For a vivid account of being at the historic "On The Road" scroll auction — check out The Scroll Auction.
For a story about the London "On The Road" premiere at Somerset House — check out this sex & drugs & jazz.
For a great story of the world premiere of the new shorter final version of "On The Road" — check out this Meeting Walter Salles Adventure!
For a complete overview of all the Kerouac / Beat film dramatizations including clips and reviews — check out the Beat Movie Guide.
For an inspiring and colorful description of being at a Beat jazz-&-poetry reading in Greenwich Village — check out Be The Invincible Spirit You Are.
For a story about Henri Cru's birthday — check out The Legend Turns 70.
For a beautiful poem to Carolyn Cassady on her birthday — check out the Carolyn Cassady Birthday Poem.
For an account of the historic Beat show at the Whitney Museum in New York — check out Wailin' at the Whitney.
For prints you can purchase of the best photos taken at this Super-Summit — check out the Lance Gurwell Collection.
= = = = = = = = = = = = = = = = = = = = = = = = = = = = = = = = = = =
by Brian Hassett
karmacoupon@gmail.com