On The Road to On The Road
Sex, Drugs & Jazz
A very abnormal thing happens — it's post-movies Wednesday night (August 15th) when Carolyn & I normally part ways for our own offices and computers, but by fortune we met up in the kitchen and started talkin about the movie premiere tomorrow night, and I'm tellin her how I'm all excited about being in this palace with 2,000 Jack people, but it's sold out, and press is totally allotted for, and I'm telling her my elaborate plans for sneaking in, or scoring a ticket out front, but that I have to be there, and suddenly she's, "Well, I should write you a letter to get in. I wanna know what you think of it."
And I'm like, "Yeah."
And she's like, "Okay, I'll do it now," and I hand her a pad & pencil and she writes out a late-night plea for me to get into this thing as her eyes & ears since she can't make it.
And then, by the time I get up in the morning, she's handwritten a whole new killer "letter of introduction" for me to carry with as the revised Plan A!
So I go in to London.  But problem is:  the last train back out tonight is 11:38PM — about the time the movie's ending.  This is gonna be dicey.  So, I time myself from the station.  It's 2:10PM at the Waterloo train platforms . . .  and 2:17 when I'm at the doors to Somerset House — the palace where the film is to screen in the outdoor courtyard.  7 minutes walking.
I do a thorough pre-scout for getting-in plans B thru D, but have to remember it's Plan A that must work and solve all.  So I go to reception thinkin I can get somebody from the film fest to come down and between the letter and me, convince 'em to let me in.  But reception says, No Go.  You gotta take any delivery to the messenger center, which is outside, down around the corner, down a dark dingy alley that hasn't been cleaned since before the war, and it's spooky old New York.  And I get to the end of the dark tunnel where my letter's goin nowhere, but then I bump into the messenger crew.  And all my life, including at MTV, I could groove and work with the top executives and have all the mailroom guys who love me too.  And so Boom — I'm back in Mailroomville, and groovin with the cats, and we're talkin New York and New Orleans, and Assam is right into helping me, and brings me two different envelopes to choose from to put my loose letter in, and says he'll take it right up.
I walk outta the dark tunnel back into the glorious sun over the Thames with the breeze and river air and head back to reception where I said I'd wait, and get up there and I know there's gonna be nothing happening for gawd nose how long, so I go out on the terrace over the airy river, and no sooner am I out there than I see Assam again!  And he's already dropped it off and says they'll come find me in reception.  "Okay!"  So I go back in, plop myself down in a comfy, pull out my Bible — the scroll version — and am just gawkin' around when I see a smiling face seem to pick me out of the crowd.  "Are you Brian?" she asks as I notice she doesn't have a ticket in her hand.
"Hi," I stand up.
"We'd love you to come tonight," she says in the cutest English accent I ever did hear!
And I walk outta there at 3:10, an hour after I landed, with my name on the guest list.
😉
So the next problem to solve is the departure — and having beers for the post-movie writing thinking train ride home.  I wanna be (close to) straight for the movie, but afterwards I wanna celebrate.  And I check every store on the block and of course in this godforsaken regressive country you can't even buy beers to go after 11.  So, whaddya do?
Me, I go back into the venue and start talkin up the cool bar manager at the only bar inside as they're setting up. I explain my situation.  She's sympathetic.  And I'm like, "Kay, what if I paid you for two beers now — cuz I know you'll be closed at T minus D-hour — and you keep 'em on ice, and I'll grab them as I'm running out the door for my last-train-outta-Dodge."  And she winks, and says, "Cool."
Done.
Next:  Make the scene.  This is a one-time-only gig.  In a big cobblestone courtyard.  Oh yeah, so I buy one of the padded blankets they sell there, which turned out to be a total savior turning the ancient London cobblestones into a soft field.  And I start talkin to all these girls.  And this is the whole bloody point.  There's TONS of 'em!  I mean, mostly girls.  I mean, way mostly girls.  Like, at the start of the line goin in, there was maybe 5 dudes in the first 40 people.  !!  The total opposite of what we've always thought to be the Beat audience.
And I'm talkin to them and a bunch of them say "On The Road" is their favorite book!  Huh?!  Crazy, man.
And funny — Kerouac and Keith — you'd see these globetrotting hipsters coming through the portico into the courtyard and a very easy smiling question was, "You here for 'On The Road' or the Stones?"  whose 50th year photo retrospective is also in the same palace at the same time.  The Rock n The Road.  Sympathy For The Dharma. 19th Nervous Beatnik.
After first scouting the empty yard for where I wanted to experience it from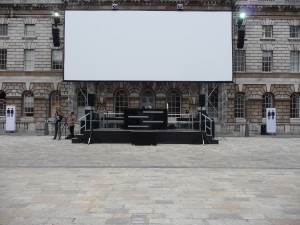 — dead center, really close — I meet up with this girl I'd met literally last night on Facebook, and we're yakin, and she's near the front of the now really long line — in fact there were two really long lines "queuing" to get in.
I now know the security search routine — so I pick the fastest guy and the shortest line, and Boom suddenly I'm one of the first people in the naked courtyard, and just Zoom myself right to exact Dead center.  And then all the girls catch up and I end up in the middle of this crew of 12 of them!  and everything's rollin right along.
And so we're rappin the universe, and how they love the adventure of Jack's books, and the language it's written in, and the openness, and the road adventures — and not only is this crew from all over but they travel all over!
And we're yakkin an' jammin an' yiffin an' yeah-manin, and the whole time over the crystal PA they're playing this great '40s & '50s jazz for the two hour party before the movie, and then — "Oh — there's Al Hinkle!"  Or at least the guy who plays him in the film.  He's no big movie star, and he's not in it or the book that much, well he is, but he's not that vocal, but he's totally THERE, and pretty much the only other guy on the bus.  And Carolyn remained really close friends with the Hinkles throughout the decades & madness they all lived through and I've recently gained a lot of respect for survivor Al — the only major character in On The Road besides Carolyn who's still alive.
So I walk up to the actor — "Al Hinkle!  I know you!"  And he starts beamin' while processing "Not only does this guy recognize me, and not only as the part, but as the guy behind the part."  And we're talking about him meeting Al at the wrap party in S.F. and what a nice and still cogent guy he is, and how he taught the cast how to do the benzedrine inhalers, which they got first-hand-right in the movie, and of course we snap a snap in the crazy courtyard of some King of Somerset or whoever this palace was built for.
Oh, and before the screening a few of the actors came out for a little interview segment, and Al / Ed Dunkel, actually Danny Morgan, said, "I don't really know why I'm here, I'm barely in the movie.  I actually only did the catering on this."  🙂  Then the host says, "Well, when Danny comes on screen we should give him a big round of applause."  Then the movie starts and everyone gets sucked right in, but about a half-hour later when Al / Ed / Danny gets his first scene a whole bunch of us remember and this silly applause breaks out all over the courtyard.  🙂
And, man, here's the crazy part — we're seeing On The Road … at a drive-in movie screen!!
Except there's no cars, it's blankets instead.  But we're outside with this giant screen and the breeze is blowin and people are munchin on munchies and they've brought in any manner of pillows and bedding and picnics and boxed wine, and there's gay encampments, and loving hetro couples on pillows, and passels of girls like this is some chick flick.
And speaking of that — Kristen Stewart definitely wins the Most Improved Character From The Novel Award.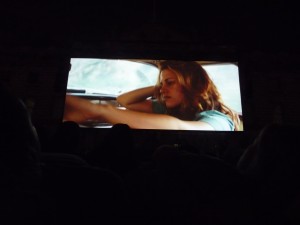 Okay, so here's the thing about the movie:
"On The Road" is only the skeleton this film is fleshed out around.  It is not simply the novel made into a movie.  Director Walter Salles and screenwriter Jose Rivera WAY expanded it.  For starters, they used The Scroll, not the '57 edition as the working blueprint.  And then all sorts of little touches were added from Neal, Jack & Allen's letters, Carolyn's book, the two different LuAnne interviews, "The Town And The City," Jack's audio recordings and articles and notebooks, Allen's "Denver Doldrums," "Dakar Doldrums," and the "Martyrdom and Artifice" journals, John Clellon Holmes' "Go," and Gifford & Lee's "Jack's Book" — all noticed specifically.  In other words, there's a lot of stuff that's not in the novel.  But it's all based on first-hand accounts, not solely Jack's account as told in that one book, scroll or not.
And it also does not tell the novel chronologically.  It jumps around — not in a bad way, cuz it's all part of The Grand Duluoz Legend, and it's all different refractions of the same light — but it's not the novel On The Road as a linear film.  It's an interpretation based strongly ON that novel, but it's not a literal filming of the storyline.  It's a work of art, its own work of art, a new work of art based on an old work of art.
There's lots of cool things about it.  I don't want to "spoil" it for you, but many of the specific scenes in the novel that always stood out for me are in the film.  And since it's so non-linear, you don't know what's coming next.  And it's, "Oh wow!  It's this scene!  No way!"  It's so funny-cool that way.  Something that Jack might spend a couple paragraphs on in a 300-page novel could be 3 minutes of the 137 minute movie.  And things he might cover over 20 pages aren't included at all.  It's kind of a series of choice scenes portrayed.
And the cameos by Terrence Howard and Steve Buscemi are to die for!  That two of my favorite actors are in this in such weird and wonderful ways is just great.
And Viggo as Bill Burroughs!  Holy shit.  Maybe the best part of the film.
And the music is GREAT.  Yer gonna love it if ya love it.
There's some problems, big and small, but I'm not gonna mention 'em cuz maybe you won't even notice 'em.  It's its own work of art, its own statement, its own piece.  It's new and different and will stand (or fall) on its own.  But the movie of "On The Road" now exists.  And here it is.  It's more large than small.  It's more new than old.  It's more timeless than dated.
How this is gonna play for other people will be interesting to see.  But here's a wild example  . . .
So, I gotta leave — it's this whole trip.  I time it out during the pre-movie layabout.  Gotta be on the Strand by 11:30 to get a cab to the 11:38 last-train-outta-Waterloo.  I need 5 minutes to find the bar manager and grab those road jars.  It's gonna take 5 minutes to get from where I am in dead-center of Woodstock to that bar.  Plus a 5 minute buffer.  No matter what's happening in the movie — I gotta move at 11:15.
So, I execute the exit — and my girl's in her closed bar with my two giant beers on ice like champaign.  And I see the great final shot from the tunnel leading to the street while walking backwards, then turn around and run out onto the Strand but it's late night Nowheresville in London and there's no freakin cabs!  Then I spot one but he cuts down a different split in the road, so I run across the street to where he's heading and there's this moped thing they all ride here right in front of me and with my left hand I'm circle-waving him to keep going past while my right hand is stretched out back flagging the cab.  Perfect execution.  In the door.  "Waterloo Station."
I'm thinkin I'm making good time, get to the steps under that great statue still thinkin I'm doin' good, but look at watch and it's 11:36!  Bolt up the stairs nearest the platform the train always leaves from but for some reason tonight it's at the other end of the freakin station!  So I jog the entire length of Waterloo Station through the crowds, then fly through the gate, flash-confirming I'm getting on the right train.
You come in at the back of the train and of course all the seats are full, so I'm speed-walkin past it and luckily look up ahead and see Neal the brakeman starting to wave his flag and flash his flashlight just before he blows his whistle, and I go, "Shit," and jump on, and before I'm out of the doorway the doors close!  5 seconds to spare!  10 if ya count that first door I walked past.  Yet another close last-train exit execution!
And of course there's no seats!  Like, why don't you run another frickin train after this one?  Their economy sucks, and they force everybody to close up shop at 11:00!  I don't get it.  Like, how old are children who have to be in bed by 11?  Does this country not think adults live here?
So, I walk through the entire train … all the way to the end of the very front car to find the very last seat.  Sit down, all crazy.  I'm five minutes out of the movie, five seconds from missing the last train, and I've got an hour to write, and two cold ones to drink.  Perfect.  I'm write into it.  Then after a few stops the nice woman next to me starts pickin up her stuff to get off, so I break from my reverie and say, "Were you in at something good in London tonight?"
And the woman goes, "Oh, I was just at this outdoor film that went on and on."
:-0
Thousands of passengers leaving on hundreds of trains and I sit beside someone who was at the premiere!!  "Wait a minute — were you at Somerset House?!  So was I!"  And we have a little "how funny!" as she's standing up to get off  — but the point is, she didn't say, "I was just at this great movie."
There's gonna be the Beat world's reaction, and then the non-Beat world's.  Beat people in general are gonna like it — cuz it's On The Road and so much more — with a well portrayed Allen and Bill as well as Neal & Jack.  People who have only read the one book and have it emblazoned in their brains may have trouble with how it's been expanded, or edited by the limitations of the medium.  I have no idea how non-Beat-familiar people will respond.  Not a clue.  I think if you were predisposed this way, you'd already be there.
Oh, and there's a whole lotta sex in it.  The things that are said and the things that are shown, for The Puritanical American Rating System, this is gonna be an "R" fer sure.  I mean, there's hand-jobs, oral, gay, straight, three-ways, you name it — and f-bombs, which actually were not in the casual vernacular of the time the way they're used in this film, and certainly not in the novel.  This is definitely an adult movie.  Which, if you know your On The Road, was a very G-rated book, other than the subject —  the sex is all off-page, and the language is clean.  The movie — not so much.
I look forward to experiencing this many more times, under many different circumstances, in many different mindframes, with many different people, and how it'll continue to reveal new colors and angles with each new Road adventure.  It's a memorable, expansive dramatization.  It's a helluva party condensed into 2 hours.  It's a road trip with old friends to familiar places.  But you better leave the book at home and be ready for anything.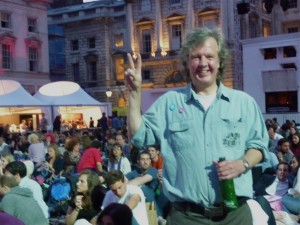 by
Brian Hassett      karmacoupon@gmail.com      BrianHassett.com
==================================================
For a great story of the world premiere of the new shorter final version of "On The Road" — check out this Meeting Walter Salles Adventure!
For the New York City premiere and afterparty Adventure — go here.
For an excerpt from my book about the '82 Kerouac Conference in Boulder — check out Meeting Your Heroes.
For more from the Boulder Beat Book — check out Who All Was There.
For a vivid account of being at the historic "On The Road" scroll auction — check out The Scroll Auction.
For my keynote essay from "The Rolling Stone Book of The Beats" on the decade that birthed the Beats — go here.
Or also from "The Rolling Stone Book of The Beats" — here's my riff on The Power of The Collective.
For a complete overview of all the Kerouac / Beat film dramatizations including clips and reviews — check out the Beat Movie Guide.
For a story about Henri Cru's birthday — check out The Legend Turns 70.
For a beautiful poem to Carolyn Cassady on her birthday — check out the Carolyn Cassady Birthday Poem.
For an inspiring description of being at a Beat jazz-&-poetry reading in Greenwich Village — check out Be The Invincible Spirit You Are.
For an account of the historic Beat show at the Whitney Museum in New York — check out Wailin' at the Whitney.
For a linked list to over 500 of the greatest movies ever made — check out The Hot Movie List.
==================================================
Or here I am telling the above story in an Adventure Tale interview to French filmmaker Noemie Sornet …
and part 2 . . . that also goes into the Toronto premiere adventure . . .