The Glorious Gumbo that is New Orleans
.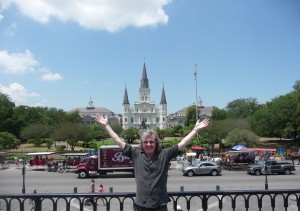 Every big city in the world has a jazz festival — but when someone says "Jazz Fest," unless otherwise qualified, they're referring to The New Orleans Jazz & Heritage Festival that's been running every year since 1970, including the year after k.  And btw, New Orleanians don't utter the name of that storm, much like John Lennon fans will never mention the disease that killed him.  There's a lot of funky customs in this gumbo of a culture that the rest of us just ain't accustomed to.
I've been hearing about Jazz Fest ever since I first came to America in 1980 — always longingly, envious of those who went and returned with stories of a modern Woodstock set in an ancient world to the melodies and endless flavors of jazz.
For the first time, the path is cleared for me to go, and I'm goin'!
When I first opened the NOLA Jazz Fest website with the endless list of acts appearing this year — the first name that jumped right out at me from the blurry haze was gospel singer YOLANDA ADAMS — seemingly in all-caps even though it really wasn't.  This is the musical artist I've most wanted to experience live in the world — and she pretty much never does live concerts in non-religious settings.
And the second name that jumped right out was ESPERANZA SPALDING — the young jazz prodigy who's actually touring everywhere this summer, but I've never seen her — and the whole idea of seeing these artists in the musical city they most admire is the lagniappe, as they call an extra special gift down in Nawlins.
So, this is the beginning of the journey to see Yolanda, and Espe, and Springsteen, and Petty, and Dr. John in his hometown, and the new local voice of Trombone Shorty, and the pedal steel rock of Robert Randolph, and The Beach Boys with Brian Wilson, and all the various Neville Brothers, and Herbie Hancock at sunrise in Congo Square, and dozens of geniuses whose names and sounds I'm only getting to know.
I'll lay down here what I can get down as it goes down down there.  But it's all Up from here.
——————-
Waking up in Canada — it's 2 degrees.
Going to sleep in New Orleans — it's 72 degrees,
of separation
from Neil Young's high school,
to Louis Armstrong's Airport.
In the jingle-jangle morning I come rollin into Nazareth
Feeling like some half-past Dead
playing on the day stages and the night clubs.
Sorry New York — but you got Giuliani-ized and capitalized and poke-in-the-eyes blind;
This is the Real City that never sleeps.
I don't know where my home is
I'm like a Bird
And I'll fly away — to where my soul is.
————————————————-
I get to Atlanta – go to use laptop – it's totally virus infected – dead, useless. "Oh no, I really wanted to do some writing on this trip."
Get to NOLA, research only Apple store in town – gonna screw my whole day and gawd knows how long to fix.
I think in the AM — maybe should just try again.
And Lo, the magic of Nawlins!! Homeboy's working like a lucky charm!
Imagine, John.
I am now a disciple of this India House Hostel – coolest place I've seen since Amsterdam. It's like somebody was on acid for a month painting this place. Huge crazy party with Aussies, Vancouverites, Oregonians. I'm home.
The address of the house I grew up in in Winnipeg — 112 Queenston.
The address of the house I'm living in in New Orleans — 112 Lopez.
It's so obvious. 😉
About midnight I go roaming nocturnal NOLA streets for some beer. Jazz joint Chickie Wah Wah (named for old Nawlins song) is done for the night, but I go in to scout the room, meet the owner, he says "Where ya from?" Apparently I said the magic woid "New York" – where he was born and raised – and we fall into the Stories of Old New York – and so he locks the front door – and me his cat and his giant dog hang till 4 AM – him playing all these choice recordings he's made over the years, tellin insider stories of many of the local musicians I'll be hearing in the next 8 daze – feeding me local Abida beer the whole time on the house – and showing me the water mark 6 feet up the wall where the flood came to.
It's hard to stand on a street in a normal neighborhood in some city like the one you're in right now and know that it was water over your head everywhere. Everywhere. Ya just can't really grasp it.
Off to meet Ambassador Asher at the Pennsylvanian Embassy and my first N.O. music night – the Honey Island Swamp Band at the gorgeous art gallery. But this whole city is an art gallery.
Will share more as the paint is applied.
But I don't think it ever really dries into a static picture here.
———————————————————————–
A Tale of Four Cities —
I wake up in this hippie hostel – coolest place in the world – for the OffBeat – those who can't afford to travel, but who can't afford not to. They're all passionate and crazy and sharing and giving and trusting and beaming and hugging.
Then I go down to the Convention Center / Big Hotel area and it's people almost scared of others, looking away rather than turning and smiling, people who are painfully aware they're not in their hometown and are clearly uncomfortable and wary.
Then I go to this fancy affair at the Ogden Museum of Art – and oh-my-gawd the contemporary art is unbelievable!!! — I'll post pics when I can. Better than a lotta stuff I've seen at MOMA & such. But besides that and the Honey Island Swamp Trio crowd there's all these New Orleans blueblood museum members — the cufflinked manicured pretty men, and the dimpled mannequin-pretty blonds with their cherry-sized rings.
And then running through it all are the happy faced black people who all look about 20 years younger than I think they really are. Their city was wiped out and their government did nothing to help prepare for or fix the disaster and these locals who lost everything or their family members did are just raging with joy rather than bitterness. I don't get it. If that happened to my city I would not be accountable for my actions I'd be so insanely mad.
So . . . there's these four wildly disparate groups and significant percentages of the populous of New Orleans at any given moment.
And I've been dancing in all four circles and haven't even been here 24 hours yet.
B.A. Neville
—————————————————————
Meet friendly old white-haired black man, with many a tooth that has long since been liberated, and we're talkin 'bout the flood and how he coped, and how so many areas were bone dry and others had water to their rooftops.
And then we get around to music and I figured he must have seen the original Meters, and he goes, "Have I seen The Meters? The Meters played ma high school dances. They were *our* band. I grew *up* with The Meters,"
and you can see him drifting off to that romantic idyllic land of childhood with Art Neville n the boys at his school gymnasium, and I'm getting goosebumps just listening to him, and I look down at my forearm and they're all the way from my wrist to my elbow as I'm listening to his warm time-traveling reverie, so I hold my arm up and say, "Look at this," to show him how I'm truly feeling his story.
He looks at my arm and goes, "Yeah, mm-hmm. Well, look at me."
And he holds up his brown arm next to my beige one — and we've both got raging dueling goosebump arms in the hot New Orleans sun.
———————————————————-
First day at Fest — and it was "Fun Fun Fun"
I intentionally and beautifully opened my Jazz Fest with the perfect choice from the 12 stages — the New Orleans Classic Revue with all these old original cats playing all the traditional famous songs of the city. Into James Andrews — Shorty's brother doing this insane jazz set, walking the band thru the crowds and everyone second-lining.
Into The Dixie Cups including Iko Iko and everyone waving hankies in the air.
Into African Seun Kuti (Fela's son) doing this wild happy dancing African juju music.
into being 5th row center in the Blues Tent for Chuck Leavell and friends including Bonnie Bramlett doing a wild blues talking song with Chuck and a massive horn section collage of Bonerama and the N.O. Nightcrawlers.
Into Bon Iver — 9 piece multi-instrumentals — great for the kids – the ones with ears attracted to this place. 😉 The bookings are frickin brilliant.
into the climax of the Beach Boys' 15-piece band greatest hits jukebox. Singing us out of the festival grounds with it's "Fun Fun Fun" in the sun.  And that's a big — Oh Yeah!
———————————————————-
Robert Randolph — House of Rules, New Orleans —
front of the VIP balcony, the low rail leaning over the floor, dead center, and with a personal waitress and seats — and did I mention seats? Which are rarer in this freakin town than any kinda herbs you can imagine!
An' so, RR wails, 20 chicks from the audience on stage shakin' it to "Shake, Baby Shake," general mayhem, fist pumping air, show ends, but Musical Jones still not satisfied.
And there's still sumpthin brewin' . .
Head out the door — good luck catchin a cab in a peak Friday French Quarter!
But . . . ! :-0 !
"The Republic, please," for the Grateful Dead-Little Feat members' new ensemble — and a glorious frock for the flock it is too!
Get there using last $7 on cab, but it doesn't matter cuz — there's a huge "SOLD OUT" across the box office window.
Way-bummer.
But head to the doors not givin' up —
and then
confusion in the Midnight Hours —
and when heads are turned I'm in the out door !
😉
climbing into a skyscraping Franklin's Tower, and a . . .
Dixie Chicken sailing into Tennessee Jed ! and then back to Dix-ie-land!
Who saw that comin?!
Then Papa Mali comes out and they Pigpen a 15 minute Lovelight.
and it's 3AM on the Crescent Coast.
and I've slept 12 hours since Monday.
————————————————-
Home after Day 2
Experienced:
Jon Cleary — a lot like Dr. John — meaning Great! Very New Orleans sound and soul.
into front n center for The Voice of The Wetlands All-Stars — the 9-piece all-star group with Dr. John, Cyril Neville, Anders Osborne, mighty master Johnny Vidicovich on drums, Johnny Sansome on Parker-like harp solos, some guy wailing on electric fiddle, and a washboard solo in the middle of a rock song!
into up front for Cee Lo Green doing his hit "F You" which was actually pretty darn good. I'm not fan, but there was a palpable positive groove goin' on there.
into Carolina Chocolate Drops who I loved cuz they're really instructional — explaining the music or (weird) instruments played or the song in its historical context in a very low-key way like they're playing in your living room — not non-speaking horn players or big-gesture rock stars.
into the Midnight Disturbers — this all-star ensemble that only forms once each year for JazzFest and had Galactic's Stanton Moore on drums, and the Treme Brass Band out front, and all sorts of famous horn players whose names I didn't catch.
Tom Petty had started but I go to The Gospel According to Jazz cuz besides they're great — a drop-dead be-bop sax player and George Duke but neither of them were listed on the special guests and no one was in the tent almost like it was cancelled, so I went back to join my friends at the front for Tom Petty.
And it's sardine-packed around the perimeter but I know there's space where I'm goin', and do the old weave-thru-the-openings and made it all the way back to my old Wetlands buddies front and center 20 feet from the rail with a ton or room to dance (and smoke and drink and hug and make funny faces) for the whole 2nd half of Petty's occasionally psychedelic set which included J.J. Cale's Traveling Light.
Thing I Learned — is that at every stage it is absolutely magic for the people who are there at THE place in the world they should be. People are jumping up and down losing it to the Treme Brass Band. Cee Lo Green is hosting a dance party for all his close friends. Biker-dudes are high-fiving each other at some rare song Tom Petty plays after he talks for 5 minutes about how special New Orleans is.
And 8 hours a day there's 12 of these stages manifesting magic at every one of them.
————————————————————————————————
I am completely puckin puddled.
I was front row center for every act I wanted to see today.
:-0 I'm freakin'.
Not expecting this – but the ecstatic transcendental moment happened at Springsteen, 2nd last song, "Rocky Ground" into … "When The Saints …"
I was trying to hold back from crying even during this "Rocky Ground" then just gave up trying when he went into Saints.
It's about the gifts of God – however you name the thing that is way bigger than us.
And I was maybe 10 feet back from the front rail, dead center, with tons of room to dance.
I know. It's insane. A long story – but started with meeting new old family in the same location for Tom Petty last night.
Me and this krewe were both people of our word and returned the next day. ☺
So – get totally set up with the brothers – no, one brother, and his girlfriend, and their veteran couple pals.
It's this Stanley Tucci doppelganger and just as hardcore cool as you can get – and we're locked in.
So, when I had to leave the front to go see my girl Yolanda in the middle of the day and into the start of Bruce, he was like, "That's your spot," pointing down definitively.
So, 45 minutes into Dr. John I split to hear my Savior. I audio recorded the whole thing.
oh yeah and so – Yolanda is an almost All a black audience.
I'm the only white guy in front of the stage.
And we're all Baptist testifying and A-men-ing.
And the black folks are completely grooving on me, almost leading the stand-up and dancing.
It was … amazing. Absolute dead center, five feet from rail, but nobody's even there and I actually sit in somebody's seat when I want, and she ended by insisting that everyone get up and dance – and I'd been just about the one guy doin' it from the start – it's all these gospel people in the seats they carried in with them.
Go to Bruce when she's over – the back of the track prolly two football fields from the stage – is just impassably packed.
But I do my routine all the way around the crowd to my secret side-front entrance, buy a six pack of beer n some waters, an' put em in a bag of ice, and head into the Woodstock field of Bruce heads, a half-hour into his 2½ hour show.
and weave my all the way through to my family at the front — where I could almost touch him when he came out into the audience.
And it was All Gospel. I mean, parts of it, and the way I heard his spirit-reaching songs. He was singin' about Jesus and saviors and Spirit . . .
and so … I had never been brought to tears yet in the whatever-it's-been here roller coaster … until the 2nd last song of the final night of this first weekend.
Oh – and he's gone all Nawlins – replacing Clarence with a 5-line horn section a la this city of horns.
And doing all these old classics of the city and the Spirit.
The one guy who made tears roll down my cheek.
I couldn't even see for a while.
I'm just sayin'.
[KGVID]https://brianhassett.com//wp-content/uploads/2012/04/P1000906.mov[/KGVID]
Now heading to Trombone Shorty in a club and a little dosey-do into Herbie Hancock & friends at Congo Square at sunrise.
There Is a God. And he or she lives in New Orleans.
—————————————————————–
in a dreamy North African opium den
dim lights, a starry ceiling, curved tent-like rooms and arches —
nuthin but musicians and vipers and vampires
standing beside a stage smaller than your kitchen
playing to a floor smaller than your dining room
with sax giant Karl Denson blowin large, groove giant Stanton Moore crackin drums, some new cat on the B3 right beside me pullin the levers and pumpin the keys, and some BB King kinda guy sittin on the side rippin oldtime guitar
as the song evolves and peaks —
and then the tide goes out and it gets lowdown but doesn't breakdown
just Stanton and the B3 making the waves with different off-beat crashes that wane to a flat surface then splash up again and everybody gets wet and goes "ahhhhh!"
along the coastline of Frenchmen Street at 4AM.
———————————————————-
Happy International Jazz Day!
As sunrise lightens the French Quarter's quiet streets and shuttered windows
and the bright colors of the doors come back into view
I head into adjacent Congo Square
the birthplace of this thing we call Jazz.
I'm in there way early — maybe 20 people in the square as Herbie works it out with the young drummer, just playing grooves and pushing each other around the sound.
MAN can that guy play the piano!
Then standing right on the line of African drummers all dressed in white summoning up the spirits and sounds of the Earth below into the sky above.
And Harry Shearer's hosting, and some woman tells a brief history of the Square and how it all started on this sacred ground centuries ago.
And there's more of these old-school New Orleans bluebloods serving pink champaign and dressed to the 9s at 6 in the morning.
Then Herbie takes us dancing with the "Watermelon Man," and in flows his old band from back in the day, and Terence Blanchard on trumpet, and the master clarinetist Dr. Michael White, as they take us all out for "A Night In Tunisia,"
and then Kermit Ruffins took us for a walk on "The Sunny Side of The Street" before The Treme Brass Band instructed us most clearly to "Do Whatcha Wanna" — which I believe is the official anthem of New Orleans.
Or at least it should be.
———————————————————–
How about Bob Dylan's "Gotta Serve Somebody"
for 15 minutes — by an 11-piece funk rock band?!
including a guy playing a long harmonica solo with one hand and the Hammond B3 with the other, blending the two sounds in his own most singular duet.
And about 10 minutes in, a guy comes out and does a spontainteous rap around the theme and suma Bob's lyrics.
at Tipitina's last night — the Instruments a Comin' benefit show — where the night started with nearly an hour of two marching bands outdoors with about 100 young players each all on instruments bought by the Tips Foundation.
Before Honey Island Swamp Band ripping Dylan, it was Galactic (with Corey Glover from Living Color) and Wolfman Washington (with blind piano master Henry Butler sitting in) and then this all-star one-off with Ivan and Ian Neville, Russell Batiste on drums, and the legendary George Porter on bass — and for all of it I was front row leaning on the stage.
And out where the marching bands were, there was this whole scene with the audience and the evening's musicians mingling on the sidewalk talkin music n love. And the amazing thing is — I've only been here about 5 daze and had a TON of different friends out there to talk to!
——————————————————————————-
You know that seat on the edge of a horseshoe balcony overlookng everything that's just the perfect distance from the stage? 
That was my seat last night. 😉
The day I got here, I pre-scouted Generations Hall where the Obama benefit was to be held, and met Herman the house manager who gave me a tour thinking I was with the Democrats advance team. sho nuff.
The big day rolls around and I head over way-early also cuz there's some problem with all the tickets and they have to be refunded and then resold as a donation to the Obama campaign.
But I get there and of course foreigners can't contribute to political campaigns — so since we had bought tickets in good faith in advance, they just let all non-Americans in for free! Unreal.
So, I'm just about the first person in this massive 3,000 capacity former warehouse — now 3 large upscale performance spaces connected together with wrought-iron balconies and multiple weird hang out areas.
From the pre-scout, I knew the floor in the big room would be packed and standing only, and around the horseshoe balcony there's a line of chairs overlooking the floor and at the stage.
I go up and literally have the pick of any seat in the house and chose the very best one with a pillar to my back and just the right distance from the PA & stage. And it comes with a little table!
Of course the balcony turns out to be the VIP / $500 a ticket place — now with guards at the bottom of the stairs, but I'm already up with an open buffet featuring all these different Cajun delights by some famous chef, and my own bartender!
One of the performers, Clyde Bryant joins me ("Oh, hi. I'm Bryan without the 't'.") and he shares the evening's schedule. 😉 ah-ha!
Before the ticket screw-up they'd sold over 2,500 tickets. But with the mess-up, lots of people never came and I asked the doorman with the clicker at the end of the night and he said only 886 people came in! So it was very space-friendly.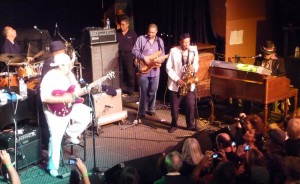 Obviously the musical highlight was the reuniting of all the original Meters except for the most elder Art who's not in great shape and Dr. John took over the keys and they played the song of every moment of my trip — "Right Place at The Right Time" ☺
Everybody who played had other people come out and join them creating innumerable one-time-only combos all night — Trombone Shorty and Big Sam blowin in and out, Cyril Neville banging everything all over the place, Deacon Jones rippin guitar, Rockin Dopsey doin' the splits, Leory Jones wailin' thru n thru . . .
Allen Toussaint doin' that song about Never Leaving New Orleans.
The Caesar Brothers doin' a funk Nawlins "Love The One You're With."
Kermit droppin' a huge "Iko" bomb.
and Marcia Ball playing with EIGHT horn players, then joined by Marie Muldour who is actually much blacker than she appears and was getting down and bluesy dirty.
and once again a lot of the musicians were hanging in the courtyard and I got to thank a hero of mine Ziggy Modeliste for changing drumming and being the de facto bandleader of the massive crazy reunion, and suma the horn players for evoking The Spirit and making me dance — which is what this town was born to do.
—————————————————-
By Far the two most common shirts seen around New Orleans JazzFest —
#1 Grateful Dead; #2 The Beatles !! — The best live + the best studio bands!
The Most Common Instruments played besides the foundations —
#1 trumpet; #2 Hammond B3 ! played on every freakin' stage! Unquestionably my favorite specific instrument ever constructed – and I got to stand over new master Will Blades' shoulder as he wailed on it, valves, pedals n all, at the Blue Nile. 😉
—————————————————–
Back on terra Canada – ou and my ears are still ringin'.
My body feels like I just played two football games a day for the last week.
I was so jazzed on the jazz I never realized I was a punching bag running a marathon – except people were standing along the route passing out beer instead of water.
JazzFest is like Facebook where you make friends with just the click of a smile.
And I got hundreds of 'em.
And I know right where they'll all be next year – cuz no one who ever goes to Jazz Fest doesn't go back.
😉
= = = = = = = = = = = = = = = = = = = = = = = = = = = = = = = = = = =
For a Primer of how to do Fess for someone who hasn't been — check out this First-Timers Planning Guide.
Or for an idea of the diversity of acts you can experience in Nawlins — check out the List of Acts I Caught in just this one trip.
Or for more Adventures in Music — you may want to check out the (Route) 66 Best live performances ever captured on film.
Or how The Grateful Dead came to play my 30th birthday.
Or the night Dylan showed up at Springsteen's show at Shea Stadium in New York.
Or when Neil Young returned to Massey Hall in Toronto.
Or when Paul Simon doing Graceland in Hyde Park in London.
Or Furthur came back and reprised the Dead at Madison Square Garden.
Or when the Dead, Janis, The Band and others took the Festival Express train trip across Canada.
Or the night I was hanging with Dr. John's band in Toronto.
Or here's the day I finally "got" Bob Dylan. 
Or the night we all lost John Lennon. 
=========================================
by Brian Hassett      karmacoupon@gmail.com        BrianHassett.com