It was a grey newspaper day during "papers" week at Camp Cleanup — digging through layers of mounds of newsprint and letters and notes like an archeological dig, uncovering the strata of history in this ancient city of my life.
Overnight, the cat tipped over an old Safeways bag full of newspapers from a closet shelf.  On top were a bunch of various John Lennon copies from December 1980.  I figured that would be the whole stash;  but after I dusted away an inch or so I uncovered an unexplainable collection of different papers from 1959 — a New York World-Telegram, a Chicago Times, and a Minneapolis Tribune.
I flipped through the New York and Chicago ones looking for the major story these were saved for — but there's nuthin — just a random day's edition like someone picked them up on a cross-country trip.
The last paper was the Sunday Minneapolis Tribune with all the different sections, including not one but two magazines.  One was a Picture Magazine — a routine Parade thing — although it did have a cool page about the new singing sensations Paul Anka, Fabian, and Bobby Darin!  But it was already late in the day and my eyes were glazing sepia after an endless flipping flow through the yellowing pages of antiquity.
The last thing in the pile was the This Week magazine — which looked like the TV listings.  I flipped through it hoping for a story on Dobie Gillis or American Bandstand, but of course it wasn't a TV guide.  There were only 3 channels back then!  It's just another news magazine with ads and recipes and bowling stories from the fake Father Knows Best '50s — my numb finger flipping through the same numbing fluff, next page, next page, and the next page I flip there's the headline across a 2-page spread —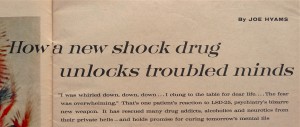 "Wouldn't that be funny if this was about acid…" I think,
before my eyes have time to scan to the bottom of the page
and see
In 1959.
You can click on any of these pictures and they go big.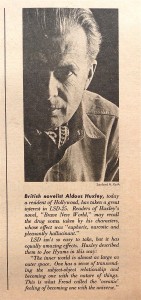 I love the quote above — "Music is often played to stimulate memories and fantasies.  And patients are told to 'go with the music,' that is, have fantasies suggested by the music."
Check.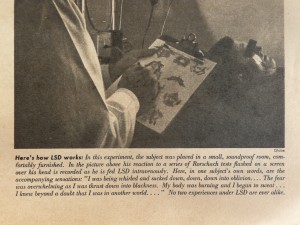 "a psychic energizer"  🙂
"The most common experience of people who have taken LSD may best be described as 'mystical' or 'religious.'"
It turns out the writer, Joe Hyams, is the guy who famously first broke the Cary Grant / LSD story earlier in 1959, and then he got sued by the movie studio, but later they totally settled and Hyams ended up writing Grant's authorized biography.  Long story.  But he got interested in the subject because Cary Grant told him about it, so he began researching the drug, and here he safely writes about what he's uncovered without mentioning any famous movie stars.
=  =  =  =  =  =  =  =  =  =  =  =  =  =  =  =  =  =  =  =  =  =  =  =  =
Some related discoveries and adventures and visions . . .
The eternal admonition to — Be The Invincible Spirit You Are
The naked truth — Love Is
The Grateful Dead Played My 30th Birthday
The very dosey train trip across Canada — Festival Express
The Boys still Makin' Magic at The Garden
The Woodstock-like trip of Obama's Inauguration 
The poem Where Wayward Jekylls Hyde
The trippy Long Island Mansions Adventure.
===================================================
by Brian Hassett            karmacoupon@gmail.com         BrianHassett