.
Condolences, memories, and tributes to Enid have been coming in from —
Indonesia, Vietnam, Nepal, Oman, Switzerland, Austria, England, Mexico . . .
Los Angeles, Palm Springs, San Francisco, Lake Tahoe, Portland, Eugene, Seattle, the Olympic Peninsula, Missoula Montana, Colorado Springs, Minneapolis-St. Paul, Rochester Minnesota, Rochester New York, Phoenix, Dallas, Austin, Louisville, Detroit, Key West, Tampa Bay, Daytona, Washington, Philadelphia, Harrisburg, New Jersey, New York City, Woodstock, Saugerties, Boston, Northampton. . .
Victoria, Nanaimo, Vancouver, Bowen Island, Calgary, Edmonton, Saskatoon, Brandon, Winnipeg, Lake of The Woods, Windsor, London, Orillia, Collingwood, Burlington, Oakville, Mississauga, Toronto, Markham, Perth, Ottawa and Montreal.
That's – 60 – different cities, and counting!
Way to go, Mom!
= = = = = = = = = = = — — Here's a few choice riffs — — = = = = = = = = = = = =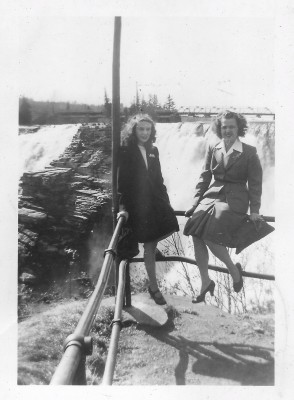 Hi Brian,
There was no one closer to Enid than your superb self — in sparkling qualities, huge belief in life itself, generosity of spirit, imaginative wit, and quick intelligence. What a Mom — but also — what a devoted and proud son. She LOVED you more than you will EVER know and she is watching over you, calling the moves, and smiling the smile of the universe.
I'm sorry I won't be there for the memorial, the wake, the party and the anythings else that happen.
On the Autumnal/Enid Equinox I will be in Salt Lake City (my film opens the Gandhi International Film Festival in the heart of Mormon country!) but will be sending the good vibes to you and Enid.
We need more Enids in the world. What a character, trailblazer, intrepid warrior of all things good and, yes, unique — just like you. So if you ever feel out-of-it/not-quite-here/but over in-the-undefinable there, you're on track for sure.
Sending love & solidarity,
Keep your courage and faith, wonderful Brian!
Teri McLuhan — Marshall's daughter and great filmmaker — in NYC
Dear Brian,
Words cannot express my appreciation for you sharing the biography of your wonderful, feisty, LIVE LIFE AND LOVE mother.
I wish we had had more time to spend together when she was in Texas, but alas, some distinguished Canadian banker traveled down here and swooped her off her feet. I mentioned to her one time that it was strange to have come down here so she could meet her future Canadian husband.
While I cannot be there physically, I intend to be at her Memorial in spirit at least. I can imagine the many tales that will be told about their friend, Enid. And yes, it could very well last into the wee hours. At least that is how Enid would have wanted it.
Sylvia Gregory — Mom's friend from the 1950s — in Austin
Brian —
She was a great lady, Enid was. I have so many memories from way back in 1978-80…. "Sue, do you know what a bag lady is?" — that was from Christmas 1980. And of course I had no idea!
And how did she ask for the sugar when we had tea? "Pass the fattener, please Sue."
And that massive car. Do you still have it? I know that we generally drove your dad's car but I think hers was even bigger.
She never settled for less, and always wanted the best for you!
I'm thinking of you,
Sue Howard — my high school sweetheart — in Vancouver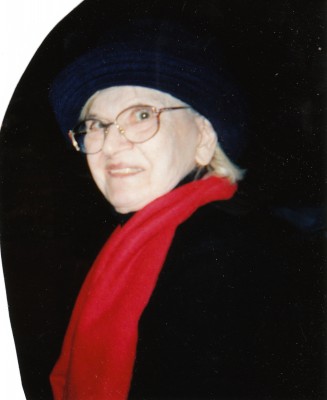 The first time I met you was the first time I met your mother! Do you remember this? At the Nuyorican show. I thought it was so cool that you brought your mum places — like Jack [Kerouac] did.
She was a great person — I also remember hanging out with her at your apartment on 70th street.
Know that I'm thinking good thoughts for you and you mom.
Required listening, of course … John Lennon.
With friendship and best wishes …
Levi Asher — founder of LiteraryKicks — in Queens, New York
Hey Sweetheart…
So sorry to hear of your mom's passing…
Funny thing — my mom read me your mother's Obituary earlier today and I KNEW as soon as she read it that You wrote it!
It was the most beautiful, heartfelt and loving tribute to your Mother, or anyone, my dear, sweet friend.
Know that You and your mother are in our hearts today and always.
We'll talk very soon…
Until then know that we know that your mother is sleeping peacefully and know that Your work as an Angel will continue here on Earth …
I adore you for your friendshp and common love of life, doll… 😉
Love and the biggest softest squish ever my dear, dear, friend,
xx
Alison Myrden — law enforcement speaker friend — in Oakville
Hey Brian —
I knew your mom and really dug her.  I hung with her one evening when I came by your apartment and you weren't home.  I saw her watching her son on stage in New York City with love, pride and admiration.  I know what a creative and inspirational force she was in your life.  Where does all that larger than life energy go?  Somewhere for sure!
Big Hug.
Ralph Stevens — filmmaker — in New York City
Brian,
We have such fond memories of Enid. What an amazing woman she was …. so many accomplishments in many areas. I sure remember the cottage in Gimli.
She was such a supportive neighbor when we were just starting our family. I love to hear about your relationship as mother and son….you had so many great adventures together. You were kindred spirits like none other. You will miss her terribly I know. Just think of all the people she encouraged and those who had amazing times with her. She left a huge gift to you and everyone she met.
That's an incredible piece…. A Song of Enid. I love your writing style – you are such a free, liberated spirit, which is rare in the normal Winnipeg business world…..or anybody's world for that matter.
You have a myriad of great friends who feel like family no doubt, but Enid especially, was a very big part of you. In fact, she lives on in you. You bring that same adventurous and creative spirit to the world. I absolutely love your realness.
Much love and thanks for sharing Enid with us.
Deanna Waters — musical theater singer & actress — in Winnipeg
Or there's a ton of stuff going on on my wall on Facebook.
Or here's — A Song of Enid I Sing.
Or here's some deets on the massive farewell party we had for her.
Or here's an account of one of our many adventures together — The Maltese Fall.
Or here's my tribute to her husband and my dad — Vern Victor Hassett — Be Still Here.
= = = = = = = = = = = = = = = = = = = = = = = = = = = = = = = =
Brian Hassett         karmacoupon@gmail.com        BrianHassett.com