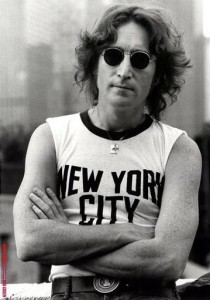 .
NYC, Dec. 8th, 1980 . . . the 3rd month and 3rd day in New York City, America, for this 19 year old kid.  My first week in town I went to the free Elton John concert in Central Park.  He played Imagine, and introduced it with, "He can probably hear us right now," referring to John in his nearby park-side home at the Dakota.  On October 9th, I was walking in the Village and looked up in the sky and "HAPPY BIRTHDAY JOHN AND SEAN" was being written by an airplane — and I thought how neat it was to be living in the same town as John Lennon.
11:30 on a warm December night, in bed reading, all the lights in the loft are low, the SoHo streets are Monday night quiet, the calm before the storm.  Phone rings in the sleepy background, alarmingly late.  Roommate answers.  "Hello?"  The long odd silence.  Then the scream.  "Oh my God!  Brian!  Turn on the radio!  John Lennon's been shot!"
= = = = = = = = = = = = = = = = = = = =
The late, wonderful Elizabeth Edwards put it well once:  Talking about losing their young son, she said, "People ask if you've gotten over it yet.  But, it's like losing your leg and asking, 'Have you gotten over that leg thing yet?' You may eventually learn to get around without it, but you never forget. You never 'get over it.'  It's something missing that was a part of you.  You learn how to live without it, but you never stop missing it or wishing it was here."
= = = = = = = = = = = = = = = = = = = =
WNEW-FM — the internet of the day.  The only connection to the outside world.  It was John's radio station, the original and longest lasting rock station in New York, the one he showed up at one day as a surprise and played records with the deejay all afternoon.
After an hour of radio group-therapy, I needed to be with people.  I knew I wouldn't be sleeping.  So this young squeaky-white Canuck ventured out into the nearly 1970s New York war zone streets that just killed John Lennon, and took a 75-cent A-Train uptown to 72nd Street.
= = = = = = = = = = = = = = = = = = = =
Everyone is crying but no one makes a sound,
Nobody told me there'd be days like these,
Strange days indeed.
John Lennon, 1980
= = = = = = = = = = = = = = = = = = = =
The Dakota, 2AM — as I walk up, a couple hundred people are swaying back and forth, singing, "Alllll we are saaaaying, … is give peace a chance," every one with peace sign fingers swaying towards the heavens.
It's the dark of night, under haunting streetlight.  Beatles songs play from a transistor radio, and a hundred people are singing every word.  The other hundred are crying.
Every cheek is wet, every eye is red, and most hands hold candles.  Pretty much everyone's come here alone.  We're all scared, numb, in shock, quiet, just standing, surrounded by others.  Family.  In mourning.  All are somber, but some not so sober, with joints being smoked and beers drank openly in the old New York.
I'm leaning on the rickety blue police barricade, five or ten feet from where John last stood, looking at the patch of washed sidewalk.  People come and stand, usually silently, for a few minutes, then walk away.  Some bring flowers and reach down underneath the barricade to gently lay them on the pavement.  Some ask and are allowed to go and weave them into the wrought-iron gate.  Some do the sign of the cross and say a prayer.  Everyone is weak, gentle, and white as a ghost.
There's this one Hamburg-type leather jacket tough-guy who's crying really loud at one point, almost scaring people.  Suddenly he reaches some breaking point and angrily rips off his road-aged motorcycle jacket and with this primal scream, throws it down into the mass of flowers and photos. Stripped of his armor, the t-shirted man quickly dissolves into the crowd a different person — but Elvis's rock n roll leather is now part of the collage.
= = = = = = = = = = = = = = = = = = =
You may say that I'm a dreamer,
But I'm not the only one,
I hope someday you'll join us,
And the world will be as one.
Imagine!!!
= = = = = = = = = = = = = = = = = = = =
The Dakota, 6AM — What the assembled didn't know was that the darkness of the night just past was to be our only true memorial, when it was just us.
Our beautiful, tranquil, soulful, solemn, candlelit darkness gave way
from the John Lennon mourning to the New York morning —
with news vans driving,
the human flood arriving,
the streets returning to their New York life —
……and when any part of a pathway's blocked,
……the city just flows around it like a boulder in a river —
first a trickle,
then a gushing cascade of swirling briefcases out the narrow skyscraper crevasses
into the flow of the sidewalk earth.
What was once ours, was no longer.
It was their's now.
The Spirits took over and pulled me, and me alone, into the bright light of heaven … Central Park … somehow safe under its winter skeleton canopy, into what's now known as Strawberry Fields, where I took my place on the throne of a bench in the bird-chirping dawn.
For those first few hours of darkness, we had the Cathedral of St. John the Divine to ourselves.  But even in that new day's light I could still hear the echoing choir, like I can still hear it now, everyone softly and endlessly singing,
"All-l-l-l-l-l-l we are sa-a-a-aying . . .
is … give peace a chance."
= = = = = = = = = = = = = = = = = = = = = = = = = = = = = = = = = = =
.
For a cool story of the time George Harrison saw the Beat play The Beard and raved about it to Paul McCartney — check out The Beatles, The Beats & The Beard.
Or here's the de facto sequel to Get Back — when John Lennon flew to Toronto to perform at the Rock 'n' Roll Revival with the Plastic Ono Band.
Or for more Adventures in Music — you may want to check out the (Route) 66 Best live performances ever captured on film.
Or here's a happy comparison of John & Paul to Larry David and Jerry Seinfeld.
Or take the New Orleans Jazz Fest ride.
Or the night Dylan showed up at Springsteen's show at Shea Stadium in New York.
Or how The Grateful Dead came to play my 30th birthday
Or when Neil Young returned to Massey Hall in Toronto.
Or Paul Simon doing Graceland in Hyde Park in London.
Or Furthur came back and reprised the Dead at Madison Square Garden.
Or when the Dead, Janis, The Band and others took the Festival Express train trip across Canada.
Or the night I was hanging with Dr. John's band in Toronto.
Or here's the day I finally "got" Bob Dylan.
=========================================
by Brian Hassett      karmacoupon@gmail.com        BrianHassett.com