A bunch of YouTubes of the Summit can be found here.
The Grand Humanity Jam Continues
Summer Summit '09
The "We Made It This Far" Anniversary.
July 31st  —  August 9th, 2009
An historically great crew reuniting . . .
A massive scene recreated . . .
Look homeward, Angels.
*     *     *
Overview:  (July 31st thru August 9th) 

August Long Weekend (7/31-8/3) — Opening Reception, and gatherings at various lakes.
Wednesday Night Summit (8/5) —  at the new District nightclub, a block from Portage & Main.
Friday Night — "A Midsummer Night's Social" (8/7) — the reunion "dance" at Earl Grey Community Club.
Saturday Afternoon (8/8) — Ball Hockey under the Dome, Yoga in the Park, and Brunch on the Bridge.
Saturday Evening — various house parties.
*     *     *
BREAKDOWN:  (for Woodstock in Winnipeg) 

With all the characters, the settings, the soundtrack, and the images, we're recreating Winnipeg life in our time.
Tuesday or Wednesday morning I'll be on CBC's "Information Radio" with Terry Macleod talkin about all this — 89.3 FM in the Peg, or you should be able to hear it here:  www.cbc.ca/inforadio/
FRIDAY, July 31st — "Christmas in July" — Opening Reception and welcoming home out-of-towners at a classic house in River Heights.  (7 PM on)
LONG WEEKEND:
Gimli:  the 120th annual Islendingadagurinn festival weekend   🙂  Gotta crew.  Contact me if you wanna joyn in.  (Andthe joy will be emphasized.  Not to mention Jerry Garcia's birthday celebrations on Saturday.)
Lake of the Woods:  a singularly dense mob of old gangsters in the hood.
Monday — travel back to The Peg
Tuesday — chill, regroup, recoup, and reacquaint with family.
Full moon is August 6th — so it's going to be blazing for the next three nights. 😉
WEDNESDAY night (Aug 5th)  at   The District:  6PM till 2AM last call.
177 Lombard at Rorie, a block from Portage & Main.  Includes separate nice hundred-person restaurant with full dinner menu for those who want to start with an excellent meal.
"It's super-deluxe comfy everything — like somebody's really nice house."
It's a just-opened nightclub, like one of those secret New York hideaways  — antique couches and mystical chairs — 20-foot ceilings  — surround-sound music — flat-screens, pool tables — and it's all a wireless hot-zone for Skyping the missing.
* Evening includes 200 of the best songs you ever heard at a party in 1979.
7:30 or 8 PM  — Group Photos at nearby Hollywood & Vine signpost.  I mean, Haight & Ashbury.  I mean, Portage & Main.  Take your own, and/or we'll shoot from a ladder and have 8x10s by the Friday dance.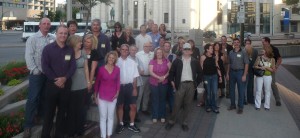 (click on picture and it will expand)
THURSDAY — 1 PM — Tour of  Kelvin High School!  Including photo-ops around the classrooms, in the stepped theater on the 2nd floor,and on the classic Kingsway stairs outside.  Followed of course by a trip to "Tubby's" for some Italian health food, and I wouldn't be surprised if there was some beer & wine involved.
Evening — much needed time with family and pillow.  Or  . . .
The Pre-Kelvin "Gang" Summit — the River Heights Junior High Reunion  at a house in River Heights, and maybe a bar-b-que at "the club."
FRIDAY night (Aug 7th) — A Midsummer Night's Social — the big "Grad Dance" 30 years later 😉  at Earl Grey Community Club  — 7:30-PM till 1-AM (and counting) — with the Cowpokes, One Life,etc. (see details below)
SATURDAY afternoon (Aug 8th) — 1 PM   The All-Star Celebrity Old-timers Ball Hockey Game —  at "The Dome" at Grosvenor School, btwn Guelph & Wilton.
1:00  "Yoga in The Park with Francie" — in a peanut park near the hockey game.
Brunch on the Bridge
The Sals on the Provencher Bridge
or with nearby alternates maybe it'll be  Food at The Forks 🙂  —  four restaurant/bars with patios:
Muddy Waters BBQ  patio holds 60, no reservations, the best place.
Beachcombers – patio holds 80.
Finn's – terrace holds 50, 150 inside, serves "pub food"
Spaghetti Factory – has a patio
The Tallest Poppy – Saturday all-day breakfast – at Logan & Main (Dunc's place)
Saturday Night (Aug 8th) — It ends as it all began . . . with a circuit of house parties.
Sunday (Aug 9th) — multi-denominational church service — time and location TBD.
Reflections & recovery back-yard gatherings.
– – – – – – – – – – – – – – – – – – – – – – – – – – – – – – – – – – – – – – – – – – – – – – – –
The All-Volunteer Executive Improvised Winging-it Committee — 
Brian Hassett — Prankster-at-Large, Sherpa Shepard, Lead Detective on the case
Bill Hodgson (from Philadelphia) – Official Bandleader Composer & Conductor
Duncan Lennox — The Wizard of Wednesday — and Cent-Com Commander
Joanne Gillies — Mother of the House, Saturday's Reunion Award Winner
Kim McDuff — "Lady McDuff" — President of Earl Grey Community Club
Jeff Cantin (from Boston) –The Gang's Official Curator of Photography
Su Lowery (from Victoria) — Bureau Chief — West Coast Operations
Diana McGhee (from Oman) – Official Midsummer's Poster Artist
Leslie Stafford  —  Official Reunion Media Relations Liaison
Francie Adamson (from Toronto) – Official Reunion Artist
Joseph & Pat Myles — Honourary Reunion Chaperones
Mrs. Terry Kupchak — Honourary Reunion Teacher
Mrs. Jamieson — Honourary Reunion Teacher
Mr. Hutton — Honourary Reunion Teacher
Mr. Belton — Honourary Reunion Teacher
Bobby Stahr – Senior Reunion Prankster
[yes, that is The Stanley Cup's profile] 
_ _ _ _ _ _ _ _ _ _ _ _ _ _ _ _ _ _ _
Prairie buffaloes are returning to the herd from 3 continents and 25 different cities, and counting.    Victoria, Vancouver, Whistler, Banff, Calgary, Edmonton, Saskatoon, Regina, Kenora, Hamilton, Oakville, Mississauga, Toronto, Barrie, Ottawa, Boston, Buffalo, Detroit, Philadelphia, Washington, Tampa Bay, Miami, London Ontario, London England, and Oman in Southwest Asia.
From the left edge to the right coast, from Argyle to Ravenscourt, from St. Paul's to St. Mary's, from the class of '65 to the class to '07, from grey hair to pink hair
This is multi-school, multi-year, multi-national, & multi-disciplinary.
There's going to be music, video, photography, spoken word, oil paintings, posters, improv madness, and the whole thing's gonna be some kinda theater!  😉
— — — — — — — — — — — — — —
"A Midsummer Night's Social" (Hodgstock) — every Winnipeg musician you ever heard of will be playing Friday August 7th at the Hodgson social at Earl Grey.
"From Woody & Hank,
to Jerry & Frank."
There will be versions of:
The Clearwater Boys (bluegrass quintet  to open),   the Cowpokes, both acoustic and electric,  One Life,  Million Civilians, The Wake, The Yipmen, Inna Riddim, you name it.
Think Rust Never Sleeps meets The Last Waltz.
It'll start acoustically, gently, inspiringly, with a greatest-hits of wooden music — bluegrass into folk into country into unplugged rock n roll;
Followed by scorching electric rock, from dancing classics to shredding mayhem,
and through it all streams a steady flow of guest performers and different Band configurations.
At Earl Grey Community Club:  7:30 – PM till 1- AM (and counting).  $10
360 Cockburn St. — at Fleet St. — btwn Stafford & Pembina, and Corydon and Grant.  And may we suggest coming by Duffy's cab. Parking isn't real great, and you're going to be way past drinking-&-driving by the end of this. 😉
We all know about Neil Young at Kelvin, but Earl Grey Junior High was where he went when he first arrived in the Peg during the start of grade 9 — and this next door Community Club was where he was a 45-playing DJ for the canteen dances, and is where he played his very first gig with his very first band! — (The Jades) 

And besides all this madness, anybody can arrange any other kind of a "just us" gatherings!  Could you imagine?!?
And of course there's a "Kelvin 30th" Facebook group for those so inclined.
Most common comments so far — "Before, I wouldn't want to do this, but now I really do!"  — "This just made my summer!"  —  "This is fun already!"
Most common comments from those Not in the Class of '79 — "I wouldn't wanna go to my own class reunion, but THIS is gonna be wild!" — "I went to my high school reunion and it was fun, but this sounds crazy!"
The Grand Humanity Jam continues . . . .
I wouldn't be me if it wasn't for you.

This festival is made possible by generous contributions from Google and Facebook. 😉
Post script:
Here's when Linda Ranson and I did Breakfast Television …
or here's the Shaw TV lead story …
here's what it was like flying into the Peg for the first time in ten years … and getting met by the Rolls …
and here's from the Portage & Main photo shoot adventure …
and here's the Christmas In July party at the Myles's . . .
and here's Harv's footage of a dozen class of '79ers at Tom Hendry's mural on the second floor . . .
https://www.facebook.com/photo.php?v=115732026493&set=o.200991445472&type=2&theater
surreally,
your pal,
Brian
karmacoupon@gmail.com