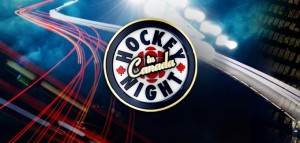 I know it sounds crazy, but I'm lovin' the new Hockey Night In Canada.  As you know, I think it's been an embarrassment to our great country and our even greater sport since I started watching the show again in '04 or whatever.
I just saw the first two Ottawa vs. Pittsburgh games from Stockholm — and they were outstanding broadcasts.  THIS is what hockey broadcasting is supposed to be.
Jim Hughson on play-by-play is IT — maybe the best ever, currently close to Doc Emerick in his prime and Danny Gallivan and Foster and Bill Hewitt in theirs — and he may end up ranked higher than all of them by the time he's done.  Frankly and honestly — I think he's the best I've ever heard.  I'd have to re-listen to Doc and Danny again, but he's got the the poetic linguistic master's mind and the verbal skills of Doc Emerick, but so much better timbre;  Danny Gallivan may have been the only comparable hockey play-by-play man with his combo of timbre, poetry, and knowledge of the sport.
Criag Simpson is his sidekick color guy — and there's nothing wrong with him. He's not offensive or stupid or long-winded or anything.  And he & Jim have worked together for a long time — so as long as Hughson likes him . . . it's like, Garcia could pick any rhythm guitarist he wanted.  🙂  and as long as Jerry liked him, and he wasn't offensive, then he was okay with me.  It's like Ed McMahan to Johnny.  It's all all about Johnny — and Jerry and Jim . . . 🙂
whoever the heck they wanna play off of, it's their call.
and THEN — in both intermissions they didn't have Don the Assclown!  Of course, he hasn't has a passport in 30 years and he's not about to go to pansy Europe now.  So, instead, CBC hosted this incredibly intelligent conversation about hockey, and the Make Believes never even came up once!  In 5 years of watching I've never seen a single HNiC broadcast that didn't talk about the Leafs no matter what two teams were playing.  But this was completely Loaf-free TV — for two whole games!  "Yes, President-elect Obama, the world has changed!"  🙂
Just totally SMART hockey guys discussing what's happening in the game. Jaw-droppingly retard-free.  When Ron MacLean gets away from Assclown, he really knows the sport.  And of course Kelly Hrudy is really smart. I reckon Mike Millbury is sort of the Kramer to Hrudy & Ron's Jerry & Larry David.
Anyway, just some awesome good news for hockey fans everywhere.
=  =  =  =  =  =  =  =  =  =  =  =  =  =  =  =  =  =  =  =  =  =  =  =  =  =
For more hockey stories . . . check out the time I snuck onto the Penguins team bus during the playoffs.
Or the description of Blue Heaven at Madison Square Garden.
Or this amazing primer of Everything You Need to Know about hockey at the Olympics.
Or the complete printable Olympic team rosters with positions, stats, jersey numbers and everything for all the main teams.
Or there's this nice printable one-sheet of the Penguins playoff roster.
Or a similar printable one-sheet for the Red Wings playoff roster.
=  =  =  =  =  =  =  =  =  =  =  =  =  =  =  =  =  =  =  =  =  =  =  =  =  =
by Brian Hassett           karmacoupon@gmail.com              BrianHassett.com