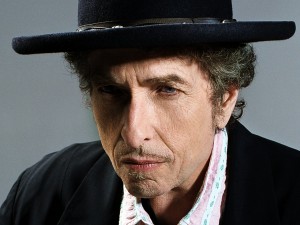 1.
Cat's In The Well (Bob on keyboard for whole show)
2.
It Ain't Me, Babe (Bob – nice harp solo)
3.
Stuck Inside Of Mobile With The Memphis Blues Again
4.
Girl Of The North Country
5.
High Water (For Charlie Patton)
6.
Just Like A Woman
7.
Rollin' And Tumblin'
8.
Tryin' To Get To Heaven
9.
Highway 61 Revisited
10.
Moonlight
11.
It's Alright, Ma (I'm Only Bleeding)
12.
When The Deal Goes Down
13.
Thunder On The Mountain
14.
Ain't Talkin'
(encore)
15.
Like A Rolling Stone
16.
All Along The Watchtower
.
Captain Bob's Arresting at Copps
Brian's Field Report to the Global Bobster Brotherhood
Bob & His Band – at Hamilton's Copps Coliseum – August 20th, 2008
Stunning.  Blown away.  Has he been this good all year?  This was my first show since the NY City Center tour-ending gig about 2 years ago (when he debuted Ain't Talkin').
I'm stunned, I'll just tell ya straight-up.  I thought Bob was, let's say, not on an upward trajectory.  I'd love it if any regulars who were there and have seen / heard multiple shows this tour can say whether this was average – or was more "on" than usual?  It was like – Wow.  I'm speechless.
But I'll try . . .
:- )
For those of you who weren't there – this is a fanfreakintastic venue!  SO much better a crowd and hall than the arena in nearby Toronto.  For one thing, everybody on the floor stood up for the entire show!  I couldn't believe it.  I now know I'd go to a show at Copps Coliseum ANYday over one at Toronto's ACC.  It's like a baby arena – small floor, small sides, small everything.  I was front center floor, and you could run out of there, go to the bathroom, stop and get a beer and be back at your seat before one song's over.  Serious.  Everything was that close.  It was like being at a show in your house.
It felt like a crowd-size circa 1966 – Before The Flood.   Both myself and an old veteran stagehand estimated the house at about 7,000.
There were a ton of Dead shirts there – so nice to see – in fact the last time I was in that building was on a very psychedelic couple of nights back in the spring of 1990 seein' The Boys just before Brent Myland died – including that awesome Hey Jude – Dear Mr. Fantasy medley.  Anyway  :- ) . . .
One Weird Thing:  I had long conversations with about 30 different Bobheads (from the Toronto-Hamilton area) and not a single one of them had ever even heard of  "Masked & Anonymous".  It's just SO bizarre how unknown that great work is, even by fairly hardcore Bob fans.
One Funny Thing:  This is Canada, and Hamilton is nicely off the beaten path, and, well, there were just PLUMES of pot smoke billowing out from behind the side-of-stage scrims!  I mean, it looked like a freakin dry-ice smoke machine!  Giant CLOUDS of it wafting slowly across the stage.  It was SO funny.  It was SO loose.  I mean, MSG ain't like this anymore.  The ACC in downtown Toronto is like going to a concert at your phuckin' parent's house.  But this is like goin' back to the '70s man!  :- )  Total time travel.  Free-form everything everywhere.  Loved it!  No posing or pretentiousness.  Just wild uninhibited dancing, freedom smokers, and beer flowing like crazy (but not a single obnoxious drunk spotted all night long).
One Canadian Thing:  Not only do the big white hockey rink boards go all around the floor, but the freakin' benches and penalty boxes are right there too!   And people are sittin' in 'em.  And nobody thinks anything of it.  That's the beauty part.  It felt like I was back at the Winnipeg Arena.
One Guitar Thing:  The "new" guy is just outstanding.  I can't get over it.  I don't know whether he was really "on" or is simply this amazing all the time.  I don't know why I had doubts about this "new" band, but they were just So spot-on.  Maybe it's just me, but I think Bob & His Band just keep getting better & better.  How is that possible?  Luckily the sound was crystal clear, and wonderfully, Bob was annunciating every syllable of every word!
One More Thing:  He closed Woodstock '94 with a transcendent "It Ain't Me, Babe", and basically opened this show with one as well — with a bouncing, lyrical guitar, and a long harmonious harp solo to end it.  Then the rockin' Memphis Blues Again with Bob on organ trading solos with the guitar.  High Water was just outstanding – so articulate and precise in both the vocals and instrumentation.
Rollin' & Tumblin' is such a wonderful live rock n roll dance song.  What a great performance card to be able to play any time you want.  Then Tryin to Get To Heaven was ethereal, and again, with gorgeous accompanying solos by both the guitar and Bob's keys.  Gawd, for a tape of this show!  Then this smokin' Highway 61, and, I know, he's played it a lot, but for both this and the encores, I pretended like it was the first time I'd ever heard these songs — which was easy cuz for so many people in the room that WAS the case – and people were just goin' bananas.  And 61's dueling solos, with Bob in the Al Kooper role playing off a feisty 21st century Bloomfield.  It felt like one of those traveling "Rock n Roll Revues" of the late 50s early 60s – dancin' in the country shed to the big rock n roll radio hit of the summer.  "How does it feeeel?"
A:  SO much fun.
The highlight for me was the song where I first "got" Bob — "It's Alright Ma" – somebody hit me back if you know where to download a recent version of this song.  It was so beautiful, so melodic, so rich, flushed out . . . so complete.  Gawd bless the gawds n bawbs for guiding this onto my flightpath.
And, just like Rollin' & Tumblin', how great a live song is Thunder On The Mountain?  A born show-closer.  Those two songs can stick around forever as far as I'm concerned.  He ended with this trance-endental Ain't Talkin', which reminded me of the way Neil Young sometimes ends shows with Tonight's The Night.  Haunting, mystical, lots of air & space – a transportive, trace-inducing meditation.
Then of course the big party ending with thousands of people hearing Like A Rolling Stone and All Along Jimi's 'Tower for the first time.  Rock n roll dancing pandemonium.
As it should be.
surreally & Sir Bobly,
Brian Hassett
karmacoupon@gmail.com
= = = = = = = = = = = = = = = = = = = = = = = = = = = = = = = = = = =
For more Adventures in Music — you may want to check out the (Route) 66 Best live performances ever captured on film.
Or take the New Orleans Jazz Fest ride.
Or how The Grateful Dead came to play my 30th birthday.
Or the night Dylan showed up at Springsteen's show at Shea Stadium in New York.
Or Paul Simon doing Graceland in Hyde Park in London.
Or Furthur came back and reprised the Dead at Madison Square Garden.
Or when the Dead, Janis, The Band and others took the Festival Express train trip across Canada.
Or the night I was hanging with Dr. John's band in Toronto.
Or here's the day I finally "got" Bob Dylan. 
Or the night we all lost John Lennon.