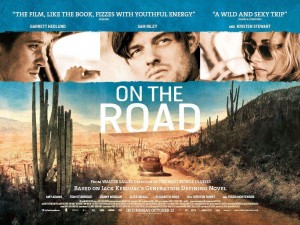 .
Here are some film reviews I've written for IMDB.com . . .
http://www.imdb.com/user/ur2433069/comments
including . . .
= = = = = = = = = = = = = = = = = = = = = = = = = = = = = = = =
Or here's a review of a funny-cool twisted movie — My Dinner With Jimi.
Or here's some funny movies about movie premieres.
Or here's another riff featuring about a hundred movie stars — Famous People Who Didn't Have Kids.
Or here's from the London premiere of On The Road in the courtyard of Somerset House.
And here was the world premiere of the new shorter version of On The Road at the Toronto Film Festival.
Or here's an overview of all the Beat movie dramatizations ever filmed.
Or here's a review of the lost footage of the historic roc n roll train trip that was finally released as Festival Express, starring the Grateful Dead, The Band and Janis Joplin.
Or here's the Scorsese's Rolling Stones concert film — Shine A Light.
Or here's a fairly unknown but perfectly offbeat comedy — Lucky Numbers — with a comedic Travolta, Lisa Kudrow, Tim Roth, Michael Rapaport, Richard Schiff, Michael Moore and many others.
Or here's the brilliant surreal masterpiece interpreting Bob Dylan — I'm Not There.
Or here's a master list of Brian's Hot 200 movies including all sorts of cinematic riffs and tips. 
= = = = = = = = = = = = = = = = = = = = = = = = = = = = = = = =
by Brian Hassett            karmacoupon@gmail.com                    brianhassett.com