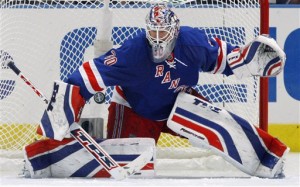 click here for full Rangers line-up, in Word, for nice print-outs
New York

Rangers

Line-up

Coach:  Tom Renney GM:   Glen Sather
                         Sunday, April 27, 2008
.

82   Martin Straka *  'A'

35/1972;  5'9″;  Czech;  free agent 8/'05, from Kings, Pens

17  Brandon Dubinsky *

21/1986;   6'1″;  Anchorage; drafted, 2nd round '04

68   Jaromir Jagr *  'C'

36/ 1972;  6'3″;  Czech;  trade from Caps, 1/'04

 16   Sean Avery *

28/1980;  5'10";  Ontario;  trade from L.A., 2/'07

 19   Scott Gomez

28 / '79;  5'11";   Anchorage; free agent 7/'07, from Devils

14   Brendan Shanahan * 'A'

39/1969;  6'3″;  Mimico, Ont.;  free agent 7/06, from Red Wings

10   Nigel Dawes

23/1985;  5'9″;  Winnipeg!; drafted 5th round!, '03

23   Chris Drury *

31/1976;  5'10";  Conn.;  free agent 7/'07, from Sabres

24   Ryan Callahan

23/1985;  5'11";  Rochester, NY; drafted 4th round '04

20   Fredrik Sjostrom

24/1983;  6'1″;  Sweden;  Phoenix 1st round draft pick

15    Blair Betts

28/1980;  6'3″;  Edmonton;  trade with Flames 3/'04

 25  Petr Prucha *

25/'82;  6'0″;  Czech;  drafted  8th round !!, '02

 51   Fedor Tyutin

24/'83;  6'3″;  Russian; drafted 2nd round '01

5   Dan Girardi

23/'84; 6'2″;  Welland, ON; free agent (undrafted?) 7/06

18    Marc Staal

21/'87;  6'4″;  Thunder Bay; drafted 1st round '05, (12th)

3   Michal Rozsival

29/'78;  6'2″;  Czech; free agent 9/05 from Pens!

27    Paul Mara

28/'79;  6'4″;  New Jersey; trade 2/07 from Bruins

55  Christian Backman

27/'80;  6'4″;  Sweden;  from St. Louis Blues

30   Henrik Lundqvist *

26/'82;  6'1″;  Sweden;  drafted 7th round!, 2000

40   Stephen Valiquette

30 / 1977;  6′6″!;  Etobicoke, Ont.;  free agent 7/06
For an excellent overview of this year's playoffs — go here.
For more hockey stories . . . check out the full schedule and rosters for Sochi 2014.
Or the time I snuck onto the Penguins team bus during the playoffs.
Or the description of Blue Heaven at Madison Square Garden.
Or this amazing primer of Everything You Need to Know about hockey at the Olympics.
Or the complete printable Olympic team rosters with positions, stats, jersey numbers and everything for all the main teams.
Or there's this nice printable one-sheet of the Penguins playoff roster.
Or a similar printable one-sheet for the Red Wings playoff roster.
Or a riff on how Canada's flagship broadcast Hockey Night In Canada has suddenly become good again.
=  =  =  =  =  =  =  =  =  =  =  =  =  =  =  =  =  =  =  =  =  =  =  =  =  =
by Brian Hassett           karmacoupon@gmail.com              BrianHassett.com