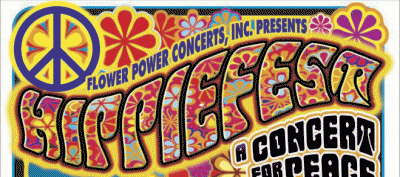 .
.
"I mean, tickets come to about a dollar per supergroup."  Ian Tyson, in Festival Express. 
same idea  +  inflation  =  last night
hearing, "Come and get it, but ya better hurry cuz it's goin' fast." 
my momma always said, "Life is like a multi-act rock show;  You never know what you're gonna get."  You think you want a crunchie Country Joe, but it turns out the one shaped like a Zombie was the tastiest. 
The show was sort-of a set of 4 retreads followed by three real groups.  The tour hired a backing band to support the one living member of Badfinger, and Mitch Ryder (who billed himself as "And The Detroit Wheels", proving there are no actual Detroit Wheels), and Felix Cavaliere trying to pass himself off as The Rascals.  Country Joe was the only act who went solo. 
"Badfinger" opened in the bright afternoon light at 7.  The only surviving member Joey Molland appeared to have consumed some liquid courage, but he really seemed to be driven to honor and deliver for his former group, like the way a sports team who loses their star player then raises their play to that of their missing leader.  3rd-string 'Finger Mulland had certainly rehearsed the backing boys, and it just pointed out how tragic it is that the founding duo hadn't survived.  (he did credit them for the songwriting)  If one member of the group was this powerful in performance (and he was) it just makes you sad for the power in this band that once was and is now lost to the ages. 
Mitch Ryder opened with Lou Reed's "Rock n Roll"!  Then a "C.C. Rider/ Jenny Takes A Ride" medley.  I'm glad I've now seen him and can cross this off the list of 'things to do"!  It was like your weird uncle doing karaoke at a family picnic.  And of course it was still daylight and with the "Toronto The Good's" somnambular audience it was a little … pathetic and sad.  And there we are, stuck in 3rd row center for The Old Geezer's Revue and I'm goin' "Oh-oh, this could be really bad." 
Then one of the chocolates I'm looking forward to – Country Joe McDonald – comes out, he has 20 minutes, and spends the first five reading us a Globe & Mail article!  And remember kids, drugs will Not affect your judgment in later years!  (j/k, cuz he actually Was making a good point about our lack of progress in the use of language. which connects to his f*ck cheer.)  The guy's got an Arlo Guthrie-sized arsenal of catchy acoustic songs that can win over any audience on first listening, but what does he do?  Pull out two hardcore psychedelic songs from The Fish days and attempt to play them solo on acoustic guitar!  One was "Flying High" from the classic "Electric Music For The Mind and Body".  The neatest part of his 3-song set, was during Fixin' To Die, not only did he leave the "1, 2, 3 what are we fightin for" to the audience, but he left it alone and the old Toronto hippies sang the entire chorus.  I took this as a good sign. 
This was one of the funniest moments – the 2 hour delay for the geriatric road crew to wheel out and plug in a single B3 organ for Calavliere!  Ya think about the set and staging and costume changes that take place in the middle of any single song in 21st century touring rock acts, and here's these guys with about the only set-change in the entire night and can't hook up a keyboard to save their lives. 
Felix was as lame as an act can be, really.  This may have worked in a small club, but he has the warmth of an elderly Soprano.  The one cool thing he did — like other older artists with an enormous repertoire of music in their heads (unlike these young pups today 🙂  when he did "Groovin'" he wove it into The Temptations' "My Girl" and "Just My Imagination" before bringing it back to "Groovin'"  — the songs-within-a-song that us old Deadheads appreciate!  And oh man!  of course he closes with "Good Lovin'" – I know some of you are not big Dead fans, but I came to this show in part to hear the original guy do the original version of a song they climaxed many a fine night with, and not for nuthin but my GAWD!  the Dead brought out the power in this song – several points where myself and everyone else would normally be leaping in the air.  But this was flat as a blown retread.  At a karaoke family picnic. 
End of the warm-up acts and the house band;  the real full acts came on. 
The Zombies were amazing — the hit and/or surprise of the night.  This Colin Blunstone singer … kind of a Jon Anderson, light and ethereal, but more like Martin Short on Broadway in his stage dramatics and beaming smiles to the back row of the theater.  He looked genuinely ecstatic to be playing.  When I came to today, the first image I had from last night was him singing with his arms stretched out, every finger splayed, and beaming this radiant smile that electro-shocked to life the sleeping grey army! 
Which may be a good time to mention the bikini and apple-green mini-skirted go-go dancers that surrounded us!  Man, without them the audience woulda sucked!  But who was gonna tell these nearly-naked babes to sit down and stop dancing?!  So, "They started it, officer."  And everybody was standing and dancing from The Zombies on!  Great and unusual stuff in Toronto I imagine.  And there was Rod Argent!  Legend of the Creem Magazine era!  Doing these wailing Keith Emerson / Jon Lord / Rick Wakemen organ solos. 
"Time Of The Season" — the first single-song peak of the night, and the following "Hold Your Head Up" was the second!  And ya just know, with this style of music, these guys are gonna take it.  It's such a great hand-clapping, chanting, soloing anthem!  Can't believe I actually experienced Argent/Zombies doing that song.  Also – non-Argent Blunstone was as joyously beaming for this as for the Zombies' material.  And – his voice is still great.  That's the biggest potential loss for these aging musicians, but the Zombies, Turtles, Leslie West and Joey M all still sounded strong and rich. 
The Turtles open with Zappa!  The band came out first and played "Peaches en Regalia" (and it's been playing in my head ever since) the catchy instrumental that's also on the classic "Live at the Fillmore East '71" that features some of Flo & Eddie's best Mothers.  Then they come out, do a hint of a routine about American Idol, then right into Turtles hit "You Baby" and "She'd Rather Be With Me".  Happy poppy stuff.  Then, "This was our first hit," It Ain't Me, Babe.  Their version brings so much more buoyancy and dancing and hit-singleness to it than Bob ever does.  (and there'll be two more Dylan songs in the final eight of the night)
Then this bizarre thing happened – and it led to the core musical moment of the show – Flo / fuzzy-haired Mark Volman strapped on an electric guitar, which I don't think I've ever seen him play, obviously set to do some song, then goes to the mic and says, "We used to play with Frank Zappa," and I don't know, maybe it was the enthusiastic response he got, and he goes on, "and we were in a little movie with him called 200 Motels,"  cheer.  "Okay, we're going to do a medley from that!" and then walks back and takes the guitar off – obviously Not what he was originally planning to do. 
So they go into a Medley of 200 Motels!!??  Could they pick a more obscure and inaccessible suite of music?!  The movie has Never come out in any form on VHS or DVD, and the l.p. sold about 12 copies (of which I have one).  So they do, like 10 minutes of crazy Motels music, including "the hit single" Magic Fingers with the super-fast lyrics and big Zappa guitar solo, which their Dennis Dunaway look-alike guitarist took it to the moon!!  These turtle-muthers using only the best-of-the-best hired guns.  Mystery Roach and She Painted Up Her Face may have also been in the medley;  no Lonesome Cowboy Burt.    
Then the wonderfully silly "Elenore, you're my pride and joy, et cetera."  And finally, "Happy Together," which of course, they've got so down at this point, and can work every nuance – which is so bizarrely contrasted to Felix not being able to deliver his own hit.

Power trio Mountain closed – the salient moment being the best "Blowin' In The Wind" I've ever heard.  He plays it once subtle "acoustic" sounding (on the electric), then puckin' stomps the foot down and plays this thrashing Mountain hard-rock version (think Metallica) of "Blowin'" – thunderous on the Mountain!  THEN he brings it back down to the "acoustic" and THEN drops it lower to a cappella, THEN drops it further to just the audience singing, before wrapping it back up.  From cacophony to choir, by the most Mountainous one! 
and yes, they played a phat Mississippi Queen to climax the show. 
.
.
= = = = = = = = = = = = = = = = = = = = = = = = = = = = = = = = = = =
For more Adventures in Music — you may want to check out the (Route) 66 Best live performances ever captured on film.
Or take the New Orleans Jazz Fest ride.
Or how The Grateful Dead came to play my 30th birthday.
Or the night Dylan showed up at Springsteen's show at Shea Stadium in New York.
Or Paul Simon doing Graceland in Hyde Park in London.
Or Furthur came back and reprised the Dead at Madison Square Garden.
Or when the Dead, Janis, The Band and others took the Festival Express train trip across Canada.
Or the night I was hanging with Dr. John's band in Toronto.
Or here's the day I finally "got" Bob Dylan. 
Or the night we all lost John Lennon. 
=========================================
by Brian Hassett      karmacoupon@gmail.com        BrianHassett.com