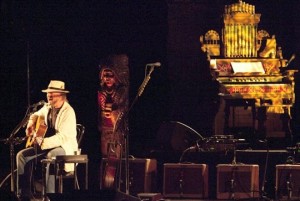 The Tour Set-List . . .  opening act:  Pegi Young (8 songs, with a 3-piece band)1st set – acoustic, Neil solo on guitars, banjo, upright piano, organ/synth.  
From Hank To Hendrix – w/ harmonica,  Harvest Moon ('92!)  the only non-oldie he plays,
* Ambulance Blues – On The Beach
Sad Movies – never on an album, played live on 1976 Euro. tour.  about the Glendale Theater in Toronto.
* A Man Needs A Maid –  piano/synth   Harvest / Decade  (last played live in 1976)
No One Seems To Know – unreleased, solo acoustic from 1976
Harvest – Harvest / Decade
* Journey Through The Past – on upright piano (from Time Fades Away)
or    After The Goldrush
Mellow My Mind – Tonight's The Night – banjo
Love Art Blues – (1976) only on bootlegs
* Cowgirl In The Sand — in Toronto & Chicago (Everybody Knows This Is Nowhere)
Love Is A Rose – Decade (from '74)  in this slot in all but the 2 shows
Old Man –  banjo?  Harvest / Decade   (was doing Heart of Gold here)
2nd set:  electric:
Ralph Molina:  drums (Crazy Horse)
Ben Keith:  guitar, peddle steel, dobro (Stray Gators)
Rick Rosas:  bass (Bluenotes)
Pegi Young & Anthony Crawford:  backing vocals
*  The Loner  –  1st album / Decade
*  Everybody Knows This Is Nowhere – 2nd album
Dirty Old Man – Chrome Dreams II
Spirit Road – Chrome Dreams II
Bad Fog Of Loneliness  — from After The Goldrush period (1970)  Performed live in 1970 as a solo piece and later recorded for Tonight's The Night (but not on
the disk).  Also performed once in 1989 with the Restless, and on every date of the 2000 Music In Head tour.
*  Winterlong – Decade (from 1969)  peddle steel
* Oh Lonesome Me – After The Goldrush (1970) (written by Don Gibson in 1957)
The Believer – Chrome Dreams II
*  No Hidden Path – Chrome Dreams II (14 min.)  concert highlight
encore:
*  Cinnamon Girl – Everybody Knows This Is Nowhere / Decade
*  Like A Hurricane  — Stars & Bars / Decade  (Toronto)
or
Tonight's The Night  — Neil on piano – only on opening night of tour
Harvest and Everybody Knows…:  3 songs each;  Chrome Dreams:  4
same set list as rest of tour, except for adding . . . Try!
Then after he finished it at the piano he went back to the acoustic guitar seat and starts playing Harvest, then someone in the audience yells something about the Woodstock song, and he stops and begins talking about Woodstock.  Then said something like, "That wasn't right," about the last song he played, and gets up and goes back to the piano and does No One Seems To Know.
He plays After The Goldrush instead of Journey Thru Past.
Heart of Gold.  Then to close, the highlight of the set for me, the acoustic Cowgirl.  Beautiful.  Have we only heard this before on Four Way Street?  Sure brought back memories of '70s sounds & places.
intermission was from 9:30 till 10:00 for those wanting that info.  He came on about 8:30.  Show over about 11:20.
2nd set all same as tour … until … after/during Cinnamon, the winged key drops down, but they never go to it, and he goes into a transcendent Cortez, the highlight of the electric set no doubt.  The audience was up by Cin and we had a groove.
It was mood & vibe vs. thrash & burn.
I'm originally from Winnipeg but in NYC the last 25 yrs and I dunno about this Canadian sit-on-their-hands routine.  Dudes, during No Hidden Path, everyone was sitting like in church.  NO reaction.  Neil had nothing to feed off.  He's thrashing, and people are watching television.  Very weird.  It didn't go anywhere near the manic descriptions I'd read from shows thus far.
Ultimately I'd wanna see the acoustic set in Toronto — it was fairly church like reverence — and the electric set in a NYC energy setting.
People were up for the encores, but not for a minute of the entire second set.  It's just weird.  I'm not used to the non-reaction, non participation of the audience.  Acoustic, yes.  Electric, to me, requires I dunno some modicum of motion on the part of the audience.
But all n all it was still probably my best Neil show since '78 Rust.  The arc of the career, the acoustic and then electric.  But then add the theater intimacy instead of the arena drive-in.
There's tons more, but just wanted to get something in — especially with the set changes.
There was a brief "blizzard" that blew thru town in the afternoon, white-outs, really bad, but gone in 20 minutes.  Just weird.  In fact there was a total power failure in a section town that ended about 2 blocks from the venue.  He talked about how global warming hadn't hit Canada.  I think that's what brought "Mother nature on the run in the 21st century" into the middle of the set.
Dirty Old Man and The Believer both worked So Much Better live than on the disk.
And he introduced Pegi as "my soulmate" which was nice.
Numerous times he picked up a red telephone on the drum kit as though he was getting a call.  Incoming messages from planet Neil.
His sense of humor was evident throughout.  Dylan needs to spend more time with Neil.
The Riverboat Yorkville Toronto homecoming.  And it felt like family.
= = = = = = = = = = = = = = = = = = = = = = = = = = = = = = = = = = =
For more Adventures in Music — you may want to check out the (Route) 66 Best live performances ever captured on film.
Or take the New Orleans Jazz Fest ride.
Or how The Grateful Dead came to play my 30th birthday.
Or the night Dylan showed up at Springsteen's show at Shea Stadium in New York.
Or Paul Simon doing Graceland in Hyde Park in London.
Or Furthur came back and reprised the Dead at Madison Square Garden.
Or when the Dead, Janis, The Band and others took the Festival Express train trip across Canada.
Or the night I was hanging with Dr. John's band in Toronto.
Or here's the day I finally "got" Bob Dylan. 
Or the night we all lost John Lennon. 
=========================================
by Brian Hassett      karmacoupon@gmail.com        BrianHassett.com